Rwanda Travel Guide: Answers to Your FAQs
Rwanda Travel Guide: Rwanda is a beautiful small country most known for the tragic 1994 genocide in which almost a million people lost their lives in a period of around 100 days. The good news is that the country largely recovered from this terrible event and is now totally geared towards tourism.
For answers to the most frequently asked questions about traveling to Rwanda, read on. Whether you are just curious about Rwanda or in the process of planning your Rwanda Safari, you'll find out all you need to know in this post. For any other questions about Rwanda or more in-depth information, please contact us.
Rwanda is arguably the cleanest and safest place you can visit in Africa. This is immediately apparent upon arrival in the relaxed and charming capital of Kigali. Though there is a lot of security around, this does not tend to add tension for travelers; rather, the opposite.
Rwanda safaris are well-managed and mostly safe. In 2022, Rwanda was listed as the 6th safest country in the world for solo travelers. Rwanda's response to the horrific 1994 genocide was an attempt to pull the country together, rather than further dividing it. Today this has the effect of a solid safety record for travelers and the people of Rwanda, with an emphasis on security.
Rwanda is a small and landlocked country in East-Central Africa.
The tiny 26,338 square kilometer (10,169 square miles) country is home to about 13.3 million people, making it one of the most densely populated nations on the African continent.
It is situated in the Great Rift Valley, where Africa's Great Lakes region intersects with Southeast Africa. It is bordered by Tanzania, Burundi, Uganda, and the Democratic Republic of the Congo.
The geography of Rwanda is dominated by mountains, savanna, and numerous lakes. The country is situated a few degrees south of the Equator. And its quilt-like topography and highly elevated position have given it the nickname, 'land of a thousand hills'.
What time zone is Rwanda in?
The Republic of Rwanda shares the same time zone as the rest of Southern Africa, which is two hours ahead of Greenwich Mean Time (GMT) +2 hours, in the Central Africa Time Zone (CAT)
What Is Rwanda's International Dialling Code?
The International Dialling Code of Rwanda is +250. Calling from Rwanda, you need to dial 001 for the United States or 0044 for the UK, followed by an area code and local number. You can make your calls with Rwandatel S.A., Rwanda's largest company for telecommunications.
What is the background history of Rwanda?
The earliest inhabitants of what is now Rwanda were the Twa. The Twa lived a hunter-gatherer lifestyle for centuries before the arrival of the Hutu people. Then the Tutsi brought with them a feudal system of land ownership and society. In 1897 Germany took control of Rwanda, and ruled until 1916 when the Belgians overpowered the German forces during World War I.
Under Belgian rule, clashes between the Tutsi and the Hutu were frequent, leading to the violence of the 1990s. Rwanda gained independence in 1962, and the Hutu majority came into power.
Due to this, Tutsi people were marginalized, with less access to education and employment opportunities. This imbalance created simmering tensions within the country, culminating in armed conflict and displacement of people.
In 1994, a horrific genocide erupted in Rwanda following the death of the president in a plane crash. The plane was shot by a missile as it prepared to land in Kigali, killing every one on board.
This resulted into months of bloodshed. It is estimated that almost a million people were killed within a period of 100 days. Millions of Rwandans fled into neighbouring Tanzania, DR Congo and Uganda to escape the violence, murder and looting that had taken over their country.
Due to the loss of life and infrastructure caused by the genocide of 1994, many Rwandans today live in poverty. Despite this, Rwanda is currently rising out of hard times to move into the future with increased prosperity and improved living conditions.
The Rwanda's economy is slowly improving due to a flourishing tourism industry and a new government that has heavily invested in infrastructure and education.
Is Rwanda Good for Safari?
Yes, Rwanda is good for safari and there are at least as many reasons to visit Rwanda, as there are people who call it home. Rwanda is also a leader in wildlife conservation efforts, the third greenest place in the world (according to The World Travel Guide 2015), and the proud protector of 4 national parks.
These days, you are as likely to find tourists here looking for a luxury safari experience as those roughing it in campsites or seeking out the country's famous mountain gorillas.
From the genocide memorial museums that inspire, to incredible cultural experiences, Rwanda is full of promise and wonder. Touring it will leave you emotional and enlightened.
1. Africa's Most Accessible Gorilla Trekking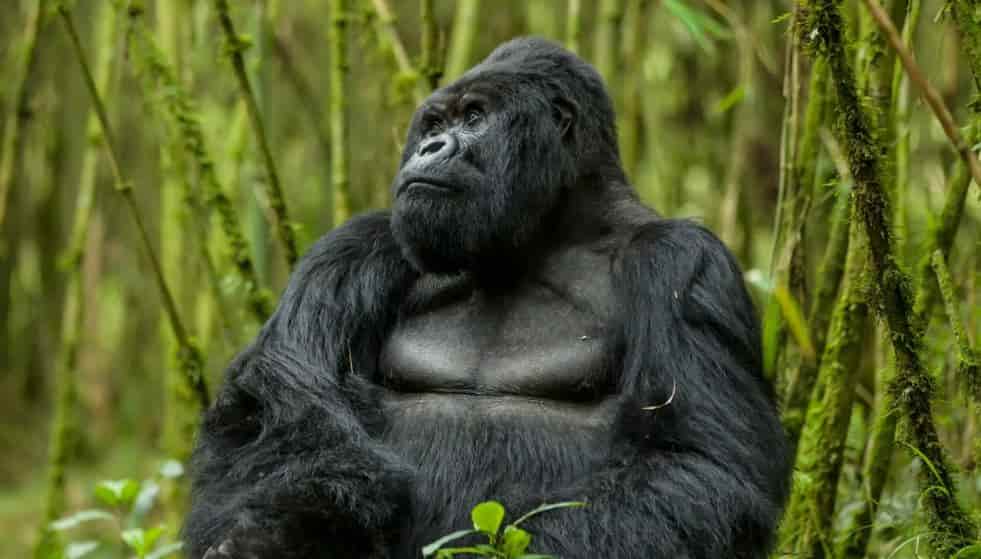 The greatest tourist attraction in Rwanda – and possibly the most amazing wildlife encounter on Earth – is mountain gorilla trekking in the country's montane rainforests.
These close encounters with the families of the world's last surviving mountain gorillas leave lasting impressions on every visitor to Rwanda's Volcanoes National Park.
There are only about 1060 mountain gorillas left on Earth. And trekking into their native forests is the only way to see these critically endangered apes, as they can't survive in Zoos. Rwanda offers the most accessible gorilla trekking adventure in Africa.
Volcanoes lies only 80 km (2 to 3-hour drive) from Kigali International Airport. If you have very limited time on a safari in Africa, then this is where to see gorillas. You can simply drive out of Kigali, trek on the same day, and drive back, making it possible to wrap up your gorilla trekking trip in one day.
2. Track Wild Chimpanzees & Other Rare Primates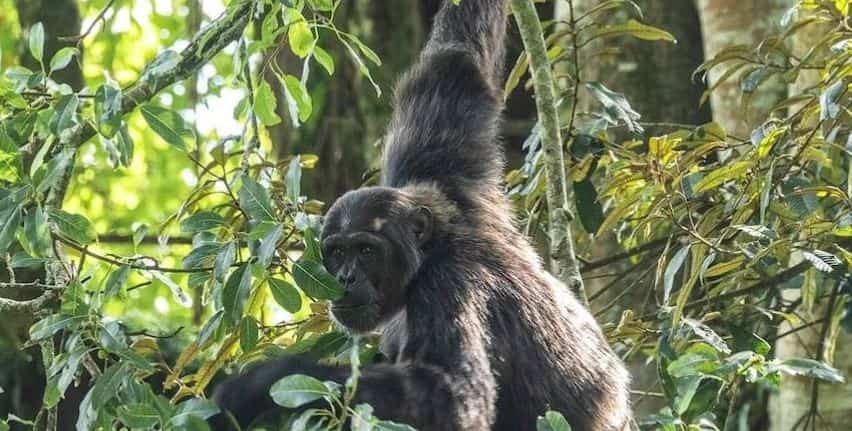 While mountain gorilla trekking is one of the top tourist attractions in Rwanda, there are many other primate trekking encounters to enjoy here. Nyungwe Forest is home to 13 species of primate, including chimpanzees and large troops of colobus monkeys.
The forest park is situated in the southwest corner of Rwanda. It is an expansive and untouched tropical rainforest with a tall, thick canopy. Spanning some 1,000 km2, Nyungwe Forest National Park contains the biggest area of remaining montane forest in East or Central Africa. It's also home to about 310 bird species, over 75 mammal species, and hundreds of butterflies and orchids.
3. See African Big 5 Animals
Rwanda is not always an obvious choice for a 'classic' Africa safari. However, if you're planning a gorilla trekking tour here, then augmenting your tour with a wildlife safari in Akagera National Park is well worth considering. With its grassy savannah plains, rolling hills, gaping valleys, lakes, and papyrus swamps, Akagera is scenically one of Africa's prettiest parks.
The park contains the biggest protected wetlands in Central Africa and approximately 8,000 animals, including all the Big 5 (Lion, Leopard, Rhino, Elephant, and Buffalo).
4. Tour One of Africa's Cleanest & Most Inspiring Cities
Rwanda is a leader in creating a single-use plastic-free Africa.
The country is a shining star on the continent. It instituted a national ban on non-biodegradable plastic bags in 2008 and also introduced a universal service called Umuganda. The Umuganda is a community clean-up project on the last Saturday morning of each month.
On this day all citizens of Rwanda get together to help keep the streets clean, tend to gardens, and assist their neighbors. While on the Rwanda tour, you will most likely need to spend a night or two in its modern and spotlessly clean capital, Kigali.
It is a beautiful city that sprawls across numerous hills, ridges, and valleys, with a vibrant restaurant and nightlife scene. There are also many shopping malls in the center of the city, with some stylish boutiques and good coffee shops. And if you need something more authentic during your safari vacation in Rwanda, then head to one of the many lively markets of Kigali.
Kigali's Natural History Museum is also worth a visit if you're staying in the city. But maybe one of the best-known Rwanda landmarks is the soul-stirring Kigali Genocide Memorial. This insightful monument presents the history preceding 1994 Rwanda, give context to its origin, and recognizes just how far the country has moved on in the intervening years.
1. Volcanoes National Park
Rwanda's stunning Volcanoes National Park has won international praise for its conservation of the endangered mountain gorilla. The bucket-worthy experience now draws more than 20,000 visitors a year, each of whom pays 1,500 US dollars for the privilege of a permit that allows them an hour amid silverback gorillas and their families. Volcanoes NP is the country's flagship reserve.
It covers 160km2 of montane rainforest, encompassing 5 of the 8 volcanic Virunga Mountains. It's a mystical backdrop for a life-changing gorilla trekking experience. No other wildlife encounter in the world compares with the experience of spending time with a family of wild mountain gorillas.
You are guided by experienced gorilla trackers through the park's towering bamboo, African redwoods, weaving vines, and flowering lobelias. Volcanoes is also where the for legendary primatologist Dian Fossey did her research on gorillas. You can visit her grave and even enjoy immersive gorilla conservation experiences with the Dian Fossey Gorilla Fund. Volcanoes National Park is a well-protected reserve. It is full of monkeys (including the rare golden monkey) and rare forest birds.
When visiting this park, a percentage of your travel spend goes to community projects around the park, reinforcing the positive impact of gorilla trekking and making the conservation of these great apes meaningful to rural communities in a very practical way.
2. Nyungwe Forest National Park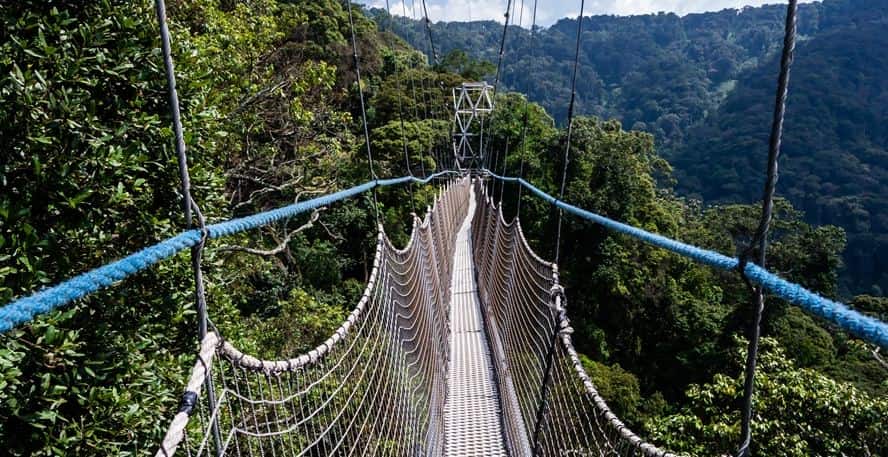 Nyungwe is a huge tropical montane rainforest. It is the largest montane forest in Central or East Africa and home to 13 species of primates. The heart of Nyungwe Forest is like a scene from a fairy tale. Ancient ebony and mahogany trees tower above you. Beautiful orchids cling to every branch. And colorful birds and butterflies dart around while you quietly follow the calls of primates.
Rwanda offers amazing primate safaris, and Nyungwe is the ideal destination for these tracking experiences. In this spectacular rainforest, you can search for wild chimpanzees, colobus monkeys, L'Hoest's monkeys, Baboons, and the grey-cheeked mangabeys, among many other highlights.
Amazing Things to Do in Nyungwe Forest
There are over 130 km of hiking trails in Nyungwe Forest National Park. These allow visitors to discover its magical interior and enchanting habitats with expert guides.
And walking in Nyungwe Forest is magnificent! While the Igishigishigi Trail is one of the shortest hikes in the park, it has the highest canopy walk in East Africa. This is a metal bridge suspended 164 feet above the forest floor! It is not for the faint-hearted. However, if you want to get a real sense of the sheer scale of Nyungwe Forest, it's one of the most unique experiences you can have while on a safari in Rwanda.
Akagera covers about 1,120km2. First gazetted in 1934, it is one of Africa's oldest national parks. This Rwanda wildlife safari park endured a tragic period in the late 1990s when its ecosystems were harmed by poaching and farming as a consequence of Rwanda's civil war.
But today, Akagera National Park is well managed in partnership with a non-government organization called African Parks. Thanks to the reintroduction of lions and rhinos and many anti-poaching measures, Akagera is well on its way to being restored.
The park boasts a beautiful landscape of savannah plains, rolling hills, valleys, lakes, and papyrus swamps. It features the biggest protected wetlands in central and eastern Africa.
When you're touring Rwanda and enjoying the Akagera safari, you're most likely to see the usual plains game like topi, impala, eland, giraffe, zebra, waterbuck, sable, and roan. Crocodiles, hippos, elephants, and buffalo are also commonly spotted on safari game drives.
Akagera National Park is also home to the Big 5 animals, thanks to the successful reintroduction of lion and rhino. Leopards are present but a little difficult to see – no matter where you are on safari – because of their mastery of camouflage and stealth.
Akagera is also a birdwatcher's paradise of more than 480 species! Raptors and savannah birds are common, as well as numerous endemic species like the red-faced barbet. And if you are lucky, you might even get a glimpse of the prehistoric-looking shoebill.
Rwanda's charming and stunning capital, Kigali is the entry and exit point for Rwanda gorilla trekking safaris. While on a tour in Rwanda, you will usually fly into Kigali International Airport. And depending on your safari itinerary, you will either transfer straight to Volcanoes National Park or overnight in this safest, greenest, and cleanest city in Africa.
Most visits use Kigali city as a quick stopover before and after a gorilla trekking trip. But if you have a couple of days to spare during your Rwanda safari tour, it's a wonderful city to explore. On the Kigali city tour, you will be rewarded with warm interactions with the friendly local people and a fantastic insight into the history and culture of Rwanda.
One of the most important Kigali tourist attractions is the Poignant Genocide Memorial Museum. Standing amid water fountains and gorgeous rose gardens, the memorial museum presents the history preceding the horror of the 1994 genocide in Rwanda.
The center helps to clarify the reasons for this devastating event and recognizes just how much healing and recovery the country has gone through in the intervening years.
If you are traveling to Rwanda for the first time, the memorial is an essential stop that will leave a lasting impression. Other museums in the city that are well worth a visit are the Natural History Museum and the State House Museum. Kigali city also boasts a fantastic selection of authentic and lively markets, as well as hotels that are of good international standard.
Best Things to Do in Kigali City
Visit the Kigali Genocide Memorial at Gisozi.
Browse for curios and souvenir shops at the Caplaki Handicrafts cooperative.
Tour Kigali Cultural Village for live music and art workshops.
Sample delicious coffee at the Hingakwa Women's Coffee Cooperative.
Scenic Lake Kivu is situated on the western side of Rwanda. It is Africa's sixth-largest lake and one of a series of massive freshwater lakes that lie along Africa's Great Rift Valley. The lake is considered a hidden gem among the tourist attractions in Rwanda.
The true joy of the Lake Kivu region is driving between its towns. The road gently twists back and forth as it zigzags through the gorgeous mountain and hills beside the lake. It is a great option if you want to have an unhurried route between Nyungwe Forest National Park and Volcanoes National Parks. You can make a stopover here to enjoy Lake Kivu's immaculate beaches and warm, safe swimming waters.
We recommend spending a couple of days in Gisenyi, a large town that's spread over various hills on the lake's northern side. Once a well-known colonial beach resort, the lakeside of Gisenyi town is lined with old mansions, trendy bars ideal for sundowner cocktails, and a few hotels of international standard.
What is the weather like in Rwanda?
Rwanda features a lovely temperate tropical highland climate. Thanks to its high elevation, it experiences lower temperatures than one would not expect for an equatorial country. The daily temperatures in Kigali city range from 12°C to 27°C, with very little variation throughout the year. The mountainous region of north-west, where Volcanoes National Park is situated, is generally cooler than the lower-lying east.
When Is the Best Time to Visit Rwanda?
June, July, August, and September are the best time to visit Rwanda, as it is the country's dry season months. This is when you can comfortably trek mountain gorillas in Volcanoes National Park, enjoy a wildlife safari in Akagera National Park, and the risk of malaria is low.
However, it is also possible to trek to see gorillas at other times in the year but bear in mind that it may be more difficult due to rainfall as well as steep and muddy paths.
When traveling to Rwanda between January and February, the high and medium-altitude areas like Kigali, Lake Kivu, Volcanoes, and Nyungwe are hot in the day but cool in the evenings. Low-lying regions like Akagera are hot in the day and warm in the evenings.
This is a good time to go on an Akagera wildlife safari and a great opportunity to take in Rwanda's breathtaking landscapes. This is also a good time for mountain gorilla trekking, although it can get a little more humid than the June to September period.
Rwanda has come a long way since its early days of safari tourism a few decades ago. There are now top-notch safari accommodation options in all the major safari destinations. Where once there were only a handful of local guesthouses available, there are now tourist-class hotels in or around Volcanoes National Park, Nyungwe Forest National Park, and Akagera National Parks.
In recent years, several small, exclusive safari lodges (so popular in more mainstream safari countries) have opened in Rwanda as well. This should help put the country on the map for the repeat African visitor who loves the classic safari holiday.
Kigali
Kigali Serena Hotel
Heaven Boutique Hotel
Hotel des Mille Collines
Volcanoes National Park
Singita Kwitonda Lodge
Wilderness Sabyinyo
Volcanoes Virunga Lodge
Nyungwe Forest National Park
Akagera National Park
Magashi Camp
Ruzizi Tented Lodge
Lake Kivu
How Much Does A Safari in Rwanda Cost?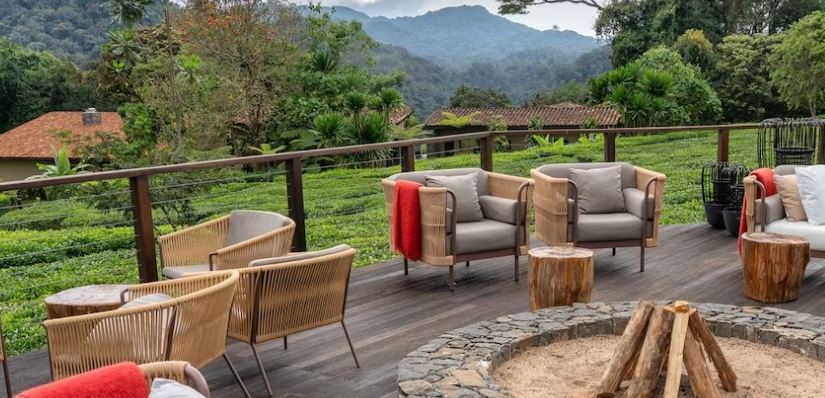 It is not always easy to give a single figure when it comes to safari costs. There are so many variables to consider, such as the time of year you are traveling, how long you are staying, and whether you prefer budget, comfortable or luxurious accommodation. Therefore, unlike most reputable travel companies, we do not believe in a one-package-deal-fits-all approach and prefer to consult with each client individually, using on-the-ground expertise to tailor-make an itinerary from scratch. However, if you're looking for rough estimate that may help with formulating a budget, here are some guidelines:
4-Star Comfort
Low Season: $1,150
High Season: $2,800
4-Star Luxury
Low Season: $1,150
High Season: $2,800
5-Star Luxury
Low Season: $2,650
High Season: $3,025
Do I Need A Visa To Visit Rwanda?
Yes, visas are required by all nationalities and need to be obtained in advance. You must apply for a Rwanda visa online. You will need to apply for an Entry Visa to Rwanda on their website (Services tab, Visa) which should take approx 2-5 days to come through. You must print this Entry Facility out to present at the border. Nationals of Israel, Australia, Germany, New Zealand, United States of America, South Africa, Kenya, Great Britain, Singapore and Sweden are not required to pre-register.
However they must pay the visa fee upon arrival at the border post. The visa costs approximately US$60 payable on the border, with the exception of national from Australia, Israel, New Zealand, USA, Germany, South Africa, Kenya, Great Britain, Sweden and Singapore for whom the visa fee is US$30. If you are asked to provide an address in Rwanda on your visa form, please use the address below –
Centre Pastoral Notre Dame De Fatima, Avenue de la Nutrition, Ruhengeri, Rwanda
Supporting Documents may also be required – the embassy will contact you if they require these
Please Note: Rwanda is constantly updating its visa information; we, therefore, recommend that you check the website carefully for the latest up-to-date information

What Language Is Spoken In Rwanda?
The main language spoken in the republic of Rwanda is Kinyarwanda (a Bantu language, also known as 'Rwanda' or 'Ruanda'). French is widespread and English is also spoken by several people who are in contact with visitors or tourists.
What Is The Culture Like Rwanda?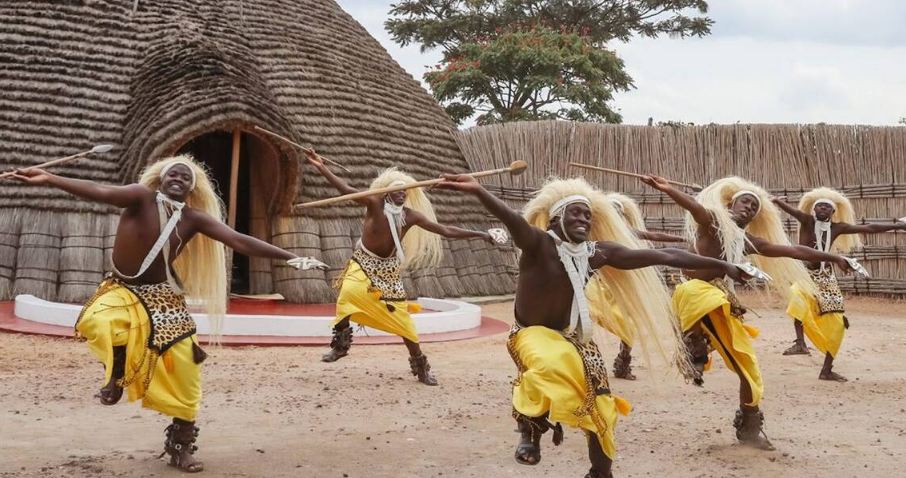 The culture in Rwanda is rich and vibrant, based on traditional dance, crafts, song and drumming.
History and culture in Rwanda is communicated through the generations with poetry, songs and stories providing links to the past. Visitors on Rwanda safaris can catch a cultural performance of dynamic dance and music to appreciate the heritage and identity that is carried by these songs and dances.
Rwanda has 3 main ethnic tribes – Tutsi, Hutu, and Twa. The tribes of Rwanda have their similarities and differences. The Twa People comprise less than 1% of the country's total population, and are hunter-gatherers, having lived in Rwanda for centuries.
The Tutsi and Hutu are not divided by ethnicity but by a social caste system. The Tutsi traditionally living pastoral lives and being members of the ruling class, and the Hutu traditionally being seen as peasant farmers. This is malleable though, as intermarriage between the two is quite common, so children may have a Hutu father and a Tutsi mother.
While this has lead to much division and conflict in the past, Rwanda has more recently enjoyed 20 years of relative harmony, with these ethnic groups living and working alongside each other in peace.
Foreigners and travellers will find most Rwandans live simple lives, devoid of modern conveniences and maybe it is because of this that Rwandans are known for being friendly, genuine and very accommodating to visitors. Homestays in particular offer valuable insights into Rwanda culture.
What Kind Of Food Is Enjoyed In Rwanda?
The food in Rwanda varies from mediocre to very good. Fresh fruit and the Belgian-inspired cuisine are usually good; otherwise, while hygiene standards are generally high, results can be variable.
The diet for most local people of Rwanda consists mainly of sweet potatoes, peas, corn, beans, millet and fresh fruit, including avocados, mangos and papayas. Umutsima (cassava and corn), isombe (cassava leaves with eggplant and spinach) and mizuzu (fried plantains) are some of Rwanda's traditional dishes.
Drinks include local beer and ikigage, a locally brewed beer made from sorghum.
Can I Drink The Water In Rwanda?
In Rwanda, drinking tap water is not recommended. And for environmental reasons, avoid buying bottled water. Fill a reusable water bottle or canteen with filtered water. Ask your tour guide where filtered water can be found. Some hotels we stay in may have drinking water available. It is also advisable to avoid ice in drinks and peel fruit and vegetables before eating.
Do I Need To Be Vaccinated Against Yellow Fever In Rwanda?
Yellow fever vaccination is not a requirement when visiting Rwanda. However, one of Rwanda's entry requirements states that if you also travel to Kenya and Uganda, you need to be inoculated for yellow fever. Again, please make sure to check with your travel clinic and Travel Designer before your holiday.
Do I need to take malaria medication to go on holiday to Rwanda?
While Volcanoes National Park elevation means that it is not located in a malaria-risk area, other regions in Rwanda that you may pass through do carry a risk, including Akagera National Park. We advise you to check with their medical practitioner/travel clinic regarding malaria prevention. Please be sure to do this several weeks prior to departure, as some courses of medication need to be started in advance of your arrival in Rwanda.
What currency is used in Rwanda?
The currency in Rwanda is the Rwandan franc (RWF). Currently (July 2023), US$1 = Rwf 1,154; you can check the latest exchange rates with www.oanda.com.
Can I use my credit cards in Rwanda?
Yes, MasterCard and Visa are usually accepted throughout Rwanda at large hotels and western-style restaurants but not small vendors. Unfortunately, American Express and Diners Club cards may not be accepted here. Please make sure that you have adequate cash to cover purchases not able to be made on credit.
What is ATM access like in Rwanda?
In Rwanda, international ATMs are not so common. You can find them in Kigali and other larger towns, but may not accept foreign cards. Ensure you have other modes of payment before travelling Rwanda, as relying solely on ATM usage is not wise. American dollars, Great Britain Pound or euros can be exchanged easily at Kigali International Airport, local forex bureaus, and at banking institutions in Rwanda's large cities.
What power sockets are used in Rwanda?
In Rwanda, electricity is provided from the national power grid. The type of sockets is type C (European 2-pin) and Type J (Swiss 3-pin).
What Do I Pack For A Safari In Rwanda?
There may be luggage weight or size restrictions on your journey – so please check the details with your tour planner. While Rwanda has no strict dress code, women travellers are advised to dress conservatively. Warm clothing is recommended for the cooler months, and light clothing for summer. Bright colours and white are not advisable on safari.
Is tipping customary in Rwanda?
Tipping is not expected of you in Rwanda. It's up to you whether to tip or not. However, rounding up a bill for good service at restaurants is a good idea.
What is the internet access like in Rwanda?
Internet access in Rwanda has improved recently. You will be able to access the internet in large cities like Kigali city but expect limited access in rural areas.
Do I need to purchase travel insurance before travelling?
Yes, you are advised to purchase a travel insurance before the start of their trip. Because of the varying nature, availability and cost of health care around the world, travel insurance is very much an essential and necessary part of every journey.
Ready to Start Planning Your First-Time Safari to Rwanda?