Ruaha National Park In tanzania
Ruaha National Park in Tanzania covers an area of over 20200 km2/7,800 miles2. For context, that is about thirteen times the size of the Maasai Mara or almost the size of Rwanda.
Yet Ruaha remains relatively unknown, drawing fewer than 10% of the annual visitor numbers enjoyed by the smaller but hugely popular Serengeti, elsewhere in the country. This is due to its remoteness from the parks of the Northern Safari Circuit and from the Indian Ocean coast. But those who go to the effort of travelling off the beaten track are well rewarded with a truly wild, untouched piece of Africa at her finest and, best of all, very seldom have to share with others.
For those looking for a pure safari experience, unspoiled by modern development and tourist crowds, Ruaha National Park offers the perfect combination of breath-taking beauty, a profusion of predators and an unmatched sense of isolation and peace.
Where is Ruaha National Park Found?
Ruaha National Park is located in south-central Tanzania, where the woodlands of Southern Africa meet the open East African savannahs. This semi-arid safari park is situated west of Nyerere National Park (formerly Selous Game Reserve) and Mikumi National Park.
The closest big town to Ruaha is Iringa, about 130 km from the national park. Iringa town has a fascinating history, and the legacy of its German colonial architecture is still visible.
It is also a great place to buy souvenirs, try local street food, and learn about Tanzanian culture with the help of a local guide. Dar es Salaam is about 625 km (388 miles) east of Ruaha by road.
Ruaha is not only the second-largest national park in Tanzania but one of the largest protected areas in all of East Africa.
Why is it called Ruaha National Park?
Ruaha National Park is named for the Ruaha River which flows through the Great Rift Valley. Along with a few larger tributaries, this river is the park's only permanent water source.
The existence of this central river system is without a doubt one of the reasons why the greater Ruaha ecosystem has a rich and complex history.
The first trade routes used by Arab caravans passed through what is now the park, and early European explorers also followed these routes. In the late 1800s, the legendary Chief Mkwawa of the Hehe tribe fought German raids before retreating to the park's rocky outcrops.
Why You Should Visit Ruaha National Park?
The dramatic scenic variety of Ruaha includes rocky hills, the Ruaha River and semi-arid savannah grasslands studded with huge mysterious "upside-down" trees (baobab), acacia trees and Miombo woodlands.
The river is probably the main attraction, flowing through steep rocky gorges in sections before stretching out lazily to create wide, sandy beaches fringed by towering palm trees.
Ruaha National Park's ancient baobabs are among biggest in Africa and are basically self-contained ecosystems in their own right. Fruit bats pollinate them, and their hollows are home to a variety of reptiles, insects, and bats, as well as owls ground hornbills.
The succulent-like capacity for water storage in the bark of the baobab, and their delightful, nutritious fruits makes the baobabs truly irresistible to Africa elephants.
Even these world's largest land mammals are dwarfed by the massive trees towering over them. Some of these baobab trees even have old spikes driven into their bark to make ladders for the earlier human inhabitants of the park to harvest honey from beehives.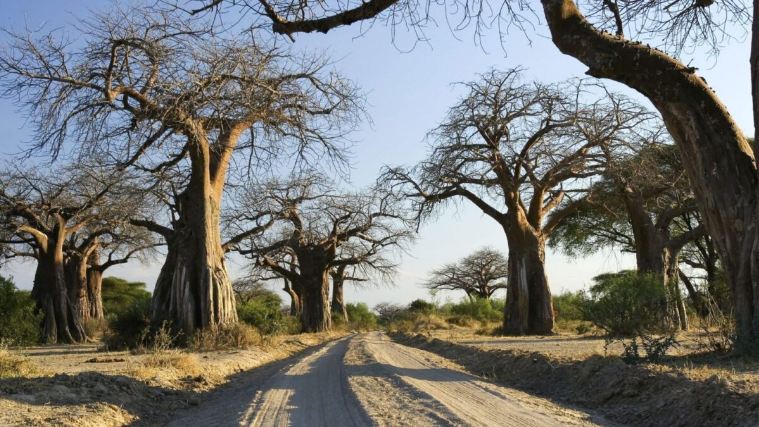 2. A Wide Range of Safari Activities
Ruaha National Park is one of the best Tanzania safari destinations that offer variety of activities for wildlife enthusiasts and nature lovers.
One of the most popular safari activities is wildlife game drives, which offers an opportunity you to explore the wide savannah plains of the park and spot numerous wildlife species.
You can also enjoy guide walking safaris, which give you a more intimate and immersive wildlife experience of the unique flora and fauna in the park. For a unique perspective, you can take a night game drive to see nocturnal animals such as leopards, genets, hyenas and owls.
Another fantastic in Ruaha National Park is bird watching, as more 570 species found in the park.
Wildlife game drives to see the diverse game, including the Big 5 and Big Cat
Some camps offer guided walking safaris to get as close to nature as possible.
Fly-camping safaris; real, wild, African bush camping.
Bush breakfasts and sundowners.
Marvel at the Great Rift Valley which traverses the park.
Bird watching of over 570 species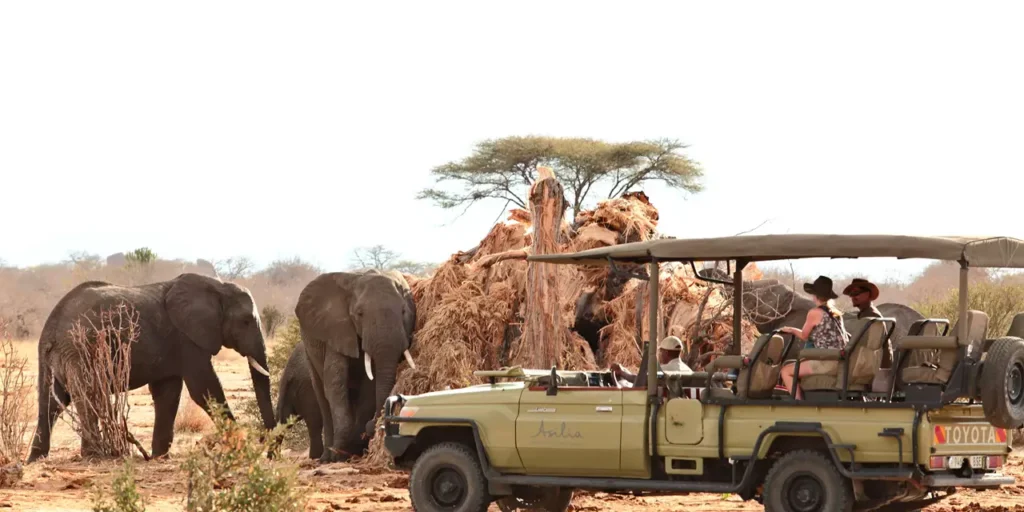 3. Animals of Ruaha National Park
Ruaha is home to the largest herds of elephant in East Africa and has an excellent reputation for predator sightings. Ruaha is said to contain some 10% of the world's lion population.
The national park is also listed as one of the Lion Conservation Units in Tanzania, with frequent sightings of large lion prides of 20 or more.
Cheetahs, Leopards, Spotted hyenas and painted wolves (African wild dog) sightings are also frequent, particularly when the prey species are forced to assemble close to water.
Lucky visitors might even see the rare and elusive striped hyena. Ruaha is an excellent year-round destination for game viewing, and you can expect to see a range of game species such as kudu, buffalo, roan and sable antelope, zebra and giraffe.
When weather is hot and dry from May to October animals gather along crocodile-and-hippo-filled watercourses.
Ruaha National Park supports an incredible and globally important predator population.
It has the world's second largest lion population, supporting nearly 10% of Africa's remaining lions.
It is a hotspot for Africa's most elegant felines – providing a home to one of only four east African cheetah populations with over 200 adults, and an abundance of leopard.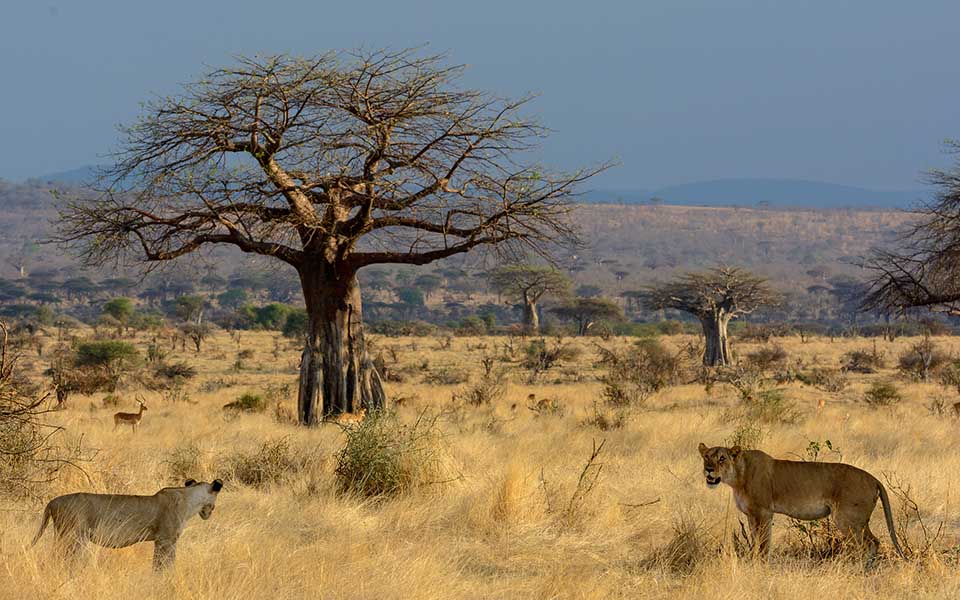 Ruaha is also called a birdwatcher's paradise, with over 570 species.
While the dry season may be the best time for mammal sightings, the rainy months offer the best birding opportunities as seasonal migrants like the sooty and Eleonora's falcons move through the area. Other iconic avian residents include;
Black eagles
Ashy starlings
Black-masked lovebirds
Yellow-collared lovebirds
Tanzanian red-billed hornbill
African fish eagle
Black-bellied bustard
Collared palm-thrush
Crested barbet
Eleonora's falcon
Emerald-spotted wood dove
Goliath heron
Long-crested eagle
Southern ground hornbill
White-bellied go-away bird
Yellow-collared lovebird
5. Uncrowded and Off-The-Beaten-Track
Ruaha National Park is one of the few African safari destinations that can provide you with an authentic safari experience. Despite being one of the best wildlife safari parks, it is not as crowded as the well-known Serengeti, Lake Manyara, Tarangire, and the Ngorongoro Crater. Even during peak season, Ruaha does not get congested and because of this, you may feel like you have the entire place to yourself.
One of the world's most pristine, off-the-beaten-path animal havens.
Its remoteness – and utter vastness – is what makes it so compelling.
An exclusive and secluded safari.
Conservation safari in Ruaha is a chance to engage in meaningful and sustainable tourism while contributing to the preservation of the park's precious natural resources.
You can directly support conservation efforts, such as anti-poaching patrols, habitat restoration projects, and community outreach initiatives.
Conservation efforts in Ruaha also support the local communities surrounding the park. Many conservation programs in the park work with local communities to provide employment and income opportunities through eco-tourism initiatives, encouraging the sustainable use of natural resources.
By participating in this unique kind of travel, you can make a positive impact, ensuring that Ruaha National Park remains a vital and thriving ecosystem for generations to come.
Conservation efforts in Ruaha also support the local communities surrounding the park.
Learn about the park's unique ecology & biodiversity through guided tours and educational programs.
Ruaha National Park can be easily combined with forest hiking trails of Udzungwa Mountains National Park, the Serengeti-like plains and wildlife of Mikumi National Park, and even Nyerere National Park. Most of these parks are also in Tanzania's southeast, so shouldn't involve too much travel by road.
You can also go further afield to other parks – west to Katavi National Park, Mahale Mountains or Gombe Stream National Parks, or north to the Serengeti, Ngorongoro, Lake Manyara National Park and/or Tarangire National Park – if you are willing to fly or add numerous long days on the road.
On a long Tanzania safari, an occasional flight might be OK, but flights are expensive and can raise the price of the safari beyond your budget level.
Combine a Ruaha National Park safari with a visit to Nyerere National Park or Katavi National Park- other savannah parks that are equally as wild as Ruaha.
Easily add on Mahale National Park, a pristine rainforest reserve on Lake Tanganyika, complete with chimpanzees, forest birds and dazzling clouds of butterflies.
Best Time to Visit Ruaha National Park
The best time to visit Ruaha National Park during the long dry season between June and October.
Unlike some of the busier safari parks in the northern region of the country, it is unlikely to feel crowded, even in peak season. During this time large herds of elephants, giraffe, buffalo, kudu and impala are drawn to the water, trailing predators in their wake.
There are two rainy seasons in Ruaha National Park, similar to the seasons in the Tanzania's Serengeti and Maasai Mara in Kenya, with 'short rains' falling during November and December and the much heavier downpours of the 'long rains' occurring in March and April.
Accommodation in Ruaha National Park
Accommodation in Ruaha National Park is limited to a handful of game lodges and tented camps but there's plenty of comfort available.
If you're looking for a safari in one of the wildest wildlife reserves of Tanzania, our selection of tried-and-tested Ruaha National Park accommodation is sure to inspire you and will make planning your wildlife safari so much simpler.
Usangu Expedition Camp
Jongomero
Ruaha River Lodge
Kwihala Camp
Kigelia Camp
Jabali Private House
Jabali Ridge
Ikuka Safari Camp
Jongomero Bush Manor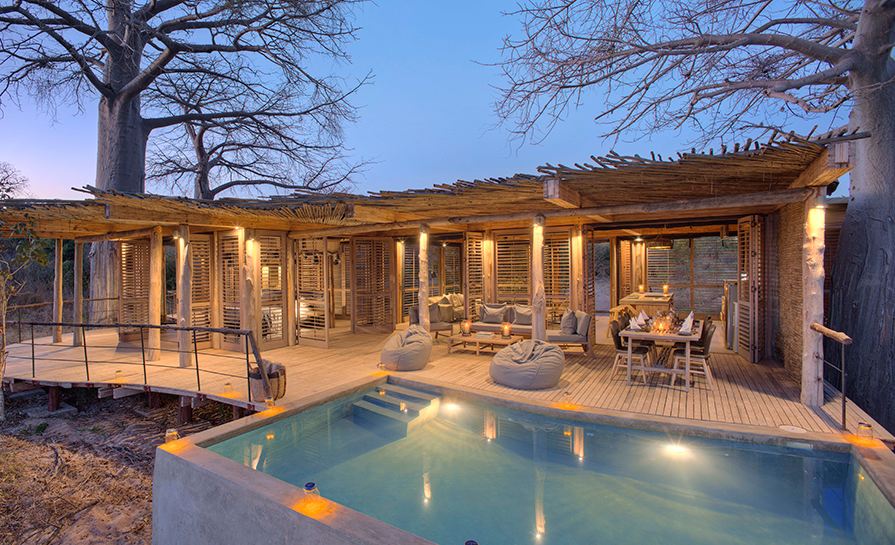 How to Get To Ruaha National Park?
You can reach Ruaha National Park by air or road, although we recommend the former for ease and comfort. If you do decide to take a road trip to Ruaha, you can take in Tanzania's rural landscapes and see traditional housing during the journey.
If you decide to stop over in Iringa, you can even get a taste of traditional Africa village life.
Ruaha National Park is 625 kilometers away from Dar es Salaam city and the road trip takes approximately 9 hours. You can also drive from Iringa town which is only 130 km away. By plane, the journey is shorter.
There are frequent flights from Dar es Salaam, Nyerere National Park, Arusha, the Serengeti, Kigoma, and Dodoma to the local airstrips, Msembe and Jongomero. Safari Airlink and Coastal Aviation offer flights from Dar es Salaam. Private chater flights can be arranged on request.
How Much Does A Ruaha Safari Cost?
The remoteness of Ruaha National Park means that transport costs are high, and flights can cost around USD380. Accommodation rates are in line with the prices at most other Tanzania national parks. Like all TANAPA-owned national parks, guests must pay entry and conservation fees.
As of 2023, these cost US$30 per non-Tanzanian adult and US$40 per foreign-registered car. However, they often change
Ready to Start Planning Your Safari to Ruaha National Park?
One thing you won't encounter in Ruaha National Park is crowds of fellow travellers. This remote park has just a few camps and lodges scattered around, ranging from luxury to simply rustic. They are all relatively small and intimate, enhancing a wild off-the-beaten-track vibe.