Your Guide To A Safari In Masai Mara Kenya
A safari in the Masai Mara National Reserve in Kenya is a trip of a lifetime.
Masai Mara is one of the most beautiful places on the planet. The reserve features a classic savannah landscape that long ago came to define the East African safari. It is also one of the best places to see the Big Cats – lions, leopards and cheetahs. The BBC Television show titled "Big Cat Diary" was filmed here.
Masai Mara National Reserve also has the Big Five (lion, leopard, elephant, buffalo and rhino), a good mix of public areas and private conservancies, and extraordinarily rich accommodation offerings.
There isn't a bad time for a safari in the Masai Mara, but come here between August and October and you might witness one of the greatest wildlife displays on Earth, the Great Wildebeest Migration.
Thinking of a Masai Mara Safari? Here are is all you need to know:

What does Masai Mara Mean?
Masai Mara National Reserve is named in honour of the Maasai people (the ancestral inhabitants of the area) and their description of the area when looked at from a distance.
"Mara," which is Maa (Maasai language) for "spotted," is an appropriate description for the circles of acacia trees, scrub, savanna, and cloud shadows that mark the area.

What is Masai Mara famous for?
The Masai Mara National Reserve is famous for the Great Migration that sees nearly 2 million wildebeest, plus half a million antelopes and thousands of zebras, following the rains around Tanzania and Kenya.
The most anticipated part of this journey is the dramatic Mara River crossings that occur between August and October as the animals enter Kenya. You can witness this incredible sight from a hot air balloon. Masai Mara is also renowned for offering exceptional big cat sightings (lion, leopard and cheetah).

Weather, Climate & Sunset in Masai Mara
The climate in Masai Mara is colder and wetter than what might be expected. The area's altitude causes the temperatures to drop with every 1,000 metres.
Daytime is pleasant (temperatures are usually around the mid 20°C and lowers even further at night). The dry season from around June to October offers perfect, sunny days. The rains are biannual – the "short rains" usually arrive around November and disappear sometime in January.
And then the "long rains" begin again in April until around June. However, the weather in Masai Mara is unpredictable and torrential downpours and afternoon thunderstorms are not unusual.
Getting stuck in black cotton soil is part of the Masai Mara Safari experience and should simply be accepted in the spirit of adventure. For the most part, the afternoon thunderstorms disappear just in time for another a Masai Mara safari treat: the sunset.
Many people claim that the sunsets in the Mara are the most spectacular on earth, with the sky turning a palette of pinks, purples and oranges before disappearing over the horizon.
The dust that had been kicked up from the migrating wildebeest and the threatening rain clouds sometimes even add to the whole scene. Truly magical!
The combined area under conservation in the Maasai Mara ecosystem amounts to almost 3,000 square kilometers (300,000 hectares).
Covering this ground is essential to experiencing the beauty of this ecosystem in its entirety.
The days on a safari in the Masai Mara may be long. But nothing is as refreshing as enjoying a picnic lunch beneath the branches of an ancient fig tree. Or relaxing in its shade and maybe speculating as to how much history the fig has witnessed over its long life.
The Maasai Mara ecosystem is split evenly between the Maasai Mara National Reserve (1 50,000 hectares) and various community-owned conservancies that share unfenced boundaries.
This Maasai Mara ecosystem also shares unfenced borders with Loita Plains to the north and east and the 14,760km2 Serengeti National Park to the south, in Tanzania. The Mara Triangle on the western bank of the Mara River covers one-third of the Maasai Mara National Reserve.
It is run by the TransMara County Council and managed by the Mara Conservancy. The remaining two-thirds of the reserve, on the eastern side of the Mara River, are run by the Narok County Council.

Maasai Mara Wildlife Conservancies
Community-owned conservancies currently make up more than 140,000 hectares, with additional land under negotiation. This concept of individually or community-owned conservancies must be considered a Kenyan conservation success story.
The rangelands surrounding Masai Mara National Reserve were once cattle grazing lands, but now the communities of landowners rent out the land to tour operators, and the wildlife is protected.
Tourists that visit these conservancies play great role in ensuring the future of these protected wilderness areas by ensuring a continuous revenue stream for the local communities.
Given that the use of the land is reserved for paying tour operators, it also means that visitors to these areas are treated to a more exclusive Kenya safari experience.
With over 65% of wildlife in Kenya existing outside of government-protected wilderness areas, it is easy to see why conservancies will be critical to conservation efforts in the future.
Tulambule works with safari partners in the national reserve and several conservancies.
Visitors in the conservancies can venture into the reserve. However, those staying in the reserve cannot venture into the conservancies. This makes the conservancies a far more exclusive and private experience, especially during the height of the Great Wildebeest Migration.
Because they are tribal lands, you'll pass the occasional Maasai manyatta or village and even large herds of beautiful and beloved Maasai cattle. The conservancies are great examples of where people, wildlife, conservation and domestic livestock have all found a place.
The current Masai Mara Conservancies are:
Olare Motorogi Conservancy : 133km2 (33,000 hectares)
Mara North Conservancy : 260km2 (26,000 hectares)
Lemek Conservancy : 24km2 (2,400 hectares)
Naboisho Conservancy : 200km2 (20,000 hectares)
Enonkishu Conservancy : 40km2 (4,000 hectares)
Ol Kinyei Conservancy : 70km2 (7,000 hectares)
Nashulai Conservancy : 24km2 (2,400 hectares)
Olchorro Oirowua Conservancy : 64km2 (6,400 hectares)
Olderkesi Conservancy : 100km2 (10,000 hectares)
Oloisukut Conservancy : 93km2 (9,300 hectares)
Pardamat Conservation Area : 260km2 (26,000 hectares)
Siana Conservancy : 40km2 (hectares)
Olarro North and South Conservancies : 100km2(10,000 hectares)

Where Is Masai Mara Located In Kenya?
Masai Mara National Reserve is found in south-western Kenya in the Narok County. The reserve is situated on an altitude of about 1,000 to 2,100 m above sea level.
The landscape of Masai Mara is primarily open grassland with seasonal riverlets. In the southeast region are clumps of the distinctive acacia tree.
The western border is the Esoit (Siria) Escarpment of the East African Rift, which is a system of rifts some 5,600 km (3,500 mi) long, from Ethiopia's Red Sea through Kenya, Tanzania, and Malawi and into Mozambique. The reserve is the northern-most part of the Great Mara-Serengeti ecosystem.
This area falls along with the border of Tanzania, alongside Serengeti National Park (another famous safari destination). Kenya's capital and central transport hub is Nairobi is situated approximately 224 kilometres (139 miles) from the Mara's eastern-most border.

How Do You Get To Masai Mara?
You can either drive or fly from Nairobi to Masai Mara National Reserve but flying is a better option, although it is more expensive. The flight takes approximately 45 minutes, so it is a good way to maximize your time in the reserve.
The drive to the Mara takes about 5 to 6 hours, and the last 100km is very bumpy. Still, with an early start in Nairobi, you can make it in time to the reserve for an afternoon drive. Remember though that you may be tired of bumping around on rough roads and you may not feel like more of it.
Remember also that your lodge may lie deep within the reserve, adding extra driving time to the journey. It is also possible to drive via Nakuru, visiting Lake Nakuru National Park on the way.
But the journey will generally take longer to get to the reserve proper, though it's a shorter drive if you're traveling to the Mara North Conservancy.

How much does a trip to Masai Mara cost? (Masai Mara Safari Cost)
The cost of a safari in the Masai Mara will depend on the tour you choose.
Prices differ according to the duration of your trip, accommodation choices, inclusions (for example, park fees), transportation costs to and from the park; extra activities you want to add to your itinerary, like spa treatments, hot-air ballooning and cultural visits.
We can, however, provide approximate costs for a safari in Masai Mara. The following estimates are based on a price-per-person-per-night, including accommodation and transfers:
4-star comfort
High Season: $350 – $550
Low Season: $300 – $400
4-star luxury
High Season: $650 – $750
Low Season: $500 – $550
5-star luxury
High Season: $1000 – $1300
Low Season: $900 – $950
At Tulambule, we customize safaris that match your personal travel interests and budget. We do not offer one-size-fits-all packages and prefer to create tailored safari tour that make sense for your personal needs – thus no two Masai Mara safaris will ever be the same.
Please note that all these costs are guidelines only. Feel free to contact us to help you plan a Masai Mara safari holiday that perfectly suits your budget and travel wishes.

A Sample Of Our Safaris That Features Masai Mara National Reserve

Where Should I stay In Masai Mara? (Best Masai Mara Safari Lodges & Camps)
There are so many safari lodges in Masai Mara to choose from! When selecting where to stay on a safari in the Masai Mara, remember that the reserve is vast.
And if time permits, it may well be worth planning to sleep in a couple of locations in the area to enable you to enjoy its different sectors, plus a couple of the private conservancies.
The conservancies are particularly good if you would like to experience all that Masai Mara safari packages have to offer – stirring scenery, abundant wildlife, Maasai culture – without the crowds.
Accommodation in Masai Mara can range from easy mobile camps that move with the Wildebeest Migration to old-style tented camps and very luxurious family-friendly lodges.
Here are some of our favourite options:
Lodges in Masai Mara National Reserve:
Sanctuary Olonana
Rekero Camp
Sand River Masai Mara
Mara Bush House
Sala's Camp
Kichwa Tembo Tented Camp
Mara Intrepids Camp
Angama Mara
Cottar's 1920s Camp
Rekero Camp
Little Governors' Camp
Governors' Il Moran Camp
Mara Serena Safari Lodge
Ashnil Mara Camp
Mara Leisure Camp
Mara Sopa Lodge
Jambo Mara Lodge
Basecamp Masai Mara
Lodges in Private Concessions:
Elephant Pepper Camp
Naboisho Camp
Saruni Mara
Porini Lion Camp

How Is The General Game Viewing on Safari in the Masai Mara?
The extraordinary beauty of the Maasai Mara National Reserve and its abundance of wildlife make it deserving of its reputation as one of the most exceptional safari experiences in Africa.
The reserve offers outstanding year-round game viewing thanks to its diverse population of game like elephant, buffalo, zebra, wildebeest, giraffe, hyena, eland, gazelle, and the famous big cats of the Mara.
The Mara is home to some of the largest hyena clans in Africa and any visitors here have found themselves delighted not only by the larger animals but also by courageous jackal, cheeky bat-eared foxes and graceful serval, as well as the elegant crowned cranes and long-legged secretary birds.
1. The Great Widebeest Migration in Masai Mara
The Mara-Serengeti ecosystem is where one of the greatest wildlife shows on Earth happens every year.
From around July, almost two million wildebeest and thousands of zebras cross the Mara River into the Masai Mara National Reserve to feast on fresh and nutriuos green grass.
The herds hang out in the Masai Mara until they have devoured its succulent savannah (around November), and then move back into the Serengeti to continue mowing East Africa's mega-lawns.
Keep the following in mind if you want to see the Wildebeest Migration:
Book your safari accommodation far in advance – about 9 months or more. It's a major safari highlight so lodges and camps get booked up quickly!
Rather go private. It is an extremely popular natural event and the national (public) reserve can get very crowded.
It is impossible to predict the Mara River crossings – the herds don't ford at the same time and place either. Only the wildebeest decide when it's go-time.
Kills are not for the faint-hearted. When the wildebeest arrive en masse, so do the hungry predators.
2. The Big 5 in Masai Mara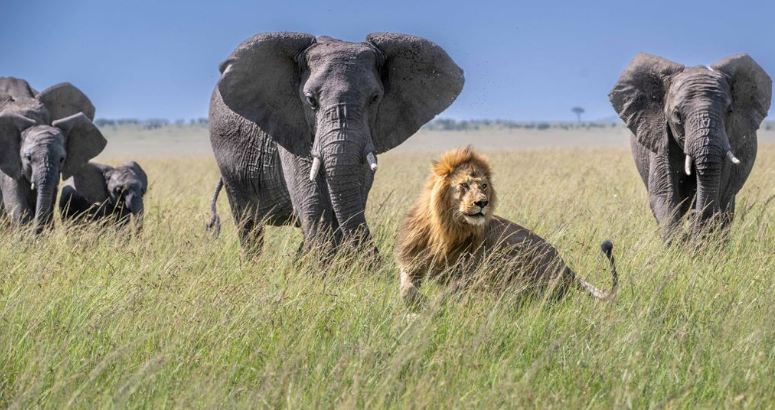 Although some rhino still live in the Masai Mara National Reserve, they are actually quite difficult to find. It is much easier to spot the Big 5's other distinguished members: lion, leopard, elephant and buffalo.
A bonus of the Masai Mara's flat, wide open plains is that cheetah are perfectly adapted to it and this a great place to see them. Although not part of the Big 5 crew, it's always a highlight to watch these lightning-quick and nimble big cats chase down their prey in the Masai Mara.
3. Big Cats in Masai Mara
Masai Mara is renowned for offers exceptional big cat (lion, leopard and cheetah) sightings.
Cheetahs are particularly well adapted to the region's flat plains, which makes the Mara one of the best places to see these nimble predators. They often seek vantage points on termite mounds, fallen trees, and even game drive vehicles! It is a highlight of any safari in the Masai Mara to watch the fastest land mammal on Earth chase down its prey.
More than 500 species of birds have been identified in Masai Mara, with almost 60 species of raptors.
The park is home to several species of vultures, Saddle-billed, Woolly-necked and Marabou Stork, Secretarybird, many hornbill species, D'arnaud's Barbet, 7 species of kingfisher, Kori and Denham's Bustard, Grey-crested Helmetshrike, Tawny eagle, aptly named Long-crested Eagle and Superb Starling, Grey Crowned Crane, the cute Pygmy Falcon, Sooty Chat, Kenya Sparrow, Rufous-bellied Heron, Lesser Kestrel, Yellow-billed Oxpecker and the beautiful Lilac-breasted Roller, the national bird of Kenya.
It is easy to see over 200 species on a 3 day safari in the Masai Mara!
Something else to look out for on a safari in the Masai Mara National Reserve is the absolutely monstrous Nile Crocodiles. You can see them in the Mara River.
These ancient reptiles (some of them over 16 feet long!) lie in wait for the migrating mammals and seeing one of them catch a zebra and consume is indeed a memorable experience.
Amazingly, these crocodiles feed only once or twice a year during the wildebeest crossing; it is thought that some of these mottled green giants are over 50 years old!

Best time to visit Masai Mara (Which month is best for safari Masai Mara?)
There is no real 'best time' to go for the safari in the Masai Mara for general game viewing, thanks to its abundant wildlife and mild climate. The reserve is well-known as a year-round safari destination because there is almost always something to see on its wide open plains.
A particularly good time to visit Masai Mara is just after the departure of the migration: the grass is shorter; the predators often experience a 'baby-boom', and there is far less pressure from other safari vehicles.

How to Choose the Best safari in the Masai Mara?
The Masai Mara Reserve is a rewarding safari destination which offers many special safari experiences, depending on your travel style…
If you are first time traveller, you can have a round trip that combines Nairobi, Amboseli and the Masai Mara. The safari highlights include:
Touring Giraffe Sanctuary and Elephant Orphanage in Nairobi
Seeing the Great Wildebeest Migration in season
Having amazing cultural encounters with Maasai People
Encountering Amboseli's elephant herds and views of Mount Kilimanjaro
Photographers and birdwatchers
If you are a photographer or birdwatcher, we recommend that you visit during low or green season. The highlights will include:
Best light of the year
Colourful migratory birds
Plenty of predator action as grazers give birth
If you are on a honeymoon, you may need exclusive settings in private concessions and combine your safari in the Masai Mara well with a beach destination. Highlights will include:
Hot-air balloon safari
Private candle-lit dinners in romantic settings
If you are on the family vacation travelling with children over 8 years, teenagers and grandparents, you many need:
Family-friendly lodges
Children's safari activities
Child-minding services
If you are a solo traveller, we can offer you a tailor-made safari in the Masai Mara to maximize budget.

Why Is Masai Mara an Ideal Destination for first-time safari goers and visitors to Africa?
Game drive routes in the reserve are well-maintained.
Masai Mara guides and staff speak English.
It is easy to enjoy 360-degree views of the landscape and to spot animals. The landscape here is open, flat and unobstructed by thick vegetation.
Wildlife is abundant, thanks to well-established conservation projects.
Meaningful and authentic cultural encounters are possible thanks to mutually beneficial relationships between safari operators, tribal land owners and conservationists.

How should I dress for Masai Mara trip?
Light casual wear in neutral colours such as grey, khaki, brown or green
Avoid white, black, blue and bright patterns as these can attract insects or distract game.
A warm jacket for evening game drives.

A safari in the Masai Mara Combines Well With…
Amboseli National Park
The best views of Mount Kilimanjaro – Africa's tallest mountain
Great big game viewing, especially huge-tusked elephants
Laikipia, Lewa and Ol Pejeta
Off the beaten path – great for seasoned safari goers
See rare northern white rhino and black rhino
Go on camelback safaris
Visit kenya's only chimpanzee sanctuary
Samburu National Reserve
Great game viewing, especially wild dog and leopard
Fascinating cultural interactions with Samburu People
See the 'Samburu Special 5 animals': Gerenuk, Grevy's zebra, reticulated giraffe, Beisa Oryx and Somali ostrich
Lake Nakuru
Over 400 recorded bird species including flamingoes
See black and white rhinos
See rare Rothschild's giraffes
Diani beach
Popular family resorts
Exclusive beach lodges
Lamu Archipelago
Reef scuba diving and snorkeling
Barefoot luxury experience – ideal for a honeymoon
Because Nairobi is a major transport hub for East Africa, it's very easy to get to other sensational destinations.
Tanzania
See the Wildebeest Migration in the Serengeti
Superb Big 5 viewing in Ngorongoro Crater
Climb Mount Kilimanjaro
Idyllic beach holiday in Zanzibar
Uganda
Rwanda

Must-do Masai Mara Safari Checklist
1. Book early for the Great Wildebeest Migration
Up to a year in advance is recommended, if you are interested in encountering the Great Wildebeest Migration.
2. Stay in a Private Wildlife Conservancy
The private conservancies offer low visitor numbers during the Wildebeest Migration season, fantastic game viewing, excellent accommodation, night drives, off-road game drives, and guided nature walks (not offered in the national reserve).
3. Go on a balloon safari in Masai Mara
It is a specialty in the Masai Mara and delivers a spectacular bird's eye view of the Migration! You can combine thrilling land-based game viewing in 4×4 vehicles with Maasai-guided nature walks, and crown your safari in the Masai Mara with an unsurpassable hot-air balloon experience.
The best flight paths follow the Mara River course, offering you to peek down into the forests, float past vultures' nests and observe the early-morning routines of boisterous hippos. After touching down onto the plains, you will be treated with a delicious bush breakfast with champagne.
4. Meet the Maasai people
The Maasai are a semi-nomadic ethnic group who inhabit most of Kenya and northern Tanzania. They are well-known by travellers for their unique customs and dress.
While cattle ownership is still a central aspect of their culture, increased safari tourism has led many Maasai to become expert safari guides and camp managers.
While on a safari in the Masai Mara, you will many chances to interact with Maasai guides and camp staff, plus get the chance to visit local villages for a fascinating glimpse of traditional Maasai culture, lifestyle and traditions.

Is 2 days enough for Masai Mara?
While two days is very short for a safari in the Masai Mara, it can be done. Time and budget permitting, I would recommend adding a few more days to really enjoy your time in the bush.
However, if 2 days is all you can spare, a safari in the Masai Mara is still worthwhile.
Whether you are looking to squeeze in a short safari on a stopover in Nairobi between flights, you are adding a few days to a business trip, or you are in need of a weekend escape from the capital, a 2-day Masai Mara safari is a great option.
The reserve teems with animals, and the wildlife viewing will most likely exceed your expectations. Even on a 2-day safari in the Masai Mara, you'll still see plenty.
Going out at dawn increases your time out looking for animals and raises your chances of seeing something really special. This is when animals are most active and predators are on the prowl.

Is Masai Mara better than Serengeti?
There is no better or worse when it comes to Kenya's Masai Mara National Reserve and Tanzania's Serengeti National Park. These two world-famous safari destinations form part of the same cross-border ecosystem, and have much in common when it comes to landscapes and wildlife.
But there are differences too. Which reserve suits you better will depend not only on your preferences and priorities, but also on the time of year when you visit?

How to book a safari in Masai Mara?
Booking your safari in the Masai Mara can either be made through a local ground operator or a tour agency at home. In most cases, a domestic tour operator to the Mara possesses greater in-depth knowledge of the terrain and can offer more competitive rates.

Read for a safari in the Masai Mara
So, now that you know all there is to know about the Mara, why not co-create a tailor-made safari in the Masai Mara with us? Get in touch with our safari expert today.