Wondering where to stay in Queen Elizabeth National Park?
This selection of the best lodges in Queen Elizabeth National Park ranges from luxury, mid-range to budget options. These safari lodges allow you to comfortably explore Uganda's flagship big game Park.
Queen Elizabeth National Park has almost 100 mammal species and over 600 species of Uganda birds. It is also home to the famous tree-climbing lions.
This fabulous Uganda safaris park is usually visited as part of an itinerary that includes other top wildlife safari experiences in Uganda such as gorilla trekking in Bwindi Impenetrable Forest or chimpanzee tracking in Kibale Forest National Park.
But it can be visited as a stand-alone destination as well. Please see our recommended 11 best lodges in Queen Elizabeth National Park below.
And do forget to get in touch with us for personal recommendations and/or to check availability around your Uganda travel plans.
Queen Elizabeth National Park Lodges
1. Mweya Safari Lodge – Luxury
From US$ 239 to 1190
Mweya Safari Lodge is one of the most famous places to stay in Uganda.
This wood and thatch safari-style lodge boasts a commanding cliff-top position on the Mweya Peninsula within Queen Elizabeth National Park.
Overlooking a stretch of the Kazinga Channel that is favored by thirsty buffalo, elephant herds, crocodiles, waterbirds, and hippos it offers possibly the most reliable in-house wildlife viewing of any Uganda safari lodges.
There is also plentiful birdlife in the gardens, and on a clear day you can see the snowcapped Rwenzori Mountains or Mountains of the Moon.
Mweya Safari Lodge has 54 rooms. It is not as intimate or exclusive as smaller Uganda safari camps, but the prime location and on-the-ball management ensure it remains a very popular choice on luxury safaris in Uganda.
Highlights
Spacious rooms and romantic tents
Spectacular views of the hippo filled Kazinga Channel
Big game viewing by 4X4 & boat
2. Ishasha Wilderness Camp – Luxury
From $US 310
Ishasha Wilderness Camp is the perfect choice for travellers hoping for an authentic Africa safari experience in Queen Elizabeth National Park.
The camp is owned and operated by Exclusive Camps and Lodges. It is situated in the remote southern sector (Ishasha Section) of Queen Elizabeth National Park (the home of rare and famous tree-climbing lions), on the banks of the Ntungwe River.
This intimate tented camp is also ideal for romantics looking for a peaceful stay, and is ideally situated as a base from which to explore the park.
Guest accommodation includes 10 tented rooms, all with views of the Ntungwe from a private veranda set with a table and a couple of chairs.
It is not uncommon for guests to spot wildlife wandering through camp, including topi, Uganda kobs, Waterbucks, and elephant. A visit to Ishasha Wilderness Camp can easily combine with a gorilla-trekking adventure in nearby Bwindi Impenetrable National Park.
Highlights:
Adventurous accommodation on the banks of Ntungwe River
Ten spacious tented rooms, all with river views
Lovely lounge, restaurant, bar, shop, outdoor dining, fire-pit area
Great game drives, wildlife walks, community tours and visits
Intimate, private and peaceful camp with occasional bush breakfasts
See rare tree-climbing lions
3. Kyambura Gorge Lodge – Luxury
From US$ 800 to 1940
Kyambura Gorge Lodge is owned and operated by Volcanoes Safaris, which has run camps and lodges across Uganda and Rwanda since 1997.
As the name suggest the lodge is situated close to stunning Kyambura Gorge, also known as the Valley of Apes. It is located at the edge of Queen Elizabeth National Park, on a former coffee plantation at the foot of the Rwenzori Mountains. Here, you are able to track chimpanzees and have a classic safari experience in comfort and style.
Guest accommodation consists of 8 bandas, made out of timber and brick, with thatch or iron sheet roofs. Rather charmingly, each banda is named after a chimpanzee from the Kyambura Gorge. Two banda are doubles, five are twins, and one is designed for a family or honeymooners.
Highlights:
Stunning views of the Kyambura Gorge & Rwenzori Mountains
Track chimpanzees in the gorge, enjoy game drives, and boat cruises
8 guest bandas, including one banda for families
Contemporary lounge, dining area, bar, gift shop, massage room, swimming pool
4. Katara Lodge – Luxury
From US$ 200 to 250
Katara Lodge is an excellent option for travellers hoping to explore Uganda's most popular park and surrounds from a very comfortable base.
Katara Lodge is situated just 16 kilometres from the Katunguru gate of Queen Elizabeth National Park, within farmland upon the Great Rift Valley escarpment. Katara is set in well-kept gardens, not far from the banana plantations of Katara village.
The lodge is open sided, providing amazing views down to the savanna of Queen, and beyond to Lake Edward and the mountain ranges of Virunga and Rwenzori.
Guest accommodation consists of 8 chalets; all positioned farther down the hillside. They are made out of local materials in addition to canvas that can be rolled back to reveal the superb scenery.
Seven are regular chalets and the eighth is for families. Each of the regular chalets contains a spacious open-plan bedroom and lounge, with double bed, four-poster star bed, a small dining table and chairs, and a couple of easy chairs next to a coffee table.
The family chalet provides one double bedroom and one twin bedroom, with space for an extra bed if required.
Highlights
Eco-friendly accommodation option just outside Queen Elizabeth National Park
Exceptional service and attention to detail
Eight sumptuous chalets, including one chalet for families
Lovely lounge, dining area, bar, fire-pit, swimming pool, pool-bar
Great game drives, nature walks, chimp tracking, river cruises, walks around local villages and farmland
5. Elephant Plains Camp – Luxury
From US$ 200 to 640
Elephant Plains Lodge sits on a beautiful span of wilderness covering an area of 80 acres in the northeastern section on the outside border of Queen Elizabeth National Park. Thanks to its height at 941 meters above sea level, you will be treated to sweeping views of the gorgeous landscape with lush, tropical greenery, and the scenic Lake Kikorongo shimmering in the sunshine.
This marvelous biome is carefully protected with eco-friendly practices like solar panels for generating power and naturally-occurring materials sustainably harvested to construct the lodge.
Accessing the park for your game viewing is very convenient because of the driving distance of just 10 minutes from the park gate. The lodge also has a lounge with expansive glass windows for enjoying the views in addition to comfortable wicker seating arrangements where you can interact with fellow tourists visiting Queen Elizabeth National Park.
You could also step over to the pool and relax in the loungers in between cooling dips and perhaps, chance to spot a herd of elephants or buffaloes visiting the lake to drink. The lodge has 8 cottages some of which have a comfortable double bed while others have twin and singles.
In case you are visiting with kids or in a group of up to 5 members, you could consider booking the 2 Family Cottages that have two bedrooms, each with a separate bathroom, and can sleep up to 5 members.
Highlights
Located within an 80-acre property near Queen Elizabeth National Park
Standing at an altitude height of 941 meters above sea level offering sweeping views of the landscape
Overlooking the scenic Lake Kikorongo, 10 minute drive to the park
Eco-friendly lodge with solar panels for generating power and built using sustainable materials
Has a swimming pool for taking dips or relaxing in the loungers
Family Cottage with two bedrooms for families and larger groups of traveling friends
6. Kikorongo Safari Lodge – Luxury
From US$ 115 to 300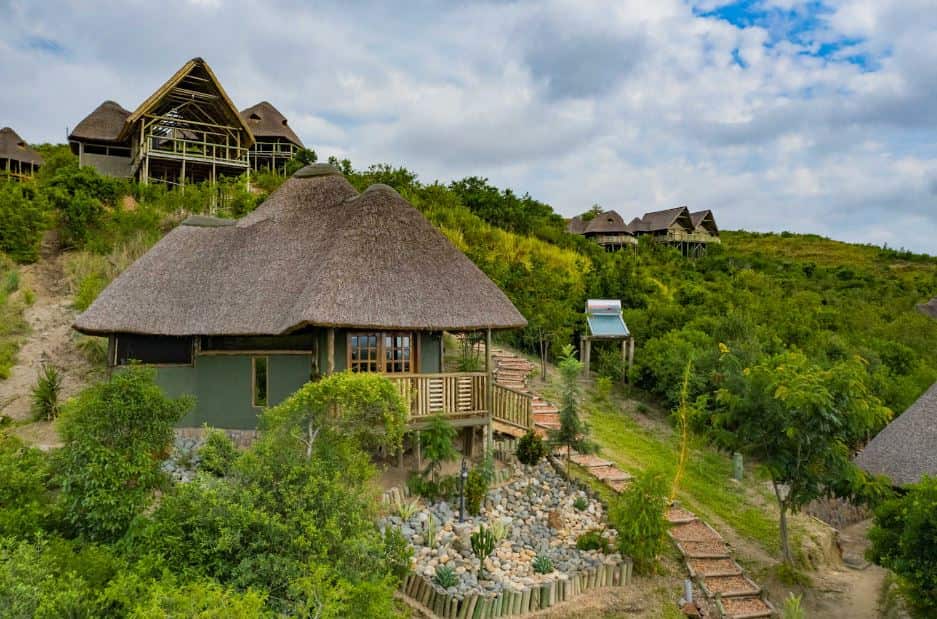 Kikornogo Safari Lodge sits directly on the Equator. The Lodge is situated in Kasese nearby Queen Elizabeth National Park, overlooking Lake Kikorongo, Lake George, and Kazinga Channel.
It is family run. The Thembo family first camp to the rolling escarpment of Kikorongo in April of 2018, and it was then that they had the idea of building this lodge as a gem of luxury in the heart of the wilderness.
Kikorongo Safari Lodge is comprised of 15 uniquely designed cottages that are built over 15 hectares of the steep landscape. Each lodge has a custom view of the lakes and immense surrounding horizon. The design of the cottages provides privacy due to the natural untouched bush that they are nestled within.
Highlights:
Beautiful view of the lakes and immense surrounding horizon
Sits directly on the Equator
15 tented and intimate cottages
7. Park View Safari Lodge – Semi Luxury
Rooms from $220 To 650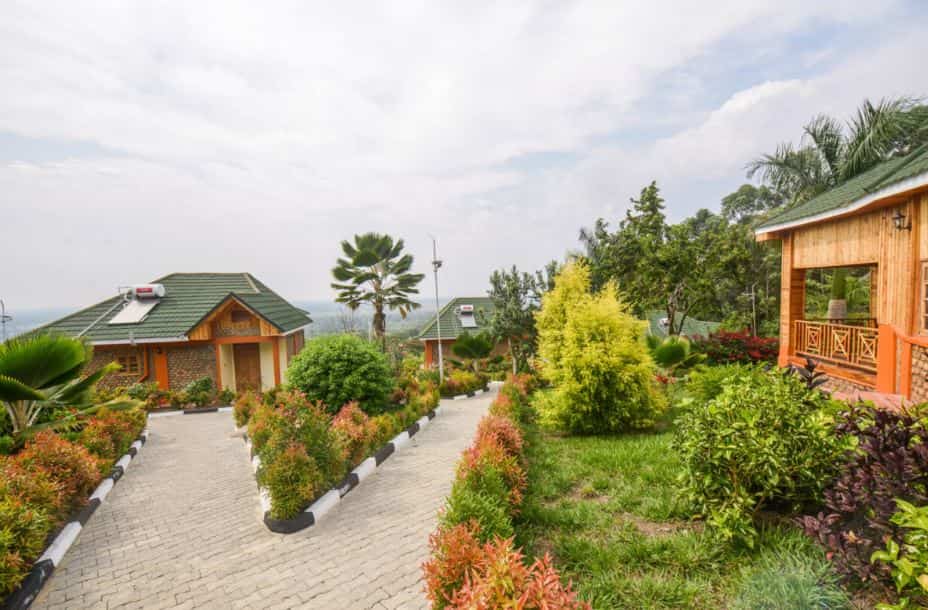 Parkview Safari Lodge is located on the outskirts of Queen Elizabeth national park, with epic view of the Great Rift Valley escarpment, Rwenzori Mountains and the Kazinga Channel which connects Lake Edward and Lake George.
The building style combines modern and local materials, opening to the wilderness beyond. The lodge reflects true African ambience and hospitality, providing comfort to guests.
It features an assortment of services and amenities including restaurant and bar. Quality service and delicious cuisine are offered in open-air dining room.
Highlights:
Hiking, game drives, boat cruising, chimp trekking, birding
Single, double, and family cottages
Spacious rooms with a beautiful view of Queen Elizabeth Np
Swimming pool, sauna and steam bath
spacious lounge, bar cabinet and dining area
8. Kasenyi Safari Camp – Midrange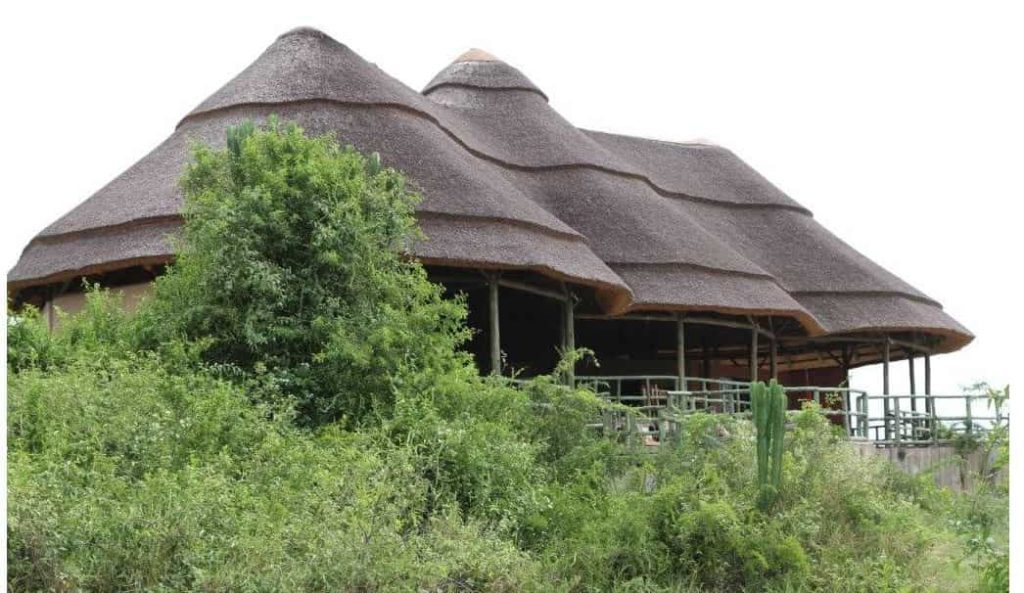 In the Kasenyi savannah, on the rim of Bunyampaka Crater Lake in the Queen Elizabeth National Park sits Kasenyi Safari Camp. The camp has spacious accommodation, uninterrupted views of the surrounding landscape, and the novelty of viewing the many animals that visit camp.
Guests can enjoy game drives in the scenic Kasenyi plains, boat cruises on the nearby Kazinga Channel, visits to the tree-climbing lions in the south of the park, chimpanzee trekking in Kyambura Gorge, nature walks in Maramagambo Forest, visits to the local Bakonzo and Basongora tribes, and bush breakfasts at viewpoints and water holes are also available.
There are 4 en-suite tents on offer. The tents are thatched; mounted on platforms, have spacious living areas, and private decks. You can enjoy meals and spectacular views from the elevated dining structure and have a drink at the bar/lounge at the end of a day spent exploring and marvelling at wildlife sightings.
Highlights:
Plenty of activities on offer including chimpanzee trekking
The en-suite tents are spacious with private living areas and decks
Beautiful views and delicious meals on the raised dining area
9. Bush Lodge – Midrange/Budget
From US$ 25 to 190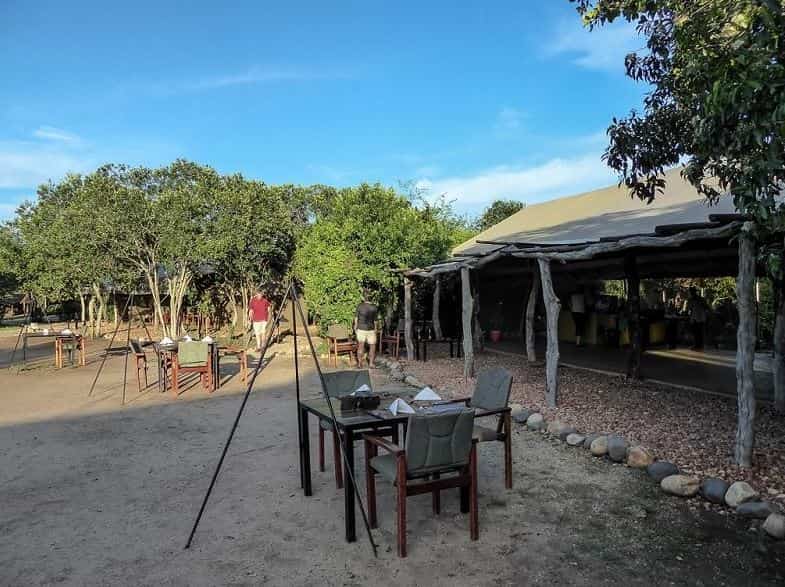 This no-frills and authentic safari lodge is situated inside Queen Elizabeth National Park. Overlooking the beautiful Kazinga Channel, the lodge has a truly unique setting. It is built according to ecological principles and designed to maximize the privacy of its guests.
Animals literally roam in and out the camp and the sounds of hippos and hyenas will complement your star-lit dinners. It really has a great outdoor safari atmosphere, and a close-to-nature experience with excellent food and friendly service.
Highlights
12 self-contained bandas, spaciously placed between the indigenous bush
2 self-contained tents, ideal for families and those who want real in the Bush experience.
10 a budget friendly non-self-contained tents
Beautiful views of Kazinga Channel
10. Enganzi Game Lodge – Midrange
From US$ 120
The captivating Enganzi Game Lodge is nestled on a hill bordering the Queen Elizabeth National Park and overlooking unspoilt bush.
With 5 splendidly set cottages which offer a picture perfect view of the Queen Elizabeth National Parks, guests will be spoilt for choice in glimpses of nature's best at flora and fauna.
The views are unmatched and the open-sided Main House has been designed with space and views in mind, you can enjoy sundowners or a 3 course dinner in the dining room or upper deck enjoying the beauty that Africa has to offer.
Guests can enjoy nature walks, Game viewing, bird watching and the location offers a breathtaking advantage for sightseeing.
Highlights:
Scenic swimming pool
Spectacular views from the lodge
Awesome room with African touch
11. Pumba Safari Cottages – Budget
From US$ 80 to 180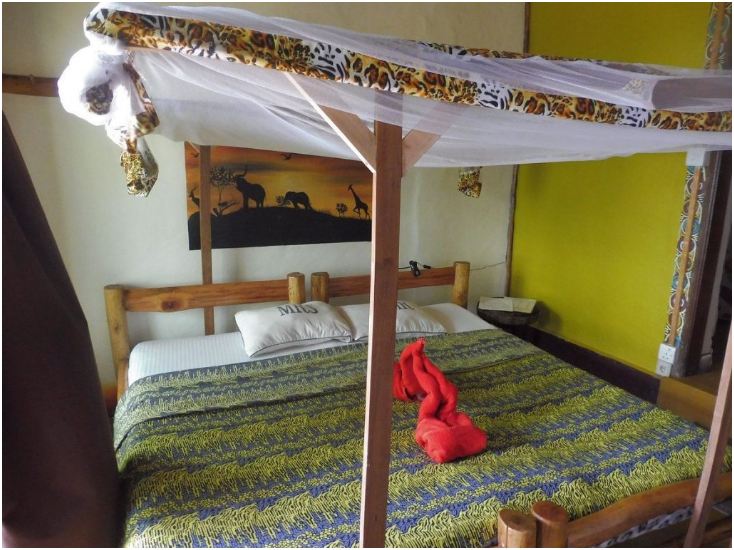 Pumba Safari Cottages is a safari lodge by Queen Elizabeth National Park located by Kyambura on the escarpment overlooking the park. The lodge has magnificent view out over the park, offering beautiful sunsets over the savanna and often spotting elephants in the park below.
It has 5 cozy cottages that are filled with local arts and crafts and perfectly pleasant. The rooms can be set up as single, double, twin or triple and are all en-suite with hot showers heated by solar and firewood.
Attached to each bed is an easy to handle mosquito net to protect you from bites in the night. There is power for charging available in the rooms and warm water showers. The restaurant boasts the reserve's stunning views from its elevated position and serves a delicious array of local and continental dishes. Wi-Fi is available in the restaurant.
Highlights
5 cozy cottages that include ensuite single, double, twin and triple rooms.
Power for charging available in the rooms
A restaurant that serves a delicious array of local and continental dishes
Safari Tours to Queen Elizabeth National Park