Queen Elizabeth National Park: Overview
Queen Elizabeth National Park covers an area of about 197800 hectares.
This is partly due to its proximity to the country's gorilla trekking parks, but also reflects its status as one of East Africa's most beautiful and bio-diverse protected areas. Here you will find expansive freshwater lakes, swathes of equatorial rainforest, tracts of rolling savannah, dense papyrus swamps, and brackish crater lakes nestled below the snowcapped peaks of the Rwenzori Mountains.
Along with all the awesome landscape to adventure, there are great wildlife viewing opportunities as well. Queen is home to nearly 100 different species of mammal. Four of the Big Five are present (no rhino), with elephants and buffalo easily seen and lions reasonably common too. The park's Ishasha sector is also one of the most reliable places in Africa for tree-climbing lions.
The bird checklist of more than 600 species is the most of any national park in East Africa. Queen Elizabeth National Park is also home to human communities too. It is one of the living examples of man and biosphere reserves or conservation areas in the whole world where man harmoniously co-exists with wildlife. Overall, Queen Elizabeth NP is a great addition to a wildlife safari holiday in Uganda.
Queen Elizabeth National Park In Uganda, Safari Travel Guide
Location Of Queen Elizabeth National Park
Queen Elizabeth National Park is located in southwestern Uganda, about 400km (7-hour drive) from Kampala. The park sits squarely on the equator line (the middle of the Earth) at the base of Africa's Great Rift Valley.
It's flanked by Lake George in the northeast and Lake Edward to the southwest, linked by a wildlife-filled stretch of water known as the Kazinga Channel, and is contiguous with great Virunga National Park in the Democratic Republic of Congo.
The smaller Kibale Forest National Park, Kigezi Wildlife Reserve, the verdant Kalinzu Forest Reserve, and Kyambura Wildlife Reserve all border the national park and serve as buffer zones. Near the national park's northern boundary are four other major protected areas: Rwenzori Mountains National Park, Semuliki National Park, Semuliki Wildlife Reserve and Katonga Game Reserves. The mountain gorilla trekking Eden of Bwindi Impenetrable Forest National Park and the gorgeous Lake Bunyonyi lies about 218 kilometers to the south.
How To Get To Queen Elizabeth National Park?
You can get to Queen Elizabeth National Park by road or flight.
Road Trip
Two routes are running from Kampala/Entebbe to Mweya. Mweya is the primary tourism hub of Queen Elizabeth National Park. The most scenic route passes through Fort Portal City. It is a 483 km (8-hour drive).
This route also offers detours to Kibale National Park for chimpanzee trekking tours. You can also visit Semuliki National Park for bird watching and nature walks. And tour Rwenzori Mountains National Park for mountain hiking tours in Uganda.
The most popular 437 km route runs through Masaka, Mbarara, and Bushenyi. This route also offers stopovers at Equator Monument at Kayabwe for photo shoots and water experiments. On this route, you can also take a detour to Lake Mburo National Park which is home to many Zebras and Impalas. You can also visit Igongo Cultural Centre and Museum. This route takes around 6-7 hours.
Flights
You charter a flight from Entebbe International Airport on Kajjansi Airstrip to Kasese, Mweya, or Ishasha Airstrips. This is the fastest way to get to Queen Elizabeth National Park. The flight takes approximately 1 hour, but it is more expensive compared to a Uganda road trip. And you'll miss out on seeing the rural villages, people and their lifestyle, plus the lush countryside.
Further Reading: Uganda Flying Safaris
Queen Elizabeth National Park Tour Packages
Stand-alone Queen Elizabeth National Park safaris usually range in duration from 2 to 4 days. They may include tracking chimps in Kyambura Gorge or the nearby Kalinzu Forest. Also available are longer Uganda safari itineraries of 7 to 21 days that travel more widely in Uganda and incorporate a visit to Queen Elizabeth National Park.
Queen Elizabeth National Park Scenery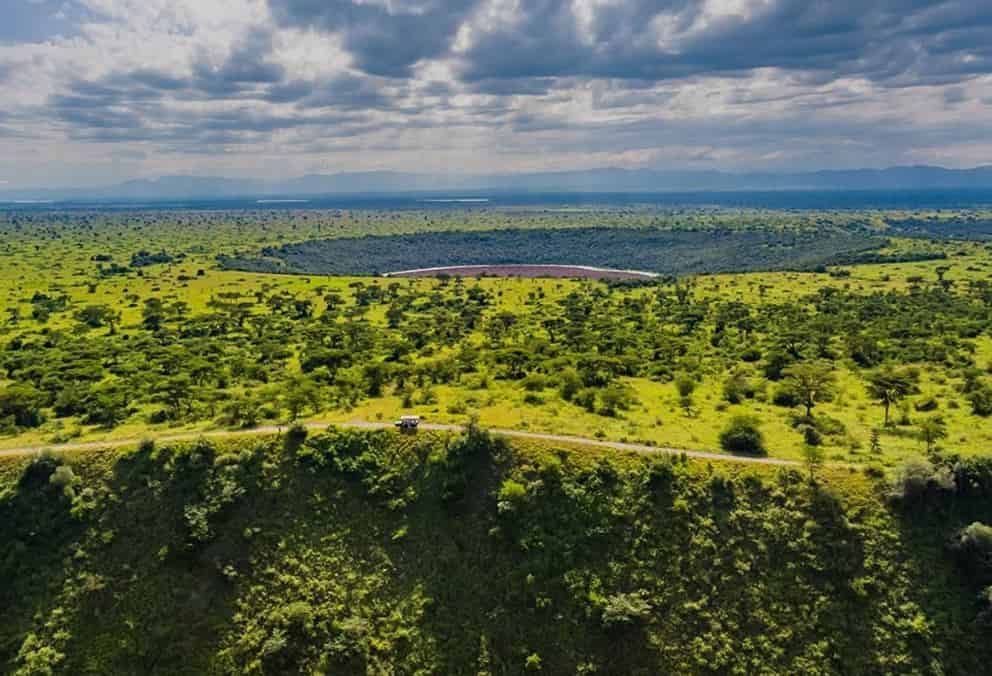 Queen Elizabeth Park boasts some of the most jaw-dropping landscapes anywhere in Uganda.
This scenic wilderness area sits on the edge of Africa's Great Rift Valley.
The valley dotted with lakes and mountains, measures thousands of miles in length, running from the Beqaa Valley in Lebanon to Mozambique in southeastern Africa.
As you explore the park, you'll see the deep flat plain of the valley itself, with the jagged Rwenzori Mountains (the Mountains of the Moon) in the background.
You'll also marvel at rolling green hills, tropical rainforests, dozens of enormous craters belonging to long-extinct volcanoes, sparkling lakes, and the wildlife-filled Kazinga Channel. Queen is indeed a medley of unique features.
Animals In Queen Elizabeth National Park
While the scenery is in itself a drawcard, Queen Elizabeth National Park is a prime destination for wildlife safaris in Uganda as well.
The park is home to almost 100 species of mammal, including 4 of the Big 5. It is the easiest place in Uganda to see lions, which quite often climb trees in the Ishasha sector but are more common on the Kasenyi Plains, where they feed on large herds of Uganda kob. An estimated 5000 hippos, 300 chimpanzees, and a variety of antelopes also reside in the park.
Elephant, buffalo, hippo, waterbuck and crocodile are generally numerous along the Kazinga Channel, which can be explored on boat trips that also offer great bird watching and occasional sightings of leopard and giant forest hog.
There is also around 10 species of monkeys, including baboons, black and white colobus, red-tailed monkeys, Vervet monkeys, and blue monkeys. Other Queen Elizabeth National Park animals include spotted hyenas, side striped jackals, mongoose, warthogs, bush pigs, and more. Giraffe and zebra are absent. Read more about the key animals of Queen Elizabeth National Park below.
1. The Big Five Animals In Queen Elizabeth National Park
Your Queen Elizabeth National Park Uganda safari tours offer you a great opportunity to see the iconic African Big Five animals in Uganda. The park has healthy numbers of four of the Big 5 (excluding rhinos).
Around 3,900 African bush elephants, 10,000 African buffalo, 200 African lions, and African leopards reside in Queen Elizabeth National Park.
Remember that the term Big 5 does not refer to the biggest animals. These are the animals that 19th-century big game hunters considered the most dangerous creatures to hunt on foot in Africa.
2. Antelopes In Queen Elizabeth National Park
Queen Elizabeth National Park also hosts plenty of antelope species.
It is home to around 20,000 Uganda kobs (Uganda's national antelope). Other antelope species you can look for include Bushbucks, Topis, Defassa Waterbucks, Duikers, and Bates's pygmy antelopes.
The elusive swamp dwelling Statunga, Africa's only amphibious antelope also inhabit the swamps around Lake George.
Their elongated, widely splayed, banana-shaped hooves allow them to walk almost silently through the water and across swampy ground.
3. Tree-Climbing Lions Of Ishasha Sector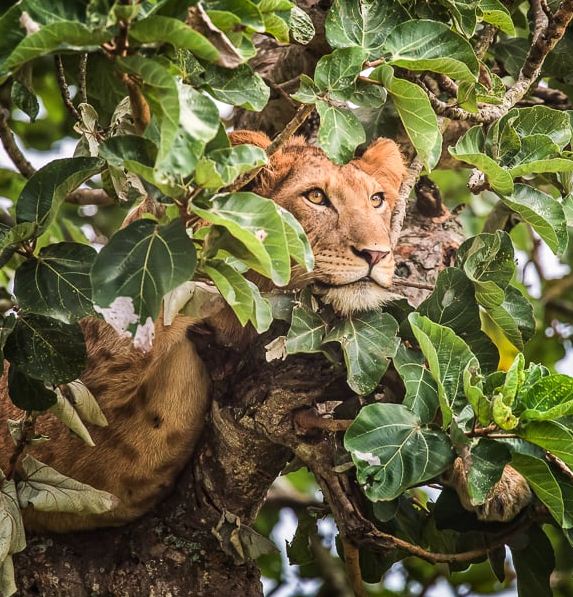 Queen is also one of the few places in Africa where visitors are almost guaranteed to see tree-climbing lions, found only in the park's southern Ishasha section.
Unlike their leopard cousins, lions are not usually particularly skillful tree climbers. Their imposing bulk puts them at the top of the predator hierarchy and imparts the power to pull down powerful prey.
But they are not well designed for nimble balance or agile leaps. While all lions can and occasionally do climb trees, it is very seldom that they make a habit of it.
Yet, in Queen Elizabeth NP, the lions are famed for their arboreal tendencies.
The most likely explanation for their behaviour is that it helps them to escape the irritation of insect bites on the ground and perhaps to capitalize on the cool breezes a few meters above ground level.
4. Chimpanzees In Kyambura Gorge & Kalinzu Forest
In the mystical forests of the 100 m-deep Kyambura Gorge in the heart of Queen Elizabeth National Park there is a small, isolated population of about 30 chimps that have become known as the "Lost Chimpanzees".
These chimps are isolated from the other populations in the park's larger forested areas. They're lone survivors cut off by the historic deforestation of the area.
Kalinzu Forest Reserve situated in the south-east of Queen Elizabeth National Park is also home to around 300 Chimpanzees.
The forest is the second best place to see chimps in Uganda after Kibale Forest. Besides chimps, these forests also host a variety of other primates and numerous birds.
5. Hippos In Kazinga Channel In Queen Elizabeth National Park
The stunning Kazinga Channel connects Lake George and Lake Edward.
The channel boasts some of the densest hippo populations in Africa. These huge animals spend most of the day submerged in water coming out at night to graze.
The males are extremely territorial and aggressive. They use their long incisors to defend their patch and their loud, distinctive honking to assert their presence.
The Kazinga Channel also attracts a rich array Uganda birds, numerous Nile crocodiles, elephants, buffalos, and Nile monitor lizards.
6. Banded Mangooes In Queen Elizabeth National Park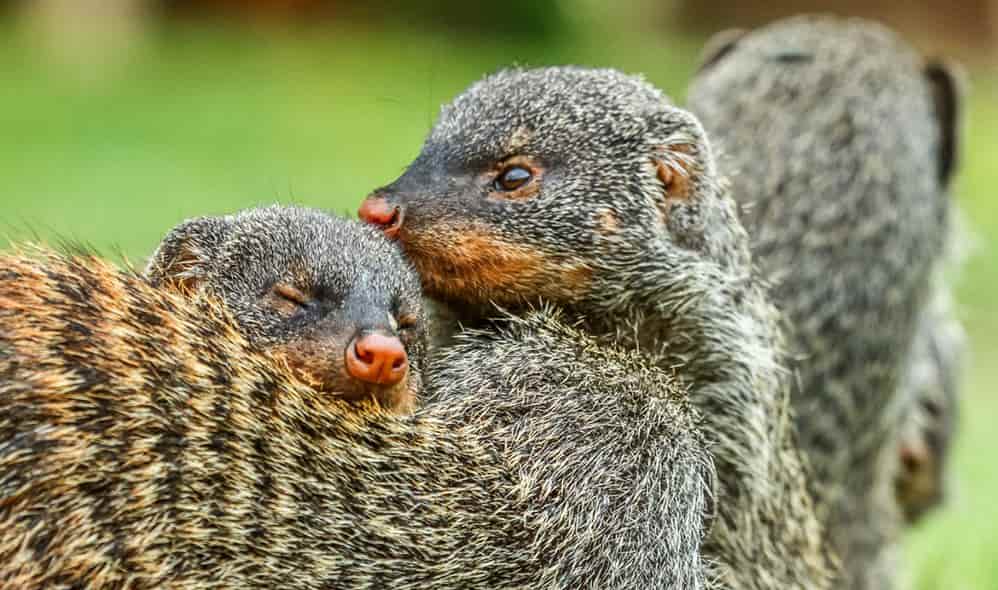 Closely related to the Meerkat, which was made popular by the Discovery TV series entitled 'Meerkat Manor', the Banded Mongooses are frequently spotted inhabitants on the plains of Mweya Peninsular.
These small and extremely social carnivores live in large packs and preys mainly on invertebrates.
They forage and sleep together as well as cooperate to defend and raise their offspring.
Interestingly, these fascinating creatures are also known as 'cooperative breeders'.
The female mongooses all give birth on the same day. Incredible! As many as 15 pups will be born in a day.
A pup can be suckled by any of the females. Pups will then choose which male — the babysitters of the species — will care for them.
If a subordinate female becomes pregnant, when the dominant four females aren't, she will be 'beaten up" and forced to abort.
If she's lucky, she will then be allowed back into the group (the risk is that if subordinates keep getting pregnant, they threaten the dominance of the group).
Examples of this behaviour were captured on the BBC TV series Banded Brothers, aired in 2010.
Birds In Queen Elizabeth National Park
It is no exaggeration to suggest that Queen Elizabeth National Park is one of the best destinations for bird watching in Africa.
The park's astonishing variety of habitats harbors more than 600 different species of birds. This is the second-highest of any park on the continent. The lakes, rivers, and wetlands are home to a plethora of plovers, herons, storks, pelicans and egrets.
In dense forest of the Kyambura Gorge and Maramagambo Forest, you'll find cuckoos, woodpeckers, and warblers. Particularly impressive are the hundreds of flamingos that congregate at Lake Munyanyange from around August and November.
Other notable birds of Queen on your Uganda bird watching tours include: Great blue Turaco, White-winged tern, Gull-billed tern, African skimmer, Swamp flycatcher, African crake, Blue-throated roller, Black-and-white shrike-flycatcher, Papyrus Gonolek, Sooty chat, Northern black flycatcher, Moustached grass warbler, Black-headed Gonolek, Red-chested sunbird, and Slender-billed weaver.
Lake Katwe IN QUEEN ELIZABETH NATIONAL PARK
The ancient Katwe salt lake was formed by a volcanic eruption around 10,000 years ago. The lake is situated in the interesting village of Katwe. It is located about 4 km west of main gate (Kabatoro gate). Lake Katwe is famous for its salt industry.
Salt mining on the Crater Lake dates back to at least 600 years ago. And today some 3000 people still use the same traditional methods.
Women pull salt from evaporation ponds when it's dry enough (generally December to March and July to September) while men dig rock salt year-round. Lake Katwe salt extraction project is one of the living examples of man and biosphere reserves or conservation areas in the whole world where man harmoniously co-exists with wildlife.
Queen Elizabeth National Park Entry Fees 2023
| | |
| --- | --- |
| Visitor Category | Fee |
| Foreign non-residents (Adult) | US Dollars 40 |
| Foreign residents (Adult) | US Dollars 30 |
| Children foreign non-residents | US Dollars 20 |
| Children foreign residents | US Dollars 10 |
| East African Citizens (Adults) | Uganda Shillings 20,000 |
| East African Citizens (Child) | Uganda Shillings 5,000 |
All Queen Elizabeth National Park fees are payable at the gate at time of entrance. You can also pay for the entrance fees at the Uganda Wildlife Authority (UWA) reservation office in Kampala.
The payment options also include Mobile money, payment through Point of Sale (POS Machines), bank transfers, direct bank transactions and payment through the UWA online payment portal
Park fees are valid for 24 hours from the time of entrance.
Children are persons aged between 5-15 years. Persons below 5 years are exempt. Entrance fees are independent of safari package activities.
Things To Do In Queen Elizabeth National Park
From game drives, boat safaris, chimp trekking, lion tracking, nature walks, bird watching, sightseeing, bush breakfast, camping to sun-downers, Uganda's Queen Elizabeth National Park offers unforgettable experiences. Here is a brief description of the best Queen Elizabeth National Park activities. You can get in touch with us for cost of each activity and more details.
1. Day Game Drives
You can enjoy early morning, afternoon and evening game drives. Queen Elizabeth National Park games drives typically lasts 3 to 4 hours. The game drives are mainly conducted in Kasenyi savannah plains. The plains contains most of the park's wildlife and are arguably the most beautiful section of the national park.
They are also a breeding ground for Uganda Kobs and a perfect place to watch the battles between the Big Cats and herbivorous animals. You can also enjoy game drives in Ishasha region to see tree-climbing lions and around the Katwe crater fields. The crater lakes region has beautiful landscapes with large craters and salt lakes that were formed thousands of years ago. The crater floors are a water source that attracts elephant's, flamingos and other creatures during the drier season.
2. Night Game Drive
Queen Elizabeth National Park also offer night game drives around Kazinga Channel (Channel Track). During the night drive, you can see rare nocturne creatures like leopards, civets, jackals, hyenas, as well as lions, hippos, and leopards.
3. Kazinga Channel Boat Cruise
You can enjoy a two hour boat trip on the 32-km long Kazinga Channel that links Lake Edward and Lake George. This relaxing cruise starts in afternoon at 2 pm and offers a chance to explore the oasis of wildlife. Kazinga Channel's shores are dotted with herds of lazy buffalo, families of elephants, huge Nile crocodiles, pods of hippos wallowing without a care, and countless species of water birds. The cruise also provides a spectacular view of the beautiful Mweya Peninsula and life in local fishing villages set along the bank.
3. Searching For Tree Climbing Lions In Ishasha
A large number of visitors visit Queen Elizabeth National Park's Ishasha sector to track the legendary tree-climbing lions who spend long lazy days dozing in the pretty fig trees. There are also a variety of other game to see in this area including elephants, topi, and sitatunga antelopes. The Ishasha is mainly visited by travellers on the way to the Uganda gorilla trekking destination of Bwindi Impenetrable Forest.
4. Bird Watching
With over 610 recorded bird species, Queen Elizabeth National Park, offers sensational bird watching on game drives, boat cruises, and nature walks.
5. Community Visits (Cultural Experiences)
You can also incorporate local community cultural tours in your safari in Queen Elizabeth National Park. You can visit Lake Katwe Salt Mines and witness how locals traditionally harvest salt and interact with the mining community.
6. Chimpanzee Tracking Adventures
Queen Elizabeth National Park offers Chimpanzee tracking in the forested Kyambura Gorge. You can also track chimps in the nearby Kalinzu Forest. Kalinzu is considered the most reliable place to see wild chimpanzees in Uganda after Kibale Forest. During your chimpanzee trekking tour, you will get the chance to spend an hour on an up-close encounter with 'man's closest living relative.
7. Tracking Radio Collared Lions
You join a research team who track and monitor some of lions in Queen Elizabeth National Park though locator devices. A Lion Tracking research trip can be a rewarding adventure. The adventure offers you a great opportunity to get a closer look at the King of the Jungle. It is also one way of contributing to an important conservation initiative.
8. Guided Nature Walks
You can take a guide nature walk verdant Maramagambo Forest. The forest is home to many primates, birds, and butterflies. It also has many unique plant species and a Bat Cave where you can see the huge African Rock Python.
Safari Lodges In Queen Elizabeth National Park
With a wealth of wildlife acting as a drawcard, there are many Uganda safari lodges and camps in Queen Elizabeth National Park. They range from luxury, mid-range to budget options. Read More: 11 of the best Queen Elizabeth National Park lodges.
FAQs
1. Why is it called Queen Elizabeth National Park?
Formerly known as Kazinga National Park, Queen Elizabeth National Park was renamed to commemorate a visit from Queen Elizabeth II of United Kingdom in 1954, while Uganda was still under colonial rule.
2. What Is The Weather Like In Queen Elizabeth National Park?
Sitting squarely on the equator line, Queen Elizabeth National Park has little temperature variation throughout the year. The weather is warm. Daytime temperatures rise to around 29°C/84°F and slowly fall to around 17°C/63°F at night.
3. When To Visit Queen Elizabeth National Park?
Queen Elizabeth NP is open all year around, but wildlife viewing safaris are best from January to February and June to August (the Dry seasons). However, this scenic park is at its most beautiful in the Wet season months of March, April, May, September, October and November. April May, October and November are very wet months and during that time, the rain might interfere with your planned safari activities.
January to February & June to July –Dry Seasons
Wildlife viewing is easier to spot as vegetation thins and animals gather around water sources
Drier trails make tracking chimpanzees easier
There is plentiful of sunny days
The best time for bird watching is late May to September
Views are not as good due to the hazy air
March to May & August to December –Wet Seasons
You will see a variety of wildlife year-round
The landscape is beautiful and green in rainy season
You can spot migratory birds from November to April
Roads may become impassable after heavy rains and forest trails get slippery
Afternoon thunderstorms should be expected, and it might drizzle for days at a time
Further Reading: When Is The Best Time To Visit Uganda?">Best Time To Visit Uganda
4. How May Days Do You Need On A Safari In Queen Elizabeth NP?
Two days is theoretically enough for a stand-alone Queen Elizabeth National Park safari tour, and several Uganda tour operators offer this option. However, given that the driving time from Entebbe or Kampala is at least 7 hours in either direction, two days makes for a very rushed safari trip and will limit how much you can fit into your tour itinerary.
For this reason, we would recommend a minimum of 3 days, preferably 4, for a stand-alone Queen Elizabeth safari. If you're also planning to add a gorilla trekking adventure, we would recommend 4 days as the realistic minimum for your safari, and 5 days or longer as ideal.
5. Can I combine a Queen Elizabeth safari gorilla or chimp trekking?
A Uganda wildlife safari in Queen Elizabeth National Park is often combined with gorilla and/or chimp trekking. The most convenient gorilla trekking destination coming from Queen Elizabeth NP is Buhoma sector, on the northern boundary of Bwindi Impenetrable National Park.
Depending on which lodge or camp you stay at in Queen Elizabeth National Park, it is only a 3- to 4-hour drive between there and Buhoma. It is also possible to drive between Queen and other trekking sites in Bwindi Impenetrable or Mgahinga Gorilla National Park, but you'll be looking at more like 5 to 7 hours on the road.
Queen Elizabeth NP is even more convenient for seeing chimpanzees, since two popular trekking sites border the park and can be visited as a day trip from any lodge or camp in the vicinity. Of these, Kalinzu Forest Reserve is recommended to budget-conscious travelers over the forested Kyambura Gorge since it offers an attractive combination of low fees and a high success rate.
It is also straightforward to tag Kibale Forest National Park – which is Uganda's premier chimpanzee trekking destination, but costlier than Kalinzu – onto a budget Queen Elizabeth NP safari.
6. How much does it cost to visit Queen Elizabeth National Park?
More affordable Uganda safari packages that focus solely on Queen Elizabeth NP typically cost around US$200 to US$250 per person per day. You can expect to pay slightly more for a package that includes chimpanzee trekking, and significantly more for one that incorporates a US$700 gorilla trekking permit. In all cases, the price should be inclusive of accommodation, meals, transport, park fees and activity costs, but it will exclude tips, unscheduled activities, drinks and other personal purchases.
7. Is Queen Elizabeth National Park safe to visit?
Queen Elizabeth National Park is a very popular safari destination in Uganda and the game park is generally safe to visit in our opinion.
Your guide will look after your safety on an organized Uganda tour, but self-drive visitors should get local advice about the area before heading out. It is recommended to take antimalarial medication and apply mosquito repellent to help counteract the risk of malaria. Also remember to cover exposed skin in the evenings. Some vaccinations are recommended for Uganda (check with your travel clinic or local doctor).
Read More: What Vaccinations Do You Need To Travel To Uganda?
Wildlife viewing in Queen Elizabeth NP is very safe as long as you follow the expert directions of your guide. And please take note of the 'Wildlife Viewing Safety Precautions' below:
Always follow the instructions and guidelines of your guide
Always keep your voice down when close to wild animals
Stay in the vehicle during game drives except at designated areas where you are allowed to get out.
Do not stand up in the car, hang out of the window or sit on the roof
Do not drive too close to the wild animals especially if you are on a self-drive safari and back off if the animals seem disturbed
Avoid driving between elephants in a herd, especially females and their young.
Stay together as a group close to your guide on a walking safari and always walk in single file
Never run or jog in a wildlife area of the park as it entices predators like lions to attack.
Never walk between a hippopotamus and water; it may panic and charge because its safety route to the water is blocked
Never leave your food in your tent; it will attract wildlife
Cover your arms and legs in the evening and use insect repellent to protect against mosquitoes.
Wear a hat, use sunscreen and drink enough water
Don't wear bright and colorful clothes especially on walking safaris
Bring warm clothes for early morning game drives