Apoka Safari Lodge Kidepo is unquestionably the top safari lodge in northeast Uganda. The lodge is an excellent option for travellers looking for an off-the-beaten-track safari in a wildlife-rich part of Uganda. It is a very luxurious lodge and highly recommended by Tulambule.
Apoka Safari Lodge is situated in the stunning Kidepo National Park. This remote and relatively little-known Uganda safaris park is where lions, elephants, and buffalo are all likely to be seen on a daily basis. Particularly for a seasoned safari-goer, this park should be very high on your list!
If you have ever experienced the busyness of a number of popular game parks and thought about spending time in a wildlife-rich, remote, lesser known reserve then you should look no further than Kidepo. It also combines beautifully with gorilla trekking in Bwindi where you have the option of staying at Apoka Safari Lodges sister camp, Clouds Mountain Gorilla Lodge.
Kidepo Valley National Park where Apoka safari lodge is found is located in the remote north eastern part of Uganda, bordering South Sudan. As such, its location is much drier compared to the rest of Uganda (which is very green and lush).
The park is regarded one of Africa's most magnificent wilderness, with grasslands and savannahs extending out in all directions towards distant mountain ranges in Uganda, Kenya and South Sudan. The closest international airport to Apoka Safari Lodge is Entebbe.
From Uganda capital city, Kampala, the journey by road is rather time consuming, at 10 to 12 hours. However, both charter and scheduled flights are also available. On average a flight to Apoka takes 2 hours– and the airstrip are just a few minutes from the lodge.
Apoka Safari Lodge's location in Kidepo is stunning. The site occupies a lofty position, on top of a kopje above the Narus River Valley, whose permanent water supply draws huge herds of buffalo as well as more obscure mammals such as hartebeests, giraffes, and zebras.
Accommodation at Apoka Safari Lodge Kidepo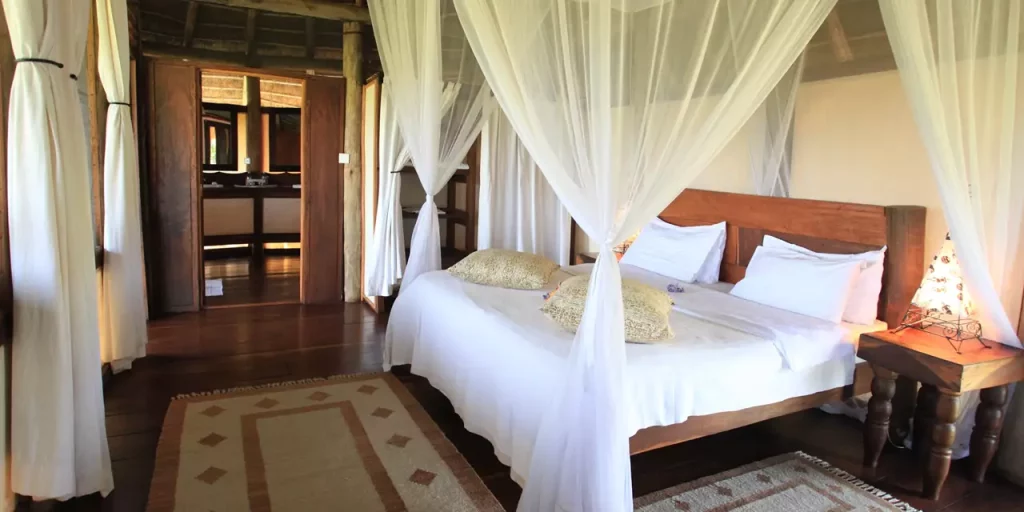 Guest accommodation at Apoka Safari Lodge consists of ten cottages.
All cottages are located a kopje.
They offer yet offer fabulous vistas of the valley, the plains, or the surrounding mountains.
Six cottages contain a double bed and four have twin beds.
Extra beds may be added for children aged 5–12 years.
In common with the lodge, each cottage is constructed from timber, stone, and thatch, blending pleasantly into the landscape.
Rooms are beautiful! Interior features include mosquito nets, bedside tables and lighting, snug rugs, ample storage space.
En-suite facilities include flush toilet, washbasins, and shower with hot and cold running water.
Outside, there is a private veranda, and a bathtub hewn into the rocks!
You can enjoy soaking in the tub while watching the local wildlife.
Facilities at Apoka Safari Lodge Kidepo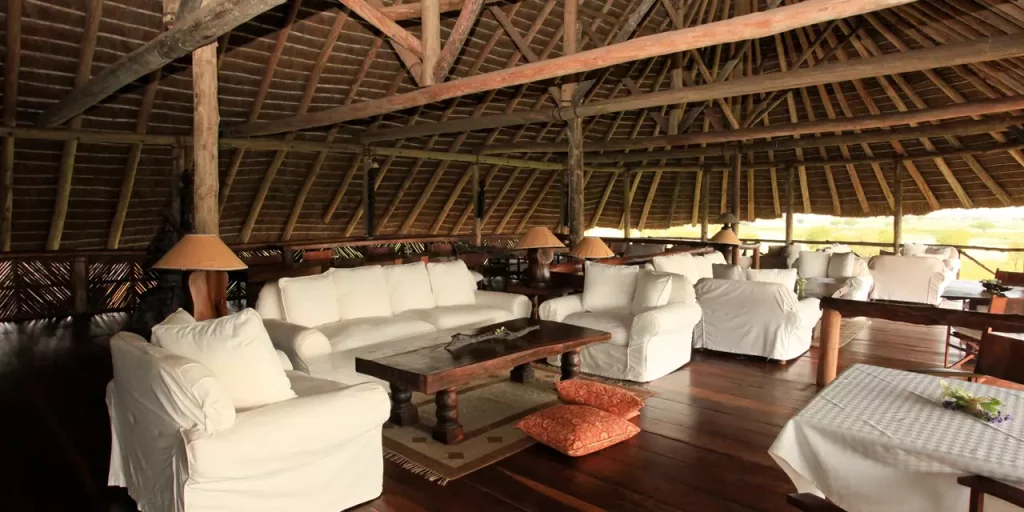 Apoka Safari Lodge's communal are is set up at the highest point of the Kopje, offering great views across the Kidepo plains. It is made out of timber, stone, and thatch.
Inside the communal area, there is an open-plan lounge, dining area, and bar. It features comfy sofas and armchairs, coffee tables, patterned rugs and a long table where everyone is invited to eat together.
At a short distance from the lodge, there is the property's swimming pool.
The swimming pool – deep and cool – has been carved out of the big rock. It is a perfect for relaxing in between your Uganda safari s activities in Kidepo Valley National Park!
Note: Please be aware that the swimming pool here has no depth markings or 'No Diving' signs, so take care before you jump in!
Activities at Apoka Safari Lodge Kidepo
1. Animal watching via Game drives
Game drives are mostly done along the Narus Valley as much of the year the park's wildlife gathers here. Lion, leopard, cheetah, hyena, wild dog, elephant, buffalo, giraffe, zebra, antelopes… there really is a lot to see here.
Bat-eared fox are in residence too, as are black-backed and side-striped jackals, and even a few primate species like the ground-dwelling Patas Monkeys.
Game walks can be done around Apoka Safari camp another property in Kidepo National Park at any time of the day and visitors are able to observe a number of animals such as Zebra, Elephant, Reedbuck, warthogs, and Buffalo.
There also long trails and circuits which visitors can walk in the early morning to observe species at close range and enjoy the beautiful wilderness.
Keen birders can look out for over 470 bird species in Kidepo Valley National Park including the Common ostrich, Kori bustard, red-and-yellow barbet, little bee-eater, and a few Kidepo highlights such as pygmy falcon, white-eyed kestrel, golden pipit, and rose-ringed parakeet.
4. Karamajongo Community visits
If you a culture fan, you will appreciate taking a cultural tour to a nearby Karamojong village.
The Karamajong tribe is the main local community inhabiting the Karamoja region and neighboring the Kidepo Valley National Park. They are some of the most remote people in Uganda and who have not been embraced modernization. The Karamajong culture and way of life is as undisturbed and Kidepo's wilderness.
Set out for a visit to learn about their unique cultures, traditional houses called Manyatta and their setting of homesteads, traditional dances, traditional handcraft stools, spears and hand bungles from beads.
5. Climbing Mount Morungole & Visit the IK tribe
Hiking on Morungole Mountain is an attractive activity which leads to the IK people. The great Morungole expedition which involves a day's hike through varying vegetation and rocky terrain commanding spectacular views of Kidepo will expose you to variety of dances from the IK, their way of life, their unique settlements and you get to learn their unique migration history.
Popular Trips Including Kidepo Valley National Park