Kidepo National Park has been ranked by CNN travel in the recent past as one of the 8 best Africa safaris destinations. Unfortunately, regardless of its high rating, Kidepo Valley National Park is still one of the least visited Uganda safaris parks. This is partly because of its isolated location in the far northeastern corner of Uganda in the Karamoja region.
Kidepo National Park is one hard to reach park. But the 10 to 12 hour road trip from Uganda's Capital, Kampala or a fairly expensive private charter flight is a small price to pay to discover one of Africa's genuine hidden gems. It's the third largest national park spanning an area of 1,442km2 divided into sections of Narus Valley and the Kidepo Valley.
This pristine wilderness is where you'll enjoy game drives and guided walks, taking you to amazing big cat sightings – cheetah, lion and leopard – and massive herds of buffalo. For the twitchers, bird life is abundant within this Uganda wildlife safaris park. It's also possible to take a cultural tour to a traditional Karamajongo homestead (Manyatta) or a challenging hike up into the Mount Morungole to meet the Ik people, one of the most marginal communities on Earth.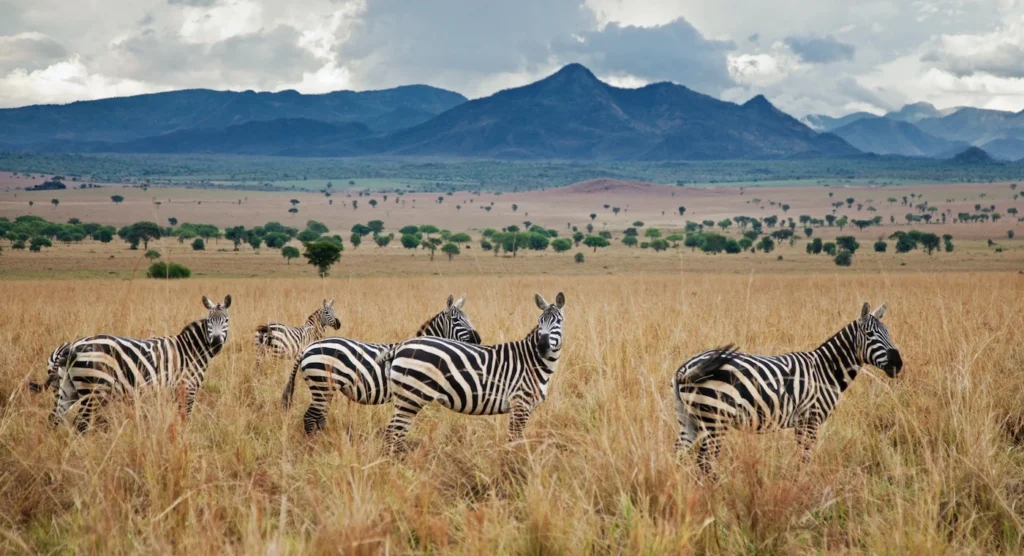 Attractions In Kidepo National Park
CNN calls Kidepo "possibly the most beautiful park in all of Africa".
In 2018, CNN wrote "With the sweeping plains of Kidepo and Narus Valleys overshadowed by the brooding mountainscape of Mt Morungole (the sacred peak of the mysterious Ik people,) this park has huge appeal just for scenery alone".
Kidepo Valley National Park vegetation is high-catching savannah grassland that spread into horizons beyond the eye can see.
The vast savannah grassland and its mountain backdrop indeed paint stunning scenery and if there wasn't a single animal living in Kidepo it would still be a wonderful place to visit.
But, that is not a concern because the populations of animals in this Uganda safari tours destination are high and the sightings are easy.
2. Animals In Kidepo Valley National Park
Kidepo Valley National Park is home to about 77 species of mammals,including:
Kidepo has four of the Big 5 animals (Lion, Leopard, Buffalo, and Elephant), which makes it a great destination for wildlife safaris in Uganda.
Kidepo Park is home to around 1000 elephants and it's one of the best parks in Africa for great herds of African buffalo. It hosts an estimated population of around 15,000 buffaloes and herds of up to 1,000 buffalos are often encountered.
Visit on a Kidepo National Park road trip often make an en route stop at Ziwa Rhino Sanctuary in Nakasongola District. Here, they track the wild white rhinos on foot. This offers them a great opportunity to see all the Big Five animals of Africa.
Many animals in Kidepo cannot be found anywhere else in Uganda; these Cheetahs, Ostriches, Bat-eared foxes, Black-backed jackals, Serval, Caracal, Mountain reedbuck, Greater Kudu, and Lesser kudu.
The park also have some species of primates including Patas monkey, Olive Baboon, Vervet monkey, Red-tailed monkey and Black and white colobus.
Other animals in Kidepo include Side-striped jackal, Rothschild's giraffe, Plains zebra, Common warthog, Jackson's hartebeest, Bohor reedbuck, Oribi, Common eland, Klipspringer, Guenther's dik-dik, Defassa waterbuck, Bush duiker, Bushbuck and Uganda kob.
Kidepo also has unusually small crocodiles with maximum length of 2.5m compared to the Nile crocodiles which regularly exceed 4 metres. The small size is apparently a result of the limited food availability.
3. Birds In Kidepo Valley National Park
Birdlife in Kidepo National Park is remarkable too with 475 species of Uganda birds, second to Queen Elizabeth National Park which has over 600 species.
If you planning a birding tour in Uganda, Kidepo is the park to go to for arid associated species such as the Common Ostrich (the world's largest non-flying bird) and Kori Bustard (the world's largest flying bird) which are unique to this region.
Kidepo is also outstanding for its birds of prey with 56 species so far recorded, including Verreaux's Eagle, White-headed Vulture, Egyptian Vulture, Pygmy Falcon, Dark chanting goshawk, Tawny eagle, and Bateleur eagle.
Other birds that must be regarded as Kidepo specials include White-crested Turaco, Secretary bird, Fox kestrel, Greater kestrel, Abyssinian roller, Abyssinian Scimitarbill, Abyssinian Ground Hornbill, White-billed go-away bird, Northern carmine bee-eater;
Little green bee-eater, Red and yellow barbet, Black-breasted barbet, D'Arnaud's barbet, Karamoja Apalis, Northern red-billed hornbill, Eastern yellow-billed hornbill, Jackson's hornbill, Rufous chatterer, Purple grenadier, Golden pipit, Chestnut weaver and Purple Heron.
The northeastern region of Kidepo Valley National Park is home to two tribes that have maintained their ancient living styles and continue to practice their traditions. It is a great place for cultural tours in Uganda.
The Karamajongo people, who are closely related to the Masai of Kenya and Tanzania, are Uganda's most distinctive tribe known for their love for cattle.
These nomadic pastoralists take a lot of pride in their culture and customs, harbor foreign interference and with their traditional lifestyle, and view new trends in life, travel, education, technology, dress, fashion, housing, medicines, religion, and several others as unnecessary inconvenience.
The male members of the tribe spend their time looking for greener pastures and fresh water for their cows, while the women stay home in the Manyatta.
A manyatta is a village made up of several huts, which in turn are surrounded by a fence made of branches and sharp thorns.
These are put up to keep the cattle in and to protect them from thieving rival tribes and wild animals.
Mount Morungole near Kidepo Valley National Park is home to one the smallest ethnic groups in Africa, of about 10,000 people, a tribe called the Ik.
According to folklore, the Ik have wandered through much of East Africa, and came from Ethiopia hundreds of years ago.
Today the IK ranks among the most marginal communities on Earth, having been forced to turn to subsistence farming in response to outside factors such as their eviction from Kidepo National Park.
Kidepo Valley National Park Entrance Fee
Foreign non-residents (Adult) – US Dollars 40
Foreign residents (Adult) – US Dollars 30
Children foreign non-residents – US Dollars 20
Children foreign residents – US Dollars 10
East African Citizens (Adults) – Uganda Shillings 20,000
East African Citizens (Child) – Uganda Shillings 5,000
Activities In Kidepo Valley National Park
1. Game Drives – Narus Valley
Kidepo National Park game drives are typically done in Narus Valley since much of the year the park's wildlife gathers here.
Narus is well designed with game viewing tracks c and from a 4×4 safari vehicle; you will have clear views of herbivores grazing in the short savanna grassland.
Lions and other cats are often sighted on top of rocks and kopjes looking out for prey in the vast plains.
The best time for the game drive is in the early morning when herbivores are grazing and the cats are on hunt! During the afternoon game drive you will find many animals around the water sources.
2. Game Drives – Kidepo Valley
Game drives can also be done in the Kidepo Valley where one can enjoy the sand bed river especially the dry seasons. The sand bed is like an oasis in a desert.
The valley is lined with palms trees and has plenty of birds. It is advisable to visit the northern area in the morning as the afternoon is unbearably hot there.
Crossing the sand bed river another highlight is the Kanangorok Hot Springs where you enjoy the spectacular landscape and can also picnic near the springs which the local people believe have magic powers.
3. Night Game Drives In Kidepo
Night is the only game viewing time that clearly exposes you to the nocturnal animals of Kidepo like leopards, lions, jackals, hyenas, and others. You will have a chance to encounter lions or leopards feeding on their hunted prey. Night drives in Kidepo are done in the company of a ranger guide.
4. Bird Watching Tours In Kidepo
An amazing 475 species of birds can be spotted in Kidepo Valley National Park, 60 of which are not found anywhere else in Uganda.
Of note are the 56 birds of prey with 14 species endemic to Kidepo including Verreaux's Eagle, Egyptian Vulture and Pygmy Falcon.
Unique to Kidepo is the world's largest birds, the Ostriches and from November to April every year, several migratory birds are present.
The deserted Namukwweny Valley in the north-west of the park is inhabited by a large number of species like White-crested Turaco, Common Bulbul, Abyssinian Roller and Eastern Paradise Whydah, Green Wood Hoopoe among others.
Along the dry Kidepo riverbed in Apoka, you can see the African Moustached and Broad-tailed Warblers, Clapperton's Francolin, Black Coucal, Marsh Tchagra and Crimson-rumped Waxbillood.
To date, no comprehensive survey of Kidepo's bird species has been completed so it is possible that you can make new discoveries.
5. Nature Walks In Kidepo National Park
A guided nature walk is one of the best ways you can view wildlife and incredible landscape of Kidepo Valley National Park. Nature walks starts in the morning at around 7.00 am and has a variety of spots to choose from.
The Narus River Valley is about five kilometers from the park headquarters and is a popular walk with visitors. Narus means a "soggy place or muddy ground".
On the nature walk there are various waterholes and grazing areas which give you a great chance to see some of the unique wildlife some of which can only been seen in this Uganda park as well as amazing views of Morungole mountain.
The Namukwweny Valley is also another nature walk spot which is further away that the Narus Valley and is a more immersive walk.
Namukwweny means a "place with no birds" but there are plenty of birds in this place.
6. Visiting Karamajongo Village
The best way to get the most out of your Uganda safari tour to Kidepo Valley National Park is to participate and immerse you in the local culture.
A visit to a traditional Karamajongo homestead (Manyatta) gives you an unparalleled insight in to what life is like for the Karamojong people.
It also gives you a first-hand appreciation of the culture and heritage of the region. You will have a chance to learn about their traditions, see their distinctive housing, ornaments, and handcrafts, and be treated to a traditional dance.
7. Hiking Mt Morungole To Meet Ik People
Hiking Mount Morungole is an attractive adventure which leads to the Ik people. This great expedition involves a whole day hike through changing vegetation and rocky terrain.
You'll have breathtaking views of Kidepo Valley National Park. And you will be exposed to variety of dances from the Ik, their lifestyle, their unique settlements. You'll also learn about their unique migration history.
Kidepo Lodges – Accommodation In Kidepo National Park
Uganda safari accommodation in Kidepo Valley National Park range from luxury, midrange, to budget lodges, camps and hostels. The outstanding lodging and accommodation options of Apoka safari lodge, Kidepo Savannah Lodge, Nga'Moru Wilderness camp coupled with the cool environment and exceptional views of the Savannah grasslands attracts visitors from far and wide.
Kidepo National Park Weather
The weather climate in Kidepo National Park is semi-arid. Droughts are common. Temperatures can reach as high as 40°C/104°F, but average around 29°C/84°F in the afternoon and 17°C/63°F at night.
There is one Wet season (differing from two Wet seasons in most of the country) from April to August.
Frequently Asked Questions About Kidepo National Park
1. What Is Kidepo Valley National Park Famous For?
Kidepo Valley National Park is best known for having a true wilderness feel. It also a great destination for the adventurous traveler. It has excellent wildlife viewing during the Dry season, featuring several species not encountered anywhere else in the country.
2. What Animals Are In Kidepo National Park?
The common animals include Elephants, Zebra, Bush Pigs, Rothschild Giraffes, Eland, Jackson's Hartebeest, Buffalo, Oribi, Lion, Leopard, Spotted Hyena, Black-backed and Side-backed Jackal. Kidepo is the best park in Africa for great buffalo herds!!
3. Where Is Kidepo Valley National Park Found?
The wild and remote Kidepo Valley National Park is located in Kaabong District, in the far northeastern corner of Uganda. It is a beautiful harsh land of semi-arid savanna and sharp-cut mountains, tucked up against the border with South Sudan, in the Karamoja sub region.
The Kidepo Valley National Park is approximately 220 km, by road northwest of Moroto, the largest town in the sub-region. The national park is approximately 520 km, by road, northeast of Uganda's capital city, Kampala.
4. How To Get To Kidepo National Park?
Western Route via Ziwa Rhino Sanctuary
This is the most direct route and takes about (571) 10 hours' drive. From Kampala/Entebbe, you travel through Karuma, Gulu, and Kitgum to Kidepo National Park. The trip can be broken up with an overnight stop at Ziwa Rhino Sanctuary (home to Uganda's only wild rhinos), Gulu, or Kitgum.
Eastern Route via Jinja & Karamoja Region
This Uganda road trip through the tribal Karamoja region to get here is a whole adventure in itself. From Kampala or Entebbe, you can drive through Jinja, Mbale, Nakapiripirit, Moroto, Kotido, and Kaabong to Kidepo Valley National Park which is about 740km (approximately 12 hour drive).
You can also drive through Jinja, Mbale, Soroti, Moroto, Kotido, and Kaabong to Kidepo which is about 792km (13 hour drive). You'll have several attractions along this route to break the road travel. You traverse the Mabira rainforest, and cross the mighty River Nile at Jinja.
Here you have an opportunity to tour Lake Victoria and explore the source of the Nile. You can also visit Mount Elgon or hike the Sipi falls in Mbale. You can opt to spend a night in Mbale or Moroto towns.
The fastest way to get to Kidepo Valley National Park is by a scheduled or chartered flight. A flight to Kidepo National Park takes about 2 hours from either Entebbe international airport or Kajjansi airstrip in Kampala
5. When Is The Best Time To Visit Kidepo National Park?
Kidepo Valley National Park can be visited at any time of the year. However, the best time to visit Kidepo National Park is in the dry season that lasts from September and all through to March, vegetation is sparser, and sighting animals around watering holes is easier. July and August are the next best months to visit as the rainy period transits to the dry period.