Once-in-a-lifetime wildlife encounters with the endangered mountain gorillas of Uganda await when you stay at Sanctuary Gorilla Forest Camp.
The camp is situated in Buhoma Sector inside the Bwindi Impenetrable National Park and blends in sensitively with the dramatic African mountain landscape.
Sanctuary Gorilla Forest Camp is only minutes away from the start of your gorilla trekking adventure. The camp is truly a part of the forest, so much so that gorilla families frequently emerge from the surrounding shrubbery and wander the grounds.
Buhoma Sector is the most popular region for Uganda gorilla trekking tours in Bwindi Forest. Besides its incredible location, the Sanctuary Gorilla Forest Camp team knows what it takes to compete in East African luxury lodging; artful and practical design paired with exceptional service.
Remote location that is ideal for nature lovers
In the heart of Bwindi Impenetrable Forest
This is the perfect base for a once in a lifetime trip to track mountain gorillas
Frequently visited by gorilla families due to its unique location
Exclusive camp with ten tents
Incredible views over the forest canopy
Opportunity for community interaction, including the local Batwa Pygmies
Specially customized sedan chairs with support and harness allows less able guests to be carried into the rainforest to track the gorillas in their natural habitat
An established philanthropy project at Bwindi Community Hospital which guests can visit
Forest walks and village visits
Gorilla Forest Camp can be accessed by road from Kampala or Entebbe and Rwanda's Kigali city (10 and 8 hours respectively).
The closest airstrip is Kihihi, about one hour and fourty five minutes flight from Entebbe International Airport or Kajjansi Airstrip. Located in Bwindi Impenetrable Forest National Park, the property is surrounded by trees and has an adventurous feel!
Flying:
Scheduled flight from Entebbe to Kihihi airstrip – 1hr 45mins
A maximum of 15 kg / 33lbs of luggage per person in soft-sided bags is allowed.
Road transfer:
Kampala to Bwindi Impenetrable National Park 10 hours
Kigali (Rwanda) to Bwindi – 7 hours (weather dependent)
Accommodation at Sanctuary Gorilla Forest Camp
This exclusive luxury camp has ten private tents that form the perfect base from which to track mountain gorillas.
Each tent has two queen-size beds, bedside tables and lighting, and a pleasant lounge area. Inside, each features an ensuite bathroom with a large bathtub that looks straight into the jungle canopy, as well as an indoor shower.
The rooms are also equipped with a hairdryer. Every tent is served by a personal attendant, who will happily run you a bath or bring you drinks to enjoy on your veranda. All are made out of timber, stone, and thatch, with a veranda at the front boasting forest views.
Please note, all tents may be converted to triple rooms, and children aged 15 years and younger must share with an adult.
Facilities at Sanctuary Gorilla Forest Camp
In the main area of Sanctuary Gorilla Forest Camp, guests can sit around the cozy campfire at night and enjoy Bwindi's crystal clear mountain sky.
There is a small bush boutique at the camp offering a variety of local artefacts and practical supplies The camp also has a mini spa with a variety of treatments.
Complimentary Wi-Fi is available, and the camp has electricity. The camp also features a bar, lounge and dining area overlooking the rainforest.
Sanctuary Gorilla Forest Camp Spa
Sanctuary Gorilla Forest Camp's mini spa provides the perfect way to end a long day of gorilla trekking adventure in Bwindi Impenetrable National Park.
The spa seems a natural enhancement of the mountain gorilla trekking experience and a chance for your mind to fully absorb the magnitude of your wonderful spiritual encounter.
It allows your body and mind to blend with the natural surroundings, while recalling those magical moments in the Bwindi Impenetrable forest.
Treatments by the specialist therapist include herbal massages, hydrating facials, foot massages and manicures, and use luxury, eco-friendly products created with pure natural ingredients.
There are also yoga kits in all the tents.
Dinning at Sanctuary Gorilla Forest Camp
The dining cottage overlooks the rainforest and a raised natural platform is built for open air-dining.
A full English and continental breakfast is served before your morning activity. Trekking gorilla's today?
The camp will pack you a scrumptious lunch including fresh fruit, sweet and savoury delights to take with you.
Once back at the camp, enjoy drinks under the stars by the roaring campfire as you discuss your amazing adventure.
All meals are à la carte and served in the bar and dining area overlooking the rainforest.
The chef serves a silver service dinner with three courses each evening.
One of the mains might even include his favourite dish – black pepper beef with stir fry noodles.
If you are celebrating a special occasion like honeymoon, Sanctuary Gorilla Forest Camp can offer romantic private dinners.
Gorilla Trekking from Sanctuary Gorilla Forest Camp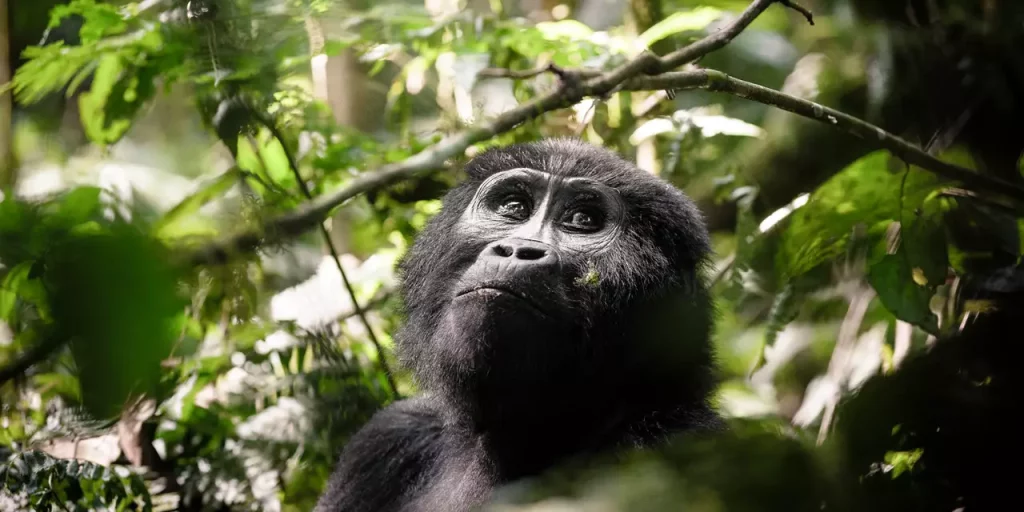 Sanctuary Gorilla Forest Camp is located by the Buhoma trailhead on the north side of the Bwindi Impenetrable Forest National Park. Buhoma is the most popular trekking sector of Bwindi, and is where gorilla trekking in Africa all began in 1993.
Gorilla trekking here is the most accessible of the 4 trailheads around Bwindi Forest, mainly due to the Rushegura gorilla family which tends to hang around near the village (and that is why they are known to wander onto the grounds of Sanctuary camp!).
In addition to the gorillas, Bwindi Impenetrable Forest National Park is also home to rare forest elephants, giant forest hogs and eleven kinds of primates.
Other activities to do during your Stay at Sanctuary Gorilla Forest Camp
A community and philanthropy tour of the Bakiga community and Batwa community is included in your stay at Sanctuary Gorilla Forest Camp. The tour includes a visit to a small tea farming project. You will visit the Bwindi Women's Bicycle Enterprise, the Bead Making Project, Ebenezer Nursery and Primary School and the Bwindi Community Hospital and Nursing School.
Full day Batwa Pygmies Cultural experiences are also on offer.
Head out on a birding walk to experiences some of Bwindi Impenetrable Forest's more than 350 bird species, including 23 Albertine Rift Endemics.
Take a scenic guided forest walks on the Munyaga waterfall trail.
Game drives are done in the nearby Queen Elizabeth National Park on request and at an additional charge. These additional activities are available at an extra cost.
Sanctuary Forest Camp 2024 Rates
Valid from 1 April – 30 May; 1 November – 20 December
1 – 3 Nights: $565
4 – 6 Nights: $424
7+ Nights: $367
Valid from 3 January – 31 March; 1 June – 30 June; 1 October – 31 October; 21 December – 2 January 2025
1 – 3 Nights: $925
4 – 6 Nights: $786
7+ Nights: $740
Valid from 1 July – 30 September
1 – 3 Nights: $990
4 – 6 Nights: $891
7+ Nights: $842
Rates Include
All meals
All drinks
Laundry
Community walk
Concession fees
Rates Exclude
Gorilla permits
Transfers to and from airstrips
Gratuities to driver / guides and staff
All items of a personal nature, telephone calls and curio shop purchases
Medical insurance
Park fees
Sanctuary Forest Camp Child Policy
Children aged 6 years and above are welcome at Sanctuary Gorilla Forest Camp.
Children aged 15 years and younger pay the child rate when sharing with 2 full paying adults
In all other circumstances children pay the applicable adult fare.
Children aged 15 and below are required to share with their parents.
The minimum age for trekking gorillas is 15 years