Nkima Forest Lodge, mabamba Swamp Entebbe
Nkima Forest Lodge is a small eco-lodge situated in its own patch of indigenous forest on Nansubuga hill overlooking Mabamba Swamp near Entebbe in central region of Uganda.
Mabamba swamp is a Ramsar Wetland of International Importance. It is also one of Uganda's best birding spots and the most convenient place in Africa to the shoebill its natural habitat.
The lodge is ideally located for early morning and late afternoon birdwatching tours into the wetland to search for iconic shoebill birds and other fantastic waterbirds of Uganda on a community boat-trip.
Nkima Forest Lodge has been built with minimal disturbance to the surrounding forest and the open grassy area on top of the hill. The lodge is easy to reach from Entebbe town and Kampala.
And it is perfect for those seeking peace, fresh air, and escape to an area of great natural beauty. The lodge is named in Luganda after Nkima, the many monkeys which leap about in the trees.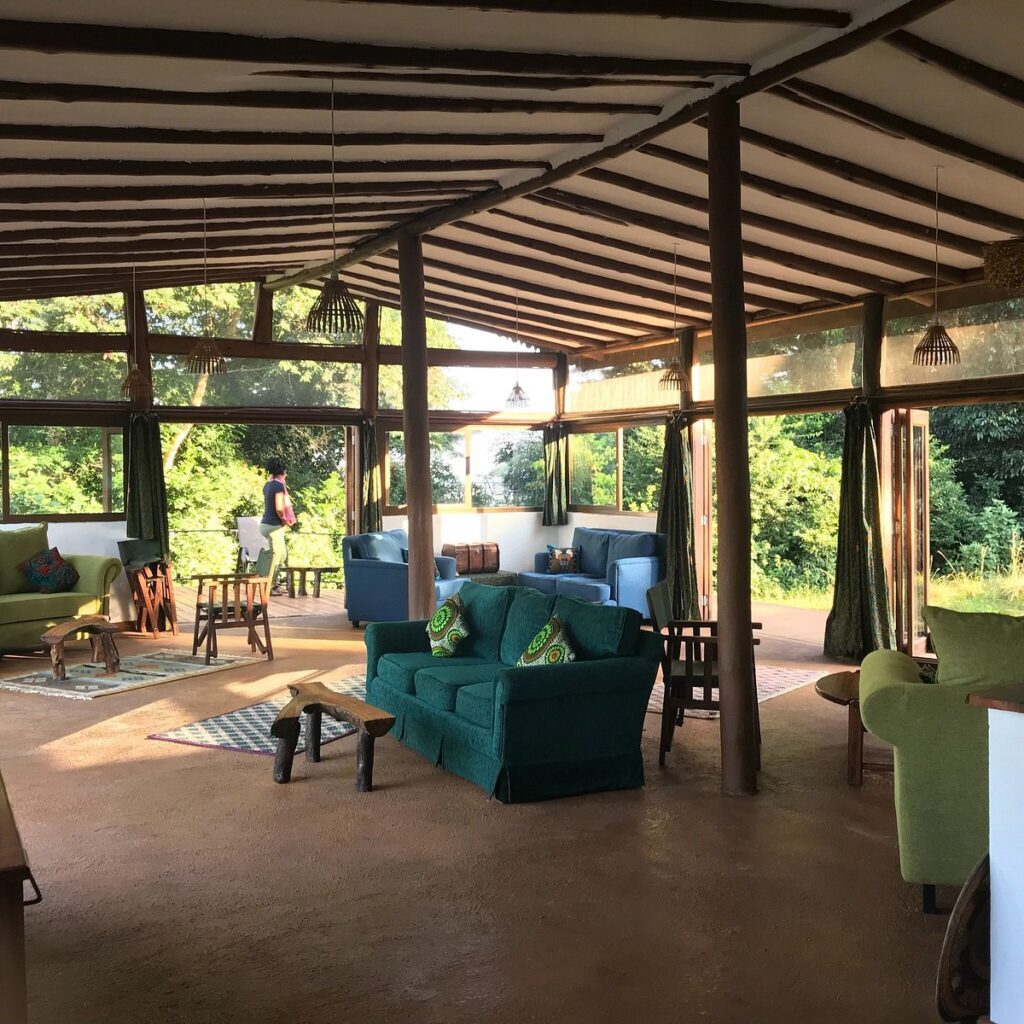 Accommodation and facilities at Nkima Forest Lodge
Guest accommodation at Nkima Forest Lodge consists of 6 self-contained cottages with balconies. Two family cottages have 2 bedrooms which can sleep 4 adults or a family with 3 children or 2 singles sharing a bathroom. Other rooms can be single, double or twin.
The main lounge area is comfortably furnished and is open in the day but screened from mosquitoes at night. Near the lounge area, the lodge has a high deck built into the forest, with views across the swamp, perfect for an evening sundowner or a quiet spot for sitting and reading in the shade.
A short distance from the main lodge there is a fire pit with sunset views over the forest canopy and the wetlands beyond. Through a small patch of forest beyond the fire pit – and hidden from the main lodge – there is a swimming pool with a protected shallow area for children and a small deck with chairs and loungers. There are hammocks at various spots for resting or reading in the cool of the forest.
The lodge is off-grid with solar lighting, solar water heaters and portable borehole water.
There is Wi-Fi in the main lounge area and charging facilities in the rooms. Nkima Forest Lodge has a restaurant that serves freshly cooked continental-style cuisine with vegetarian options. The lodge caters for dietary requirements such as gluten-free and lactose intolerance.
The flora and fauna of Nkima Forest Lodge
The forest contains many bird species, as well as Red-tailed and Vervet monkeys.
The site also has numerous species of butterflies and insects, as well as some smaller mammals such as squirrels and mongoose. Duikers and bushbacks have occasionally been spotted.
Nkima Forest Lodge was started to preserve this small patch of indigenous forest (27 acres) that contains many tree species from West Africa. Though most of the big trees were logged about 30 years, enough seeds and saplings re-grew to provide a diverse secondary forest.
There are plenty of leaves to feed the caterpillars, which leads to a great diversity of butterflies and other insects. All this insect life is fantastic for the birds, frogs and lizards which abound in the forest. Forest creatures are used to hiding in the shadows but if you sit quietly on your deck you are bound to see some interesting wildlife.
Activities at Nkima Forest Lodge
1. Mabamba Wetland Shoebill Watching tours:
One of the main reasons for staying at Nkima Forest Lodge is to see the rare Shoebill Stork in its natural wetlands habitat. The local community organises boat trips with expert guides to see the Shoebill as well as other bird species of the wetland.
These trips are popular with birders and non-birders. By staying at Nkima Forest Lodge, you'll be able to arrive at the Mabamba landing site in the early morning, the best time for seeing the Shoebill and other birdlife. The community has worked hard for several years to protect Mabamba Swamp.
The local boats can supply life jackets if requested.
More than 140 bird species have been seen and recorded from the Nkima Forest Lodge.
Non-birders will enjoy the noisy large black and white casqued hornbills, African grey parrots, western banded snake eagles, the Great Blue Turacos, and the pied hornbills.
Specialist birders can searh for the Vanga flytcher, White spotted flufftail, the whistling cisticola, the Western nicator, the Snowy-headed robinchat, and the red-bellied paradise flycatcher.
Short and longer walks can be arranged directly from Nkima Forest Lodge.
The perimeter walk around the 27 acre forest includes a visit to an old fig tree, of spiritual significance to the Mamba clan, one of the many clans that make up the Baganda, the largest ethnic group in Uganda. This walk takes about 30-40 minutes.
There is a short walk along the top of the hill, which leads to a viewpoint with great views of the Mabamba Swamps to the west, Bussi Island to the south and Entebbe to the east. Longer walks can be arranged to Mabamba village and along the forested edge of the wetlands below the lodge.
Nkima Forest Lodge has 6 mountain bikes for guests to hire. These cost $20 for half a day.
There are several cycling routes around the lodge: a short circuit below the hill, or towards Kasanje through the nearby villages. For a longer bike ride, you can go to Bussi Island, which has excellent tracks for cycling and very few vehicles. To reach Bussi Island, you have to put your bike on a local boat which will ferry you to the island (10,000 per person return).
Nkima Forest Lodge has two canoes available for hire for paddling along the channels in the wetlands of Mabamba.
6. Shoebill Adventure Park
This nearby attraction on Bussi Island can be reached by boat from the Mabamba landing site (or by boat and cycling). The Adventure Park offers an aerial rope adventure challenge with 3 levels of difficulty all ending in a zip line down to a sandy beach.
Nkima Forest Lodge also has a large selection of card and board games available for guests as well as croquet and boules/bocce.
Children love to try their skills at catching and identifying the many butterflies on the hill with small nets provided by the lodge. They are of course released after identification.
More than 100 butterfly species have been identified.
The protected Mpanga Forest Eco-tourism site is a 30 minute drive from Nkima Forest. It offers great forest walks, bird watching and or cycling tours in beautiful rainforest.
Nkima Forest Lodge Ecological Footprint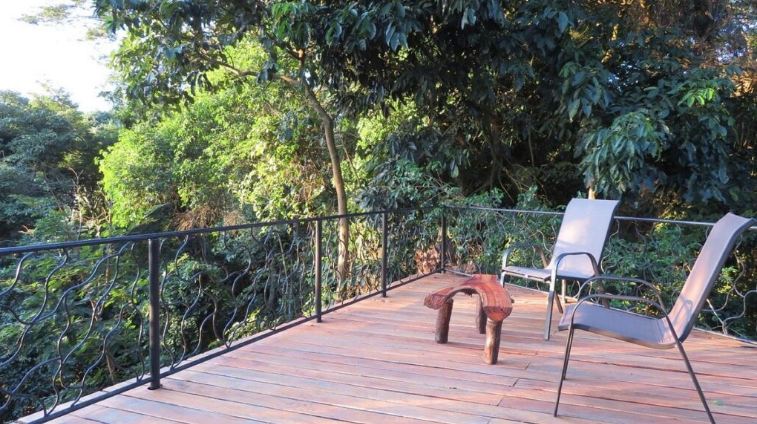 Nkima Forest Lodge is completely off-grid and all the electrical power comes from solar panels. Sockets in the rooms can be used to charge phones or laptops.
The hot water is also heated by solar and is usually warm enough – even on a dull or rainy day – as the lodge have a large insulated storage tank. Water comes from a deep borehole and has been tested as potable, and is far better than using water from plastic water bottles.
Water is pumped up the hill with a solar pump and the swimming pool pump is also solar.
The laundry is done by hand and sun dried! Hopefully you can see that it is possible to enjoy a modern life without too big an impact on the environment.
The lodge use gas to cook on but also use a pressure cooker to reduce gas consumption. Most food is locally sourced and freshly prepared.