This luxurious 4 star hotel is owned and operated by Marriott International, which has a portfolio of over six thousand properties in 122 countries and territories.
Protea Hotel Entebbe by Marriot receives regular excellent reviews. It is very convenient for Entebbe International Airport, and a comfortable base from which to explore Entebbe town attractions.
Protea Hotel is certainly ideal if you wish to make a very short journey from Entebbe Airport to your accommodation in Entebbe, or vice versa. The hotel is positioned next to the airport's ring road, and a shuttle service is available for added convenience.
Deluxe resort hotel just 1 kilometres from the airport, on the shores of Lake Victoria
Grand total of 86 sumptuous suites and rooms
Well-appointed lounge areas, restaurant, conference rooms, business suites, fitness centre, gardens, swimming pool, beach
Explore Entebbe – lots to do in and around the town
Hotel is child-friendly and offers a wading pool for kids.
Rooms have balconies and verandahs, and upper-level balconies offer excellent lake views.
Facilities at Protea Hotel entebbe by Marriott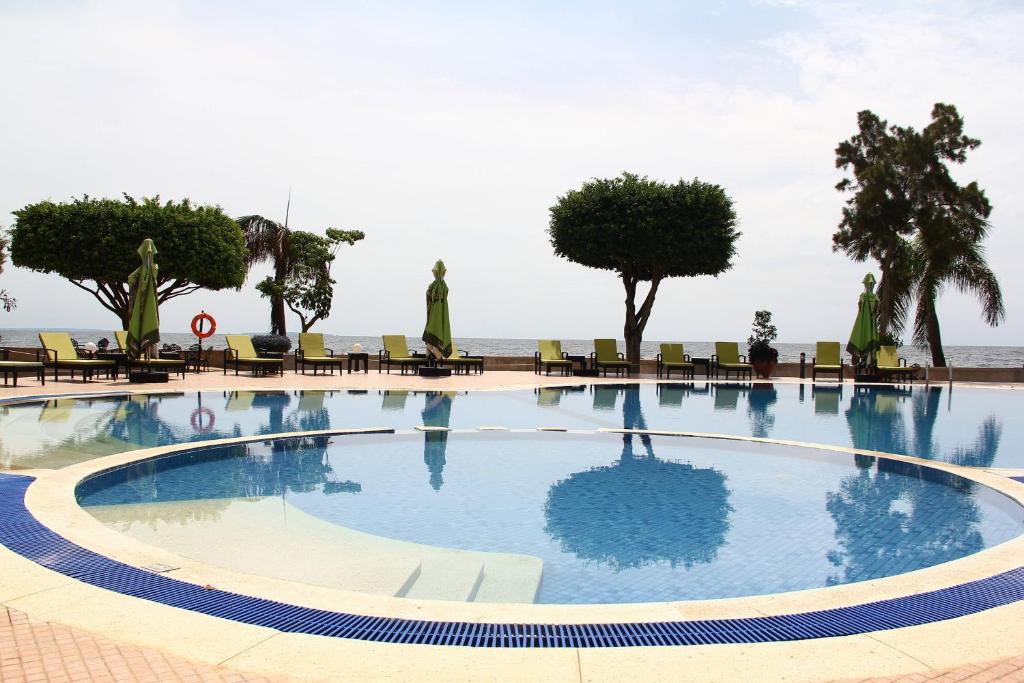 Protea Hotel by Marriott Entebbe is a modern building, with a grand entrance leading into a fairly sweeping reception space.
Various lounge areas invite guests to relax in style and comfort. The restaurant provides a continental breakfast and an à la carte menu every day of the week. The dress code is smart casual.
Guests also have access to a fitness centre, which has a good assortment of cardiovascular equipment and free weights. The centre offers complimentary fitness classes too.
After a session, you can chill out in Protea's well-kept gardens. These include a swimming pool, and they are adjacent to the hotel's private beach complete with sunloungers.
Finally, conference clients are well served by 4 event rooms, 6 separate suites, and business services such as faxing, photocopying, printing, posting, and overnight delivery or pick-up. High-speed internet access is in place, and a variety of banquets may be ordered. For more information, please get in touch with Tulambule Uganda safaris.
Guest Accommodation at Protea Hotel Entebbe by Marriott
Accommodation at Protea Hotel by Marriot Entebbe consists of 86 spacious and well-furnished rooms and suites across six categories.
All rooms have contemporary décor and plenty of comforts to ensure you feel at home.
The Standard room option features a double bed or twin beds, bedside tables and lighting, a desk and chair, an iron and ironing board, a satellite television, Wi-Fi, a telephone, a tea- and coffee maker, a mini-bar, and a marble bathroom with hairdryer. There is enough room to fit a crib or rollaway bed for kids if you need one but not an extra bed.
The Deluxe Rooms have all the features of the Standard, as well as a balcony with lovely Lake Victoria views, whereas the Premium Deluxe Room resembles the Deluxe Room and are more spacious.
If you are looking for more spacious overnight accommodations on your safari holiday in Uganda, opt for one of the Protea Hotel's suites which feature a king-size bed and a separate lounge area, with space for an extra bed here. They have lovely lake views and floor-to-ceiling doors opening onto a private balcony with a seating area.
Dining At Protea Hotel Entebbe by Marriott
While Protea Hotel by Marriott Entebbe offers room service, the Tides Restaurant is a must-visit, and offers a la carte menu. Here, you can enjoy views of the sunshine sparkling on Lake Victoria as you dine on fresh tilapia or Nile perch.
The restaurant provides a varied choice of cuisines, along with terrace dining options. During your tour of Entebbe, you can make time to stop by the thatched outdoor bar to order drinks and sip on them as you laze beside the pool while eating lunch or evening time snacks like samosas, spring rolls and pizza.
Activities You Can Do While Staying at Protea Hotel Entebbe by Marriott
At Protea Hotel Entebbe, guests can enjoy a refreshing swim in the pool, complete with a shallow children's area. The hotel also has a crafts and souvenir shop, and bicycle rental, making it easy to explore the suburbs and streets of Entebbe. For those returning from a gorilla trekking adventure, we recommend visiting Tides Spa to relax and loosen the tense muscles before the flight.
Protea Hotel by Marriott Entebbe is well positioned for you to get out and explore Entebbe, if you have time. For example, you could take a boat cruise, or rent a bike to cycle near the lake while keeping an eye out for the beautiful avian life.
You can go fishing on the lake and then end your fun-filled day by enjoying a breathtaking African sunset. If you enjoy golfing, consider visiting the Entebbe Golf Club, which is close by.
Before you travel to the parks and reserves of Uganda, get an overview of the country's incredible flora and unique fauna by visiting the Uganda Wildlife Education Center. At this conservation center, which is on the banks of the lake, you can meet the rescued, orphaned, and injured animals that call it home.
Entebbe Botanical Gardens are also a great destination for fans of feathery friends, such as Marabou stork and hornbills. The gardens contain black-and-white colobus monkey too, and events are hosted here throughout the year – music festivals, nature walks, and feeding the monkeys.
Another primate pastime to enjoy is a visit to Ngamba Island Chimpanzee Sanctuary in Lake Victoria also makes for an interesting excursion, as do the Mabamba Swamp, where one of the world's most amazing birds, the shoebill, finds refuge.
Other attractions not far from Protea include the Uganda Reptile Village, located on the highway between Kampala and Entebbe. And the town itself has all sorts of bars, cafés, and restaurants, offering an exhilarating mix of local and international cuisine.