Where to Stay in Entebbe, Uganda: 9 Best Hotels (2023)
Entebbe is an attractive, verdant town on the shores of gorgeous Lake Victoria – Africa's largest lake. Unless you have a compelling need to rush into Kampala, Entebbe makes a pleasant, chilled-out introduction to Uganda. And many visitors prefer to base themselves here for a few days rather than in Kampala. It is also a great place to end your Uganda safari trip if you are stuck with one of the many early-morning flights out of Uganda's only international airport.
Read More: Things To Do In Entebbe
A list Of The Best Hotels In Entebbe, Places To Stay
Lake Victoria Serena Resort & Spa
Hotel No. 5
Protea Hotel Entebbe
The Boma Hotel
Lake Victoria Hotel
2 Friends Beach Hotel Entebbe
Papyrus Guesthouse Entebbe
Karibu Guesthouse
Airport Guesthouse
1. Lake Victoria Serena Resort & Spa (High-End)
Lake Victoria Serena consists of 114 Standard Rooms, 8 Executive Rooms, and 2 Presidential Suites. The resort is run by Serena Hotels, a company with an impressive portfolio of deluxe properties across Asia and Africa. The hotel is set on the shores of Lake Victoria.
It has an enviable position between Entebbe and Kampala, making it the ideal overnight stop before or after a Uganda safari adventure. Styled to replicate the lines of a classically rustic Roman villa, accommodation here suits all types of travelers. And one category has even won Leading Hotel Suite in Uganda for 3 consecutive years at the World Travel Awards.
It is studded with fountains and overlooks terraced rose gardens down to Lake Victoria and Lweza Hills. Widely spaced amongst the gardens, is clusters of pastel-painted villas that offer a choice of rooms and suites, all with panoramic lake views.
Highlights:
Ultra-luxurious golf resort and spa, 20 minutes drive from Entebbe
A grand total of 124 sumptuous suites and rooms
Superb views of Lake Victoria over manicured grounds
Fully equipped spa
Large swimming pool & child-friendly environment
Championship golf course, gym, tennis & volleyball courts
Extremely convenient location
Wide range of dining options
Lake cruises
Visit the Ngamba Island Chimpanzee Sanctuary
The upscale, boutique Hotel No. 5 has 10 rooms and 5 apartments. The hotel is located about a 10-minute drive from Entebbe International Airport. It's situated in a serene suburb, with lovely garden grounds. It is the perfect place to either begin or end your safari adventures in Uganda.
It's run by Uganda Exclusive Camps & Lodges, a company that specializes in providing high-quality accommodation in some of Uganda's most thrilling destinations! Here, your stay is booked on a Bed & Breakfast or self-catering basis. When sharing a room with their parents, children aged 5 to 11 years get a discount. And children aged 4 years and under stay for free!
Highlights
Stylish and elegant luxury hotel
Ten minutes drive from Entebbe International Airport
Ten rooms and five double-storeyed self-catering apartments
Lovely lounge, spa, swimming pool, onsite restaurant and gym
Boat cruises on Lake Victoria and Mabamba Swamp
Visit the chimpanzees at Ngamba Island Chimp Sanctuary
Tour the Uganda Wildlife Education Centre
Perfect starting or end point after exploring Uganda
3. Protea Hotel Entebbe (Luxury)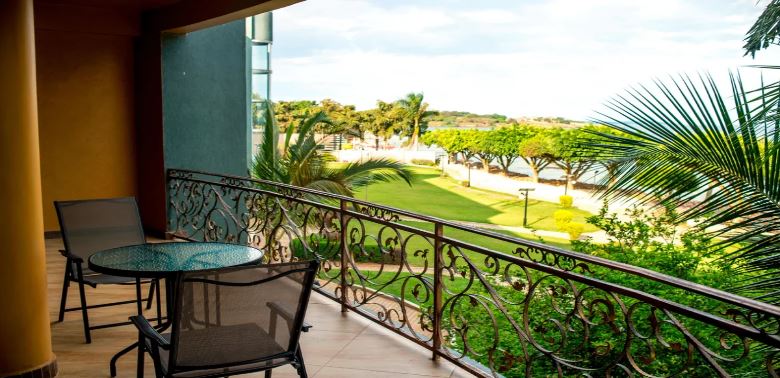 Protea Hotel Entebbe has 86 rooms and suites across six categories. It is owned and operated by Marriott International, which has a portfolio of over 600 properties in 122 countries and territories. Protea receives regular great reviews. The hotel is conveniently located near Entebbe International Airport. It is a comfortable base from which to explore Entebbe and other areas of Uganda.
Highlights
Deluxe resort hotel just 1km from the airport, on the banks of lake victoria
A grand total of 86 sumptuous suites and rooms
Well-appointed lounge areas, restaurant, conference rooms, business suites, fitness center, gardens, swimming pool, beach
Explore Entebbe – lots to do in and around the town
4. The Boma (Semi-Luxury)
The Boma has a few rooms, configured as a double, twin, triple, or family unit. The hotel is set in tropical gardens in a leafy suburb, a 10-minute drive from the airport.
With parts of the property dating back to the 1940s, Boma has retained a down-to-earth, modest atmosphere but the availability of a child-friendly swimming pool, Wi-Fi, and satellite television places it firmly in the 21st century. This is an outstanding accommodation option in Entebbe and regularly receives awards from TripAdvisor, including a Certificate of Excellence.
Highlights
Excellent proximity to Entebbe International Airport
Wi-Fi connectivity and satellite television
Eco-friendly practices
Swimming pool to cool off and refresh
Flexible meal times
Coffee station in your room
Lovely lounge, restaurant, bar, terrace, gardens, playground
Close to many of Entebbe's main attractions
5. Lake Victoria Hotel (Semi-Luxury)
The Lake Victoria Hotel is a classic colonial-style 4-star establishment. Spacious and elegant, the hotel is a true oasis of tranquility. It is set in lush tropical gardens, amidst majestic Royal palm trees. The verandas and terraces of the hotel overlook the tranquil beauty of Lake Victoria. There is also an excellent swimming pool. The hotel is about a 10-minute drive from the airport.
Highlights
Became operational in 1948 during the colonial time
1 km from Entebbe International Airport
Free Wi-Fi and Airport Shuttle
Swimming Pool, Fitness Center, spa and sauna
6. 2 Friends Beach Hotel Entebbe (Mid-Range)
2 Friends Beach Hotel has sixteen rooms that are beautifully decorated with a creative and unique design. The best part of the hotel is that they have their own private beach on Lake Victoria! They also have a swimming pool. It is an intimate hotel, which offers a peaceful and private ambiance.
Highlights
Only 10 minutes from Entebbe airport
Offer one free airport transfer to or from our hotel
Private beach on Lake Victoria
Beach Restaurant
Delicious food and drinks while you enjoy the soft breeze and magnificent view
Swimming pool, free and fast Wi-Fi
Flat-screen TV in all rooms
Bike Rental / Tour
Fishing Tours
7. Papyrus Guesthouse Entebbe (Mid-Range)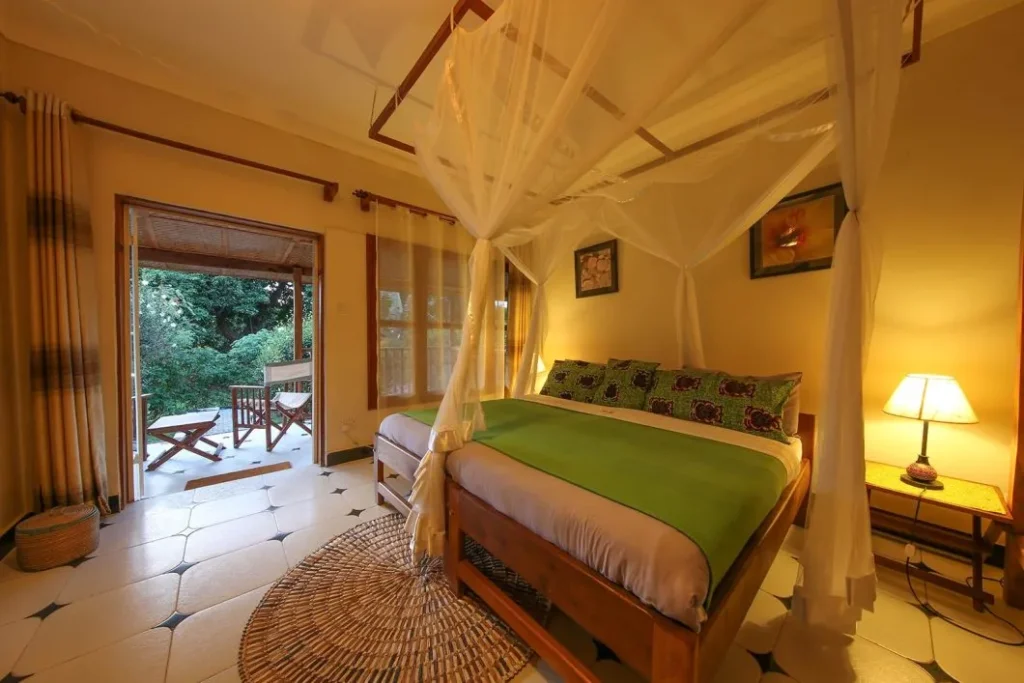 Papyrus Guesthouse consists of 9 nice garden-view rooms, 5 rooms in the main house, a good restaurant, and a great vibe. It is a Bed & breakfast hotel, offering all amenities of a small and beautiful boutique hotel.
Highlights:
Small cozy, but stylish guesthouse in the suburbs of Entebbe
15 minutes from Entebbe International Airport
9 Deluxe Garden Rooms and 5 Standard Main house Rooms, all ensuite
City walks, biking, shopping, golfing, boat rides, birding
8. Karibu Guesthouse (Mid-Range)
Karibu – which means 'welcome' in Swahili – is a perfect retreat before or after safari tours in Uganda. It has 7 uniquely designed single, twin, or double rooms with en suite bathrooms.
Karibu is roughly a 10-minute drive from the airport and it is quietly hidden away from the busy main roads. One the home of Uganda's president, it is a sturdy stone structure surrounded by gardens. It is an ideal place to spend a relaxing night.
From the open-air veranda and upstairs terrace, you can enjoy the abundant birdlife in the garden or the sunset over Lake Victoria. Wi-Fi is available free of charge and staff speak English, French, and Spanish.
Highlights
Friendly staff, excellent service, and delicious meals prepared with fresh ingredients
Birdwatching with 30 species recorded on the estate alone
Swimming pool with natural waterfall
Former presidential residence surrounded by beautiful gardens
Homely stopover in-between gorilla trekking in Bwindi Impenetrable Forest
9. Airport Guesthouse (Budget)
Airport Guesthouse is an affordable place to stay. It's only a 5-minute drive from the airport and offers comfortable and clean self-contained rooms and a cozy restaurant in colonial style. The garden is just wonderful! Airport Guesthouse provides a mid-range stay for budget rates, so probably one of your best options!
Highlights
Affordable and comfortable place to stay
Just 5 minutes from Entebbe International Airport
Set in a quiet residential neighborhood with beautiful gardens
Shuttle service to and from the airport
10 elegant en-suite rooms
4 rooms with shared bathrooms