The best lodges in Lake Mburo National Park include Mihingo Lodge, Rwakobo Rock, Eagles Nest Mburo, Kigambira Safari Lodge and Leopard Rest Camp.
Lake Mburo lies halfway between the capital city of Kampala/airport city of Entebbe and the gorilla trekking and chimpanzee trekking havens in the country's west. A stay at these Lake Mburo National Park lodges offers a convenient stop-over for those driving this route.
The park offers a selection of Uganda safaris activities including boat cruises, game drives, game walks, bird watching; horseback rides, cycling tours, and cultural tours.
Our Tulambule Uganda safaris specialists can offer expert advice and select the best safari accommodation in Lake Mburo National Park to suit you, as well as assist in booking flights, activities, car hire or road transfers. Which accommodation is right for you will depend on many factors such as your budget, group size, and duration of stay.
The 5 Best Lodges in Lake Mburo National Park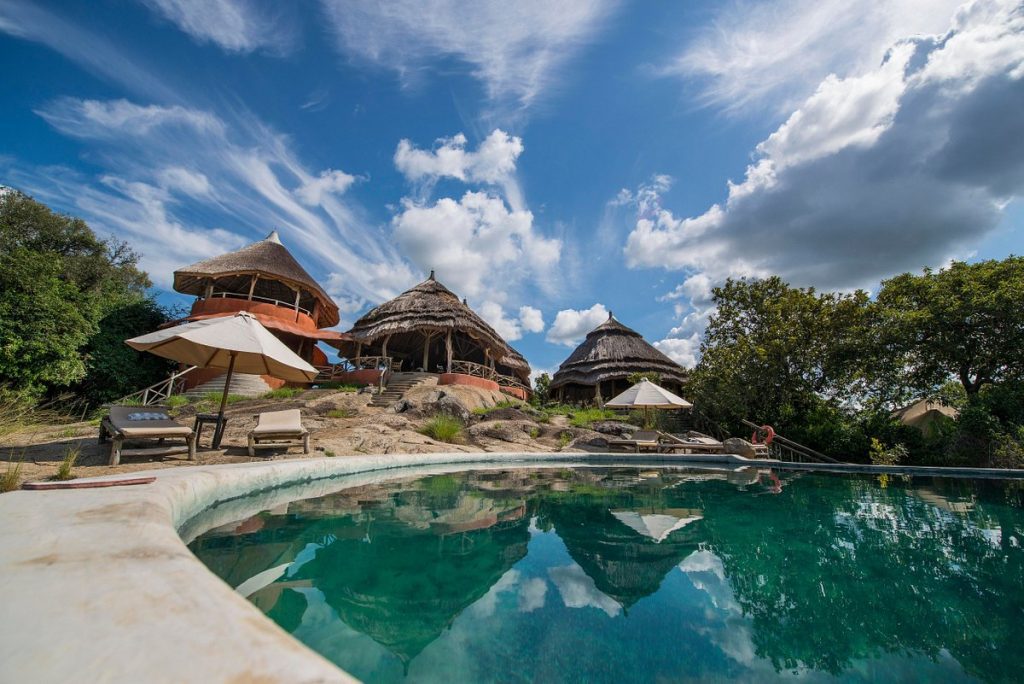 The magical Mihingo Lodge undeniably the most luxurious Uganda safari lodge servicing Lake Mburo National Park. This family owned lodge has a dozen luxury tented chalets.
The chalets are scattered across a forested hill whose rocky summit offers wonderful views of the lake and forest in the valley below. There is also a beautifully appointed open-sided dining area and an infinity swimming pool set between the boulders.
Mihingo has the added value of offering horseback safaris, game walks and cycling tours, as well as night drives that come with a good chance of seeing leopards. It also offers a children's programme for the little ones. It is an ideal place to stay during your Uganda family safari.
Highlights:
5-star luxury lodge near Lake Mburo National Park
Uninterrupted forest and lake views
Infinity pool overlooks a wildlife-frequented watering hole
Horseback safaris, walking safaris, cycling tours and night drives
Photography hide
Game drives and boat cruises
Yoga and massage treatments
Children's programmes
The eco-friendly Rwakobo Rock occupies a rocky outcrop on the border of Lake Mburo National Park, 1km from the Nshara Gate, with beautiful views into the park.
There are 8 homely and spacious private thatched cottages, with solar lighting, flush toilets and solar heated showers, which blend into the natural landscape.
The swimming pool has amazing views, shared by the large dining room and bar. In addition to the normal Lake Mburo National Park activities, Rwakobo Rock also organizes mountain biking tours of the savanna outside the national park border, which is a great way to stretch your legs after a drive while also seeing some of the local wildlife.
Animals like warthogs, zebras, impalas and bushbucks abound around the lodge and often gather at the water hole underneath the dining area. Every night the friendly Rwakobo staff stokes up a camp fire so you can watch the sunset explode into a brilliant starlit sky.
3. Kigambira Safari Lodge
Opened in 2020, Kigambira Safari Lodge is a luxury eco-lodge built in the Southern part of Lake Mburo National Park. The lodge is situated between Lake Kigambira and the Rubanga Forest. The location offers the ideal base to explore Lake Mburo National Park.
Kigambira Safari Lodge has 12 tastefully decorated ensuite bandas. Two family bandas offer the perfect set-up for those with children, a family reunion, or even a group of friends. The lodge also has a honeymoon suite that offers newlyweds lifelong memories.
Nine deluxe bandas provides double or twin room options. No matter which band of the lodge you choose to stay in, you are assured of an amazing view of Kigambira, an expansive freshwater lake that teems with birds and other wildlife. All bandas are cozy, kept remarkably clean and next to lush whistling acacia trees that attract lots of bird species.
Eagles Nest Mburo is part of the Dutch-owned Nature Lodges' a company that specializes in offering comfortable budget and midrange accommodation in the best safari destinations in Uganda. The lodge is located on a high hill bordering Lake Mburo National Park.
It has 10 self-contained safari tents with verandas overlooking the park. Every room is furnished with twin beds. Seated from your own veranda, you can enjoy spectacular views of Lake Mburo. And if you are fortunate, you can spot the zebras grazing in the park.
Eagle's Nest has non-self-contained tents that are comfortably furnished with 2 single beds with a bedside table and a power outlet for charging your electrical equipment. All non-self-contained tents are placed under a grass thatched roof which creates your private terrace and provides some welcome shade. These tents share a communal ablution block with flushing toilets and showers. You don't have to worry about linen because all bedding and towels are provided.
Leopard Rest Camp is the perfect Lake Mburo National Park budget campsite for all your needs. Located just 1 kilometer outside of the Nshara entrance gate of the park, the camp provides a variety of accommodation, activity, and safari options for every type of traveler.
Eco friendly, family friendly and budget friendly, it welcome groups of all sizes and have a spacious area for overland campers! Accommodations options include:
Safari Tents which features single, twin, double and triple room arrangements. Each tent has an adjacent private outdoor toilet and shower for the full bush experience!
Lazy Camping tents that allow you to get the wilderness experience without having to sleep on the ground. Each tent is elevated on a concrete platform and is covered by a thatched roof. They feature shared shower and toilet facilities. They include single, twin and double rooms options.
Deluxe Tents, that offers high end camping experience in three private locations by the bushes with amazing sunset by the porch and stunning sunrise by the back door. Deluxe tent interior contains a Queen Size bed (double), family room, triple and spacious outdoor showers under the African sky.
Bush Camping with shared shower and toilet facilities that aren't far away. Here, you come with mattress or bedding or you can rent on site. There is a separate kitchen and cooking facility available if you have brought your own food.
Popular Trips Including Lake Mburo National Park
The Uganda tours below showcase just some of what is possible. Use these itineraries as starting points, or to draw inspiration. Then get in touch, and let our expert team help craft the perfect itinerary for you.