What Do Visitors In Uganda Do? Here Are The Most Popular Things To Do In Uganda
Despite its compact size, there are so many exciting things to do in Uganda. Not only can you come within meters of a gorilla family, but there are also opportunities for;
Boat safaris on the world's longest river,
Seeing African Big 5 animals on savanna plains, and
Watching wild chimpanzees in dense rainforest.
Uganda is also a great destination for bird watching enthusiasts too, and it also offers fun experiences for culture-seekers and adventurers. There are countless points of interest in the 'Pearl of Africa'. Scroll down the list below to select your preferred Uganda safari activities. Or don't hesitate to get in touch with us if you have anything else in mind.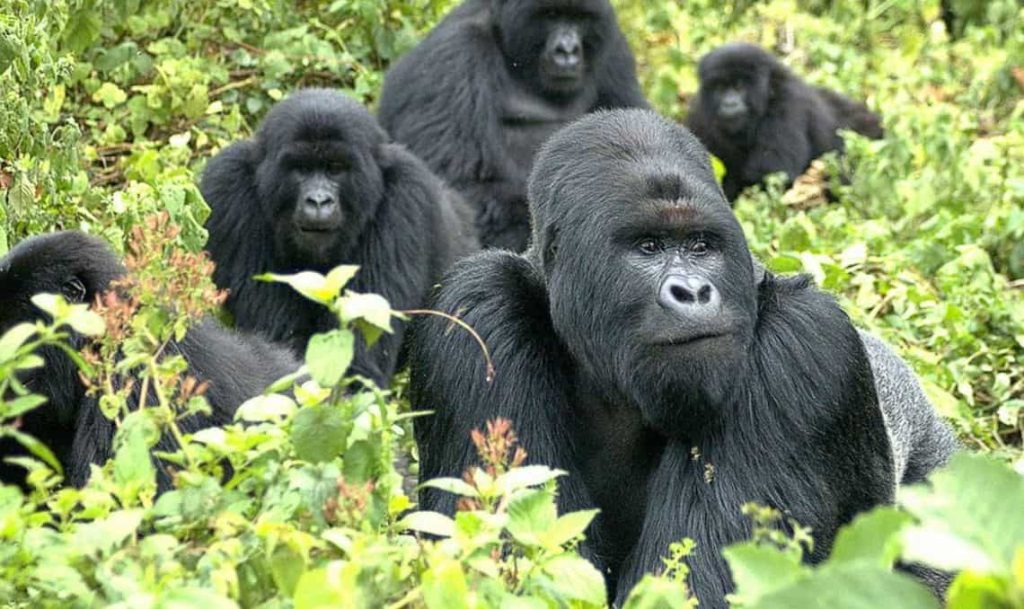 A gorilla trekking adventure has been described by many people as a life-changing experience.
Time spent with this fellow great ape is a humbling and profoundly spiritual experience that has to be at the top of best things to do in Uganda and Africa at large.
You can visit the last surviving Mountain Gorillas of Uganda in Bwindi Impenetrable Forest and Mgahinga Gorilla National Parks. The best time to visit gorillas in Uganda is during the dry season from June to September and December to February.
As Uganda predator population particular lions and leopards have declined over the years, due to habitat loss and ensuing human-wildlife conflicts, conservation programs are of essence.
In Queen Elizabeth National Park, the Uganda Carnivore Program (UCP) is dedicated to monitoring, researching and protecting the predators and local communities in and around the park.
Working with the Uganda Wildlife Authority (UWA), UCP offers guided lion-tracking tour for visitors at USD 100. On this adventurous activity, you follow the research team to the lions traced by their collar, and monitor them closely for one hour.
Unlike regular game drives, you are allowed to go off track during this activity in order to come as close to the lions as possible.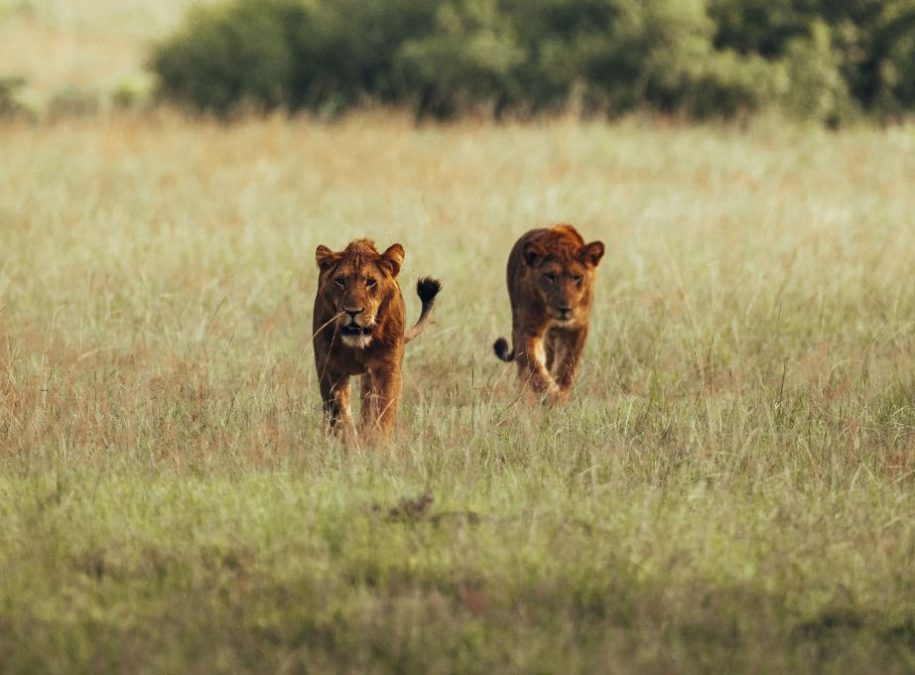 Chimp trekking is one of those bucket safari list items that you should not miss out on a Uganda safari.
Like humans, chimpanzees are social and intelligent creatures with a complex array of social signals and dramas. They use tools and wage wars. Chimp shares almost 99% of our nuclear DNA.
They're linked to use by an ancient common ancestor and offer a poignant reminder of our own evolution history. Kibale Forest offers Africa's best chimpanzee tracking tours.
4. SUPPORT WILDLIFE CONSERVATION
If you're interested in wildlife conservation, we have a number of responsibly developed initiatives that you can participate in or contribute to, such as wildlife sanctuaries, wildlife education centers, initiatives that reduce human-wildlife conflicts & wildlife habituation programs.
You can visit orphaned chimpanzees at Ngamba Island Chimpanzee sanctuary, visit UWEC, track wild rhinos at Ziwa Rhino Sanctuary which is home to Uganda's only wild rhinos, participate in chimpanzee and Gorilla habituation Experiences and much more.
5. INTERACT WITH LOCAL COMMUNITIES
Tulambule Uganda safaris offer a selection of well-established and responsibly developed activities that allow genuine interaction with local communities. Uganda is renowned for its people. Happy, generous, friendly and welcoming are the word that are closely associated with the people of Uganda.
Beyond the friendliness and warmth of the population, Uganda has a rich culture represented by 56 tribes – offering a variety in language and dialects, food, dressing, music, dances, customs and beliefs.
Landscapes in Uganda are very diverse, offering a wide variety of hiking trails that are all unique in their own way. We offer hiking trails for advanced hikers and beginners in the most beautiful places.
Think of trails along picturesque waterfalls, snow-capped mountains, the volcanic mountain ridges, along lakes, wetlands, savannah parks, and through forest jungles: Uganda has it all.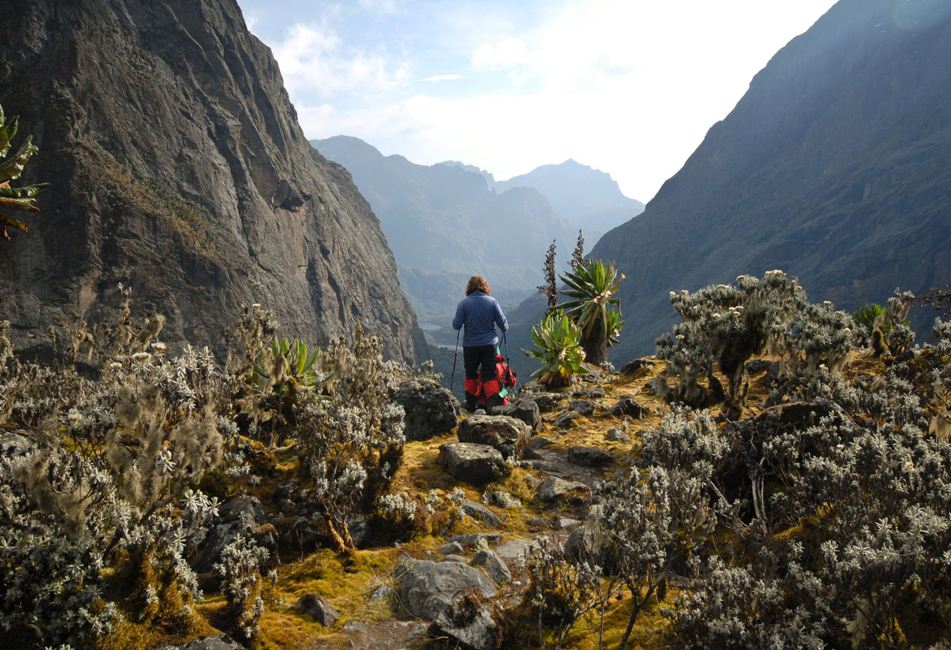 Uganda is a great destination for adventurers. The country is a fantastic place to cycle, offering stunning biking safaris. Indeed the Uganda Cycling Trail gets a mention in CNN Travel's Where to travel in 2023: The best destinations to visit!
Cycling trails go off the beaten track, on red-dusty roads through villages, plantations, and endless, marvelous landscapes. Cycling can even be done in some of Uganda's national parks, allowing wildlife encounters from your bicycle. The cycling tours in Uganda can be arranged together with other Uganda safari tours activities to add on your adventure trip in Uganda.
8. BIRD WATCHING – SEE THE SHOEBILL
Uganda is a birder's paradise, home to over 1090 bird species, which is 50% of Africa's bird species and 11% of the world's. This huge bird list is packed within a small nation, about the size of Britain, hence having the highest number of birds per square kilometers in Africa.
One of the most iconic birds of Uganda is the Sheobill stork. Sightings of this rare bird, resembling something from the dinosaur era, are excellent in Murchison Falls National Park and Mabamba Swamp on the edge of Africa's largest lake, Lake Victoria.
Uganda safari parks may not have the cachet of Tanzania's Serengeti or Kenya's Masai Mara. But game drives in Uganda are still among the most exciting things to do. They allow you close-up wildlife encounter in the most beautiful savannah parks and reserves.
You will be delighted by the variety of safari animals including tree-climbing lions, leopards, hippos, elephants, giraffes, zebras, hyenas, buffalos, Crocodiles, antelopes and much more. What's more, because Uganda is less crowded, you'll more than likely have the animals all to yourself – and it's cheaper too'.
Uganda is the best country in East Africa for boat safaris.
Safari boat cruises offer a whole new perspective and often allows you to get a lot closer to the wildlife such as hippos, crocodiles, elephants and buffalos than in a vehicle or on foot.
Boat safaris are offered on the Nile River in Murchison Falls, Queen Elizabeth and Lake Mburo National Parks.
The range of boats varies from accommodating a few people to large groups – perfect for families, honeymooners, and friends.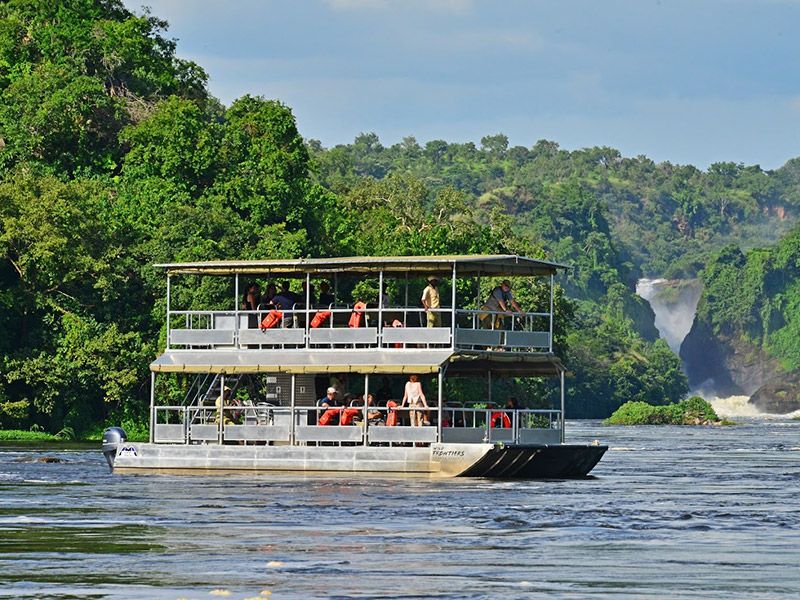 White-water rafting on the world's longest river (River Nile) in Jinja is a popular activity for serious adrenaline junkies. Jinja is considered one of the best rafting corridors in the world.
A full-day white-water rafting trip covers 9 rapids (four Grade 5, four Grade 4) rafting over a distance of 20kms to end at Itanda Falls. There are also options for half-day rafting and a choice of packages that cater to families, groups that cater to all levels and experience.
Top Attractions in Uganda