23 Best Things to Do in Uganda In 2023
---
---
23 Best Things to Do in Uganda In 2023
Despite its compact size, there are so many exciting things to do in Uganda.
Stunning landscapes ranging from the equatorial glaciers and jagged peaks to rolling savanna plains and tropical rainforests provide an epic natural playground for all of those who come for Uganda safaris and tours
Not only can you come within meters of a gorilla family, but there are also opportunities for boat safaris on the world's longest river, seeing African Big 5 animals on savanna plains, and watching wild chimps in dense rainforest.
Uganda is also a great destination for bird watching enthusiasts too, and it also offers fun experiences for culture-seekers and adventurers. There are countless points of interest in the 'Pearl of Africa'.
Here Are The 23 Of Best Things To Do In Uganda In 2023:
1. Trek For Mountain Gorillas
Number one on our list of 23 best things to do in Uganda is gorilla trekking, one of Africa's most exhilarating wildlife experiences.
Uganda is one of only three countries in the world where it is possible to join the mountain gorillas in their natural habitat without fences.
About 1063 Mountain gorillas are left on Earth and Uganda is home to more than half of them.
The long trek through dense jungle on slippery slopes and the relatively high price are all worthwhile. Spending time with these gentle giants in the misty montane rainforests is a once-in-a-lifetime experience.
Gorilla trekking in Uganda is do in Bwindi Impenetrable National Park and Mgahinga Gorilla National Park.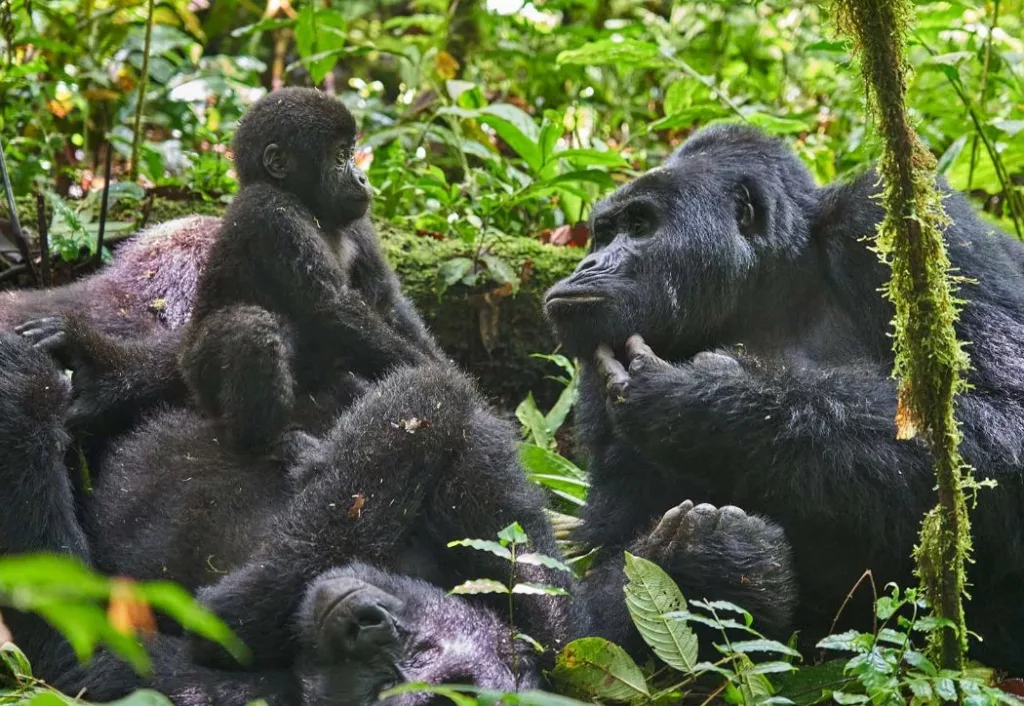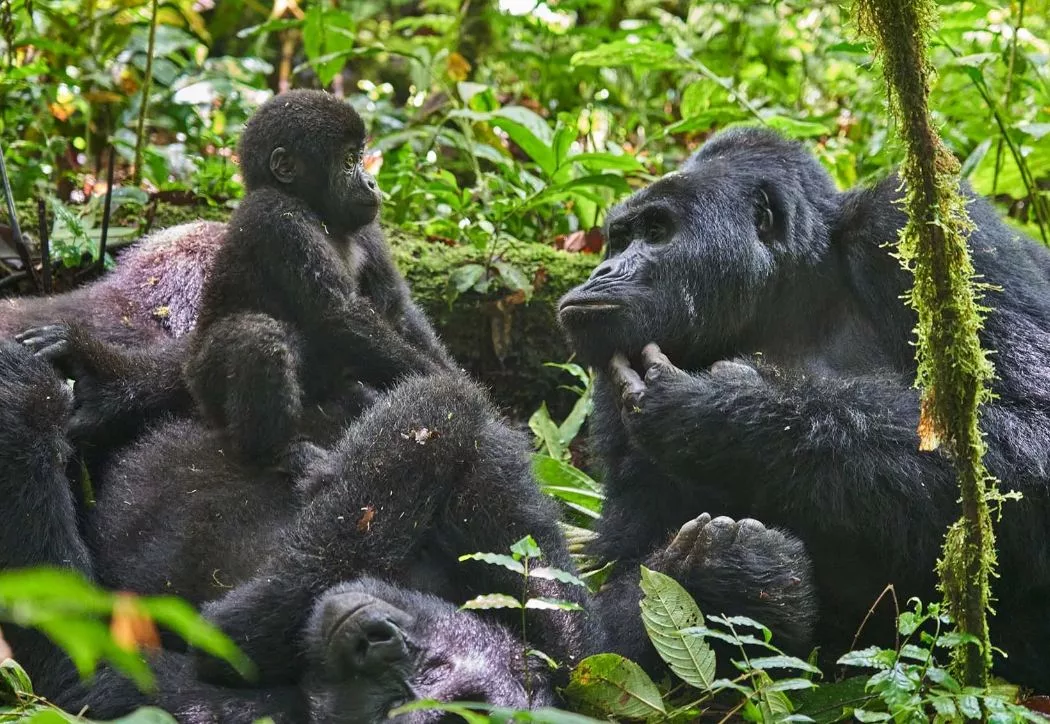 2. Track Wild Chimps On Foot
Number two of our 23 best things to do in Uganda on a safari is trekking to see yet another species of Great Ape, the chimpanzee.
These guys get less hype in the travel media than gorillas, but tracking our closest living relative through the African jungle is just as thrilling an experience – and it costs a fraction of visiting our larger cousins.
Kibale Forest with over 1500 chimpanzees offers more than 95% success rate of seeing them which is far greater than any other location which offers chimpanzee trekking in Uganda, Rwanda, Tanzania, and Congo.
The best places to go for chimpanzee trekking tours in Uganda include Kibale Forest National Park, Kalinzu Forest, Budongo Fores and Kyambura Gorge.
3. Go Bird Watching
Before going on a Uganda safari, many clients claim they are 'not into birds'.
But then they experience the fun challenge of watching a prehistoric-looking shoebill swoop down on a lungfish in Mabamba Swamp or a Pel's fishing owl in that distant tree or trying to get the perfect shot of a fish eagle's take-off.
After one safari to Uganda with its 1090 bird species, they're singing a different tune, becoming instant twitchers.
Uganda is a birder's paradise, home to 50% of Africa's bird species and 11% of the world's.
This huge bird list is packed within a small nation, about the size of Britain, hence having the highest number of birds per square kilometers in Africa.
The best places for birding tours in Uganda include Bwindi National Park, Kibale National Park, Murchison Falls National Park, Queen Elizabeth National Park, Semuliki National Park, Budongo Forest, Mabamba Swamp, etc.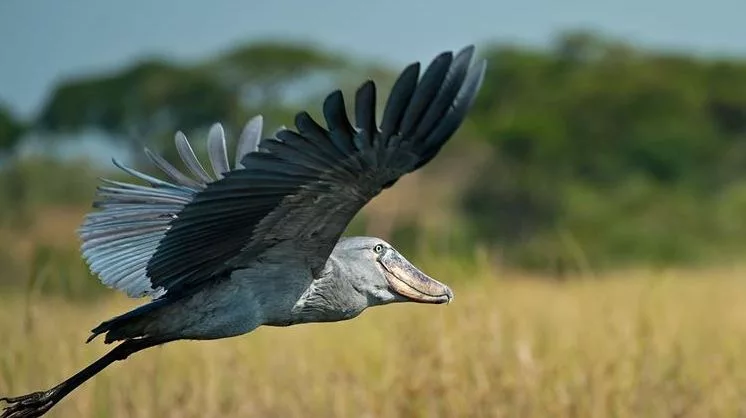 4. Take Savannah Game Drives
Uganda may not have the cachet of Tanzania's Serengeti National Park or Kenya's Masai Mara National Reserve, but game viewing in game parks of Uganda is still one of the most exciting things to do in Uganda.
And there are a variety of safari animals here to delight you – lions, leopards, hippos, elephants, giraffes, zebras, hyenas, buffalos, Crocs, and antelopes.
What's more, because Uganda is less crowded, you'll more than likely have the animals all to yourself – and it's cheaper too'.
Where to Go:
Queen Elizabeth Park
Lake Mburo National Park
5. Enjoy Boat Safaris
Uganda is the best country in East Africa for boat safaris.
Safari boat cruises offer a whole new perspective and often allows you to get a lot closer to the wildlife than in a vehicle or on foot.
You cruise past the twitching ears and snorts of submerged hippos and huge crocodiles basking on the banks.
You get a more intimate perspective on creatures like buffalo and elephant, which ignore your quiet passage past them unbothered by your presence as they drink their fill at the water's edge.
Where to Go:
6. Track Rhinos On A Walking Safari
Rhino tracking in Ziwa Sanctuary is a memorable way to check off one of the top animals from the Big Five list.
Rhinos are the world's second largest land animals, weighing up to 3,500kg.
Distinguished by their thick skin and long nose horns, rhinos are remarkably tough, quick & strong animals. Even the bravest of rangers will be super alert near them.
On your Ziwa rhino trek, it is possible to get really close to these pre-historic-looking heavyweights safely on foot, aided by an expertly trained guide.
Plus, when you visit Rhinos here, you're supporting an important conservation program for these highly threatened animals.
7. Visit The Ancient Batwa Tribe
Uganda is home to more than 50 tribes who offer cultural tours. The Batwa is one of Africa's oldest surviving indigenous tribes.
They were removed from Bwindi and Mgahinga Parks when they were established to protect gorillas.
Hunter gathers by tradition and entirely dependent on the forest to survive, they had no skills to adapt to modern life.
They suffered terribly and fell prey to early exploitative tourism. Luckily, this is changing and tourism holds the key to the survival of these fascinating people and their ancient culture.
Today, sensitive and conscious tourism encounters have been developed to allow the Batwa to introduce visitors to the forest as their guests.
You're immersed into their amazing hunter-gatherer lifestyle. This activity generates direct income for the guides, but also builds awareness and generates further income for general assistance of the wider community.
8. Climb Rwenzori Mountains
A World Heritage Site, the snow-capped Rwenzori Mountains form Uganda's jagged western border with Congo.
The highest point is Mount Stanley, at 5,109 meters, and it is the third highest peak in Africa. The Rwenzori Mountains are trekking heaven.
Hardly anybody is there, which makes visitors feel like they have the world to themselves – a geographer once called them the 'Mountains of the Moon', an apt description of its isolated feel.
Charming easy day hikes in the foothills are available or multi-day, multi-peak ascents for experienced mountaineers.
9. Visit The Historic Source Of The Nile
The source of the Nile in Jinja is the place where the world's longest river exits Africa's largest lake to commence an epic 6,695 km journey to Mediterranean.
The quest to discover the source of the Nile was one of the most significant scientific questions of the 19th century in Europe. The search was nearly as gripping as the race to put a man on the moon.
Journeys led to the glorification of figures like David Livingstone, Henry Stanley, Richard Burton and John Speke – but at the cost of injury, illness and even death in Livingstone's case.
At the same time, the geographic quest, in some ways, sparked European colonial interest in Africa, the legacy of which lives on today.
10. Raft On The Nile River
White-water rafting on the world's longest river is a popular activity for serious adrenaline junkies.
The Nile in Jinja is considered one of the best rafting corridors in the world. A full-day white-water rafting trip covers 9 rapids (one Grade 6, four Grade 5, four Grade 4) rafting over a distance of 20kms to end at Itanda Falls.
There are also options for half-day rafting and a choice of packages that cater to families, groups that cater to all levels and experience.
11. Relax At Lake Bunyonyi
When considering the best things to do in Uganda do not forget chilling out at the shores of lovely Lake Bunyonyi.
Believed to be Africa's second deepest lake, it's framed by lush, terraced hills and dotted 29 islands of various shapes and sizes.
Because of the cool weather and surrounding lush mountain landscape, the Lake Bunyonyi area is popularly referred to as the "Switzerland of Africa".
If you want to chill for a couple of days before or after a Uganda gorilla safari, Bunyonyi is the perfect place to do it.
If you do get restless, however, there is plenty of opportunity for zip lining, hiking, swimming, chatting to the villagers, and even paddling a traditional dugout canoe.
12. Track Rare Golden Monkeys
These beautiful and rare golden monkeys are found only in the Virunga Volcanoes and nowhere else on the planet.
In Mgahinga Gorilla National Park, they live in groups of up to 100 individuals and love to eat bamboo.
13. See Tree Climbing Lions
Visit Queen Elizabeth National Park Park's Ishasha Sector and you'll see something unusual: lions that climb trees and spend a good part of their lives resting on branches high above the ground.
Elsewhere in Africa, lions rarely climb and look rather silly when they try to do so. Let's say, you won't confuse any of them with a graceful leopard.
14. Straddle The Equator
Most Uganda tours feature a visit to the Uganda equator monument at Kayabwe.
Here, you can stand with one leg in the Northern hemisphere while the other remains in the Southern. This effectively lets you stand on both sides of the world at the same time and pose for a photos.
15. Tour Kampala City
Uganda's capital Kampala is rated as the best city to live in East Africa. It is a vibrant city full of color and life.
It is the economic, historical, and religious heart of Uganda, with plenty of culture and history to delight even the passing traveler.
16. Visit The Murchison Falls
The Murchison Falls is the world's strongest waterfalls!
The British explorer, Sir Samuel Baker who first visited the falls in the 1860's reported in his book: "Upon rounding the corner, a magnificent sight burst suddenly upon us. The most spectacular thing on the Nile.
17. Bike Through Lake Mburo Park
Lake Mburo National Park is Uganda's smallest savannah park but has a variety of wildlife! Its fantastic location, between Kampala and Bwindi, makes it a good stop over to avoid really long drives or a flight.
When there, why not do things a little differently and take a bike rides/cycling tours through the park when the sun starts setting?
It's the only safari in park in Uganda were you can enjoy this thrilling adventure. You'll see zebras, buffalos, antelopes, baboons, giraffes, and long-horned Ankole cattle – all from a very close range.
18. Explore Entebbe
Entebbe is a verdant and laidback town on Lake Victoria shores.
And bonus: Entebbe International Airport is just next door, which makes it the perfect overnight stop on your way in or out of Uganda. Here, you can take a romantic sunset cruise on the lake, fish for Nile perch, or relax on the sandy shores.
You can also enjoy a leisurely walk in the beautiful Botanical Gardens, visit Uganda Wildlife Education Centre, and tour Mabamba Swamp to see the shoebill.
With its bustling markets, relaxed beaches and friendly people, Entebbe makes for makes a nice, chilled-out introduction to Uganda.
19. Visit Orphaned Chimps At Ngamba
Ngamba Island is located in Lake Victoria – Africa's largest Lake, near Entebbe. It's one of the best places to see chimps up-close.
Chimps are our closest cousins. However, we've have been very cruel to them. About 300,000 chimps are thought to be living in the wild today, a decrease from around 1000,000 in the early 1900s!
Habitat loss, hunting for bush meat, and the exotic pet trade are amongst the greatest threats facing chimpanzees.
Ngamba is one small hope that we, as a dominant species, are capable of compassion and can think of the well-being of our fellow creatures.
The sanctuary provides excellent care for 52 orphaned chimpanzees. It is a fabulous add-on to your Uganda safari tour.
20. Hike To Sipi Falls
Just a short drive from Kampala and Jinja, the Sipi Falls is arguably the most beautiful chain of waterfalls in all of Uganda.
There are three levels, and though the smaller two are beautiful, it is the 99m main drop that attracts visitors to this area, and most of Sipi's lodging looks out over it.
It is well worth spending a night or two in this spectacular yet peaceful place whether it is a part of your Uganda safari tour or in connection with a climb of the nearby Mount Elgon volcano.
21. Zip line Through Mabira Forest
Mabira Forest is just 44 km east of Kampala, and on the way to the Jinja. This makes it an easy addition to your Uganda safari itinerary.
Apart from being a beautiful, lush tropical rainforest that is ideal for nature walks, birding, butterfly watching, and monkey viewing, it features a fantastic zip line that it's dubbed the Mabira Forest Canopy Super Skyway!
22. Hike To Sempaya Hot Springs
The Sempaya are two powerful hot springs that can reach a temperature of 103°C, which is enough hard boil an egg in ten minutes.
The locals refer to the two springs as the male and female springs. The hot springs are found in Semuliki National Park in the west of Uganda.
This is an underrated park is close to Bwindi and Kibale Forest, which makes it a great addition to Uganda gorilla safaris and chimpanzee tours.
Apart from the hot springs, hiking in Semuliki is very rewarding as it's a gorgeous and biologically rich park. The Semuliki River runs through it before joining with the Congo River. The park contains many fascinating Old World monkeys and a variety of rare forest bird species.
23. Relax In Ssesse Islands
Another worthy addition to our list of the 23 best things to do in Uganda is relaxation in the Ssese Islands in Kalangala District! The Islands has been branded as one of the world's best secret islands by Lonely Planet.
A lush, white-sand archipelago of 84 islands, Ssese Islands are located in the middle of Africa's largest lake – Lake Victoria.
Discerning vacationers looking for something offbeat are blown away by the islands' gorgeous white sand beaches, shimmering waters, warm sunny weather, palm trees, and gentle tropical breezes – which together offer the experience of an inland beach vacation in the heart of Africa.
Conclusion
These are just 23 of the top things to do in Uganda on safari.
There are many more; So much to see and do. Why not start planning your Uganda safari adventure now! Tulambule Uganda Safaris is here to help.
Chat with one of our safari experts to create a Uganda itinerary customized exclusively to match your time, interests and budget:
Tags:
Uganda Travel Guides
,
Visit Uganda