Awesome Things To Do At Lake Bunyonyi 2023
---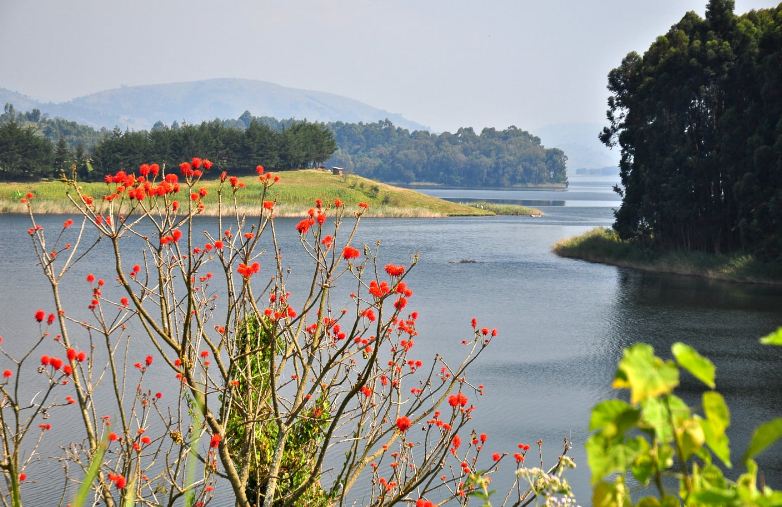 ---
Things To Do At Lake Bunyonyi
Lake Bunyonyi ('place of many little birds') is the most beautiful lake in Uganda.
And according to Lonely Planet, Lake Bunyonyi and Ssese Islands are among the top 5 chillout spots in Uganda.
This stunningly pretty lake is about 25 kilometers long, 7 kilometers wide and 900 meters deep.
It is the second deepest lake in Africa and the fourth deepest lake in the world.
The lake is also surrounded by rolling terraced Kigezi Highlands and dotted with 29 islands, some of which have fascinating dark stories.
You can take a ride in a small dugout canoe to learn about some of them, from Punishment Island, where unmarried girls who got pregnant were abandoned to die of hunger, to Leprosy Island, which used to be a leper colony run by a Scottish missionary.
Lake Bunyonyi lies in the southwestern Uganda, about 2 hour drive from the great gorilla trekking destination of Bwindi Impenetrable Forest National Park. And it's the best relaxing spot after trekking gorillas in Uganda.
After your Uganda gorilla safaris, you can also take a boat cruise on the lake, Zipline across lake, do a village walk, or go for a swim in the lake.
Here Are The Detailed Information About The Best Things You Can Do At Lake Bunyonyi After Gorilla Trekking In Uganda, Bwindi:
1. Canoe Ride
Imagine sailing on the calm waters of Africa's second deepest lake in a traditional dugout canoe.
A canoe ride is a perfect option, giving you extra time on the lake, a chance to stop right in the middle for a little serenity and panoramic view.
You can tour the twenty nine islands in this lake including the Akampene (Punishment Island), a tiny island where unmarried pregnant women were dumped to die.
Their only rescue from drowning or starvation was if a man who was too poor to pay a bride-price came over to claim the banished woman as his wife.
You can also visit the Bucuranuka (Upside Down Island), Bwama (Leper's Island), Njuyeera (Sharp's Island), Kahungye (Crazy Man's Island) and Bushara Island.
You can choose to be paddled or even do the paddling yourself as long as you have a guide with you.
2. Boat Ride
Motorboat tours are also available if you don't feel like paddling a canoe.
The tour guides can point you in the right direction.
With a local guide, you get to learn a lot about the 29 islands (inhabited and uninhabited), as you enjoy a relaxing cruise on grassy waters of Lake Bunyonyi.
3. Relaxation
If you want to relax and chill out for one or two days after your Uganda gorilla trekking tour, Lake Bunyonyi is also the perfect place to do it.
The lake is magical place to wake up in, particularly with the early morning mist lingering on the lake.
At this time you will see school children paddling dugout canoes to school.
You will also see the local farmers transporting their goods to the marketplace. If you have a good book and wish to read it in a cool and serene environment, then one of the quiet island resorts would be perfect.
The crowning moment is watching the sunset at Lake Bunyonyi. The sunset here offers an opportunity to take beautiful photos of the sun's rays reflecting on the lake's glassy waters.
4. Birdwatching
Bunyonyi means 'place of many little birds'. This beautiful lake area is inhabited by than 200 bird species.
If you are a bird lover but also in dire need for a quiet getaway, Bunyonyi is the perfect place to experience this.
One of the best birding spots is Nyombi Swamp. Here, you can see bird species like the grey-crowned crane (the Uganda national bird), red-chested sunbird, flycatchers, weavers, egrets, herons, etc.
The best way to see the birds is by acquiring a boat, a binoculars and moving to the water with a birding guide.
5. Community Village Cultural Walks
Another highly recommend activity to do at Lake Bunyonyi is the cultural walks in the area.
This is nice opportunity to learn about the legends, traditions and customs of the people who make a home on the shores of Lake Bunyonyi.
On the community cultural tour, you can meet a traditional healer, a craft group; see beautiful views from one of the high points on the lake.
It is great to mingle with the locals and try out tasks like digging the garden with local hoes or visiting one of the local schools to interact with the school children.
You can also visit the Batwa pygmy people who were Echuya Forest and allocated land near the lake.
Like their relatives in other areas like Bwindi and Mgahinga National Parks, the Batwa have failed to adjust to life outside the forest.
They struggle to make ends meet considering that they are former hunters and gatherers.
They earn a living is by entertaining tourists and demonstrating their cultural heritage through dance, songs and storytelling.
6. Scenic Hikes
If one is not interested in the community walks, the area around Lake Bunyonyi has well established trails for scenic hikes.
It is an excellent place to just take a stroll, shoot a few photos, and enjoy the scenery.
The terrain is quite hilly which makes for some incredible views if you make it to the top.
7. Swimming
It is safe to swim in Lake Bunyonyi.
No dangerous parasites are present and the water is hippo and crocodile free.
A change from the swimming pools is just what you need on holiday and Lake Bunyonyi is open for this all time of the day.
8. Zip Lining
The recent addition to the things you can do at Lake Bunyonyi is Ziplinning.
Strong ropes are connected between trees in the opposite banks of the Lake.
You get to swing over the lake's calm waters and even make half somersaults to touch the waters and feel the breeze on your face.
Safety equipment is offered for this activity.
The equipment is well tested to ensure the safety of everyone doing zip lining.
9. Mountain Biking
Bikes can be rented at several places around the lake and in Kabale town.
Traffic is light. So biking here is safe and fun.
On the mountain bike, you can explore the villages and the shore of the lake in less time than walking would take.
There are several tracks around the Lake and uphill on the surrounding hills.
10. Local Market Visit
The Rutindo local market attracts residents of Lake Bunyonyi area every Monday and Friday.
On these days, you will find the market filled with people.
It is a perfect place to observe how locals go about with their daily life.
You can also mingle with them and buy some fresh Uganda fruits.
11. Eating Crayfish
Idi Amin, Uganda's infamous military dictator had his positive sides too.
One of it was endorsing the introduction of the Louisiana Crayfish to Lake Bunyonyi.
Crayfish have been so successful that they have become the dominant specie in the lake and surrounding water bodies.
All the Uganda safari lodges and restaurants at Lake Bunyonyi serve crayfish.
If you are not interested in the Crayfish, you can also order for the tasty local Tilapia fish.
Where To Stay At Lake Bunyonyi?
There are many Uganda accommodation options in Lake Bunyonyi, a great testament to its popularity with tourists.
Some of the lodges are built in the islands while others on the lake shores or in the towns before the lake.
There are moderate and luxury accommodation facilities as well as campsites.
Here Are The Top Best Lake Bunyonyi Lodges And Camps:
Bird Nest @ Lake Bunyonyi Resort
Lake Bunyonyi Rock Resort
Lake Bunyonyi Eco Resort
Arcadia Lodge Lake Bunyonyi
Lake Bunyonyi Overland Resort
Byoona Amagara
Bushara Island Camp
Crater Bay Cottages
Gorilla View Backpackers
Getting To Lake Bunyonyi
You can get to Lake Bunyonyi by road.
The lake is located about 439 kilometers southwest of Kampala and 199 kilometers west of Mbarara by road.
The best route entails following Kampala – Masaka-Mbarara-Kabale road.
It takes 7-8 hours of driving by car to reach Kabale town from Kampala.
It takes between 20 to 30 minutes at most to reach the lake from Kabale town.
If you are coming from Bwindi Impenetrable National Park after gorilla trekking, the drive takes about one and half hours to reach Lake Bunyonyi.
Those coming from a wildlife safari in either Queen Elizabeth National Park or Kibale National Park will need to travel for about 5 hours on road before reaching Lake Bunyonyi.
Lake Bunyonyi is closer to Kigali in Rwanda than Kampala City (Uganda's capital). It takes 3 hours of driving by a 4×4 safari vehicle/car to reach the lake from Kigali.
There if you have time, this is where you could take a detour into Rwanda.
You could use this as a jumping-off point to go and explore Rwanda, or travel into the Democratic Republic of Congo to climb the active Nyiragongo Volcano and see the largest lava lake in the world.
Sample Uganda Safaris Packages Featuring Lake Bunyonyi
7 Days Uganda Safari, Gorillas, Chimp, Wildlife, Community, & Lake Bunyonyi
10 Days Uganda Safari, Gorillas, Chimpanzees, Game Viewing & Community Tours
12 Days Uganda Safari, Gorillas, Chimpanzees, Wildlife, Culture, & Relaxation
14 Days Uganda Safari, Gorillas, Chimps, Wildlife, Scenery, & Local Culture Experiences
16 Days Uganda Safari – Gorilla, Chimps, Wildlife, Scenery, Culture, & Source of the Nile Tour
18 Days Uganda Safari & Gorilla Trekking
21 Days Uganda Safari & Adventure Vacation
FAQs About Lake Bunyonyi
1. Where Is Lake Bunyonyi Located?
Lake Bunyonyi is located in southwestern Uganda.
The lake is situated close to Kabale city, near the border with Rwanda. With its winding shores, Lake Bunyonyi is 25 km long and 7 km wide.
2. How Deep Is Lake Bunyonyi?
Lake Bunyonyi is the fourth deepest in the world.
The lake is also the second deepest lake in Africa, after Lake Tanganyika, a rift valley lake in Tanzania.
3. What Is Lake Bunyonyi Known For?
Lake Bunyonyi is popular for its natural beauty.
It is the most beautiful lake in Uganda.
The lake is surrounded by green and lush terraced hills that are punctuated with a plethora of over 200 species of Uganda birds.
4. Is Lake Bunyonyi A Man-Made Lake?
Lake Bunyonyi is not a man-made lake; it is a lava dammed lake.
The lake was formed about 10,000 years ago.
Its process of formation was described as a result of lava flow that emerged from one of the volcanic Virunga Mountains.
The lava managed to occupy Ndego River.
5. Can You Swim In Lake Bunyonyi?
Yes you can swim in Lake Bunyonyi. Bunyonyi is one of the few lakes in Uganda that are free of bilharzia, making its waters safe for swimming. It's also free of dangerous wildlife like crocodiles and hippos.
6. What Animals Are In Lake Bunyonyi?
Kahungye Island in Lake Bunyonyi is home to some wild animals, including the Impalas, Zebra, Water bucks, the Kobs and Monkeys.
It also features Lake Bunyonyi Eco Resort. You can also watch birds on this island too.
7. Why Is Lake Bunyonyi Called So?
The name Bunyonyi means "a place with little bird".
This is in reference to the fact that the lake and its islands are home to an amazing collection of bird species.
There is more than 200 species of birds.
8. How Many Islands Are In Lake Bunyonyi?
Lake Bunyonyi has a total of 29 Islands and each Island has a unique story. The Islands includes Akampene Island, Bushara Island, Kahungye Island, Bwama and Njuyeera "sharp 'Island and Bucuranuka "Upside down Island.
9. Why Visit Lake Bunyonyi?
At Lake Bunyonyi, you can enjoy beautiful scenery viewing, relax, canoeing boat riding, village walks, hiking, mountain biking, etc.
The lake is also a good base from which to meet the local Batwa pygmy communities.
Final Thoughts On Visiting Lake Bunyonyi
Many places in Africa are crowded and just a hassle to visit.
This place is different.
It is quiet, relaxing. I highly recommend you take the time to visit Lake Bunyonyi after gorilla trekking in Bwindi Impenetrable Forest National Park.
Tags:
Uganda Travel Guides
,
Visit Uganda