Lake Bunyonyi: Visit Uganda's Most Beautiful Lake
Lake Bunyonyi is one of the most beautiful to visit places in Uganda. Far removed from the hustle and bustle of urban life, this freshwater lake is a sanctuary of serenity and a testament to the natural wonders that Uganda proudly boasts.
With its lakeside resorts, storied islands, deep history, and abundant fun activities, Lake Bunyonyi invites travellers to embark on a journey that promises both exploration and relaxation.
This lake lies in the far southwestern corner of Uganda, about 460 km from Kampala. It is located approximately a 2-hour drive from the great gorilla trekking forest of Bwindi Impenetrable National Park. The lake is also situated close to town of Kabale, near the border with Rwanda.
What Is Lake Bunyonyi Famous For?
Lake Bunyonyi is most known for its stunning natural beauty. This stunningly pretty lake is about 25 kilometers long, 7 kilometers wide. It is encircled by lush terraced highlands of Kigezi. It's crystal-clear waters are dotted with islands of different sizes and shapes.
Lake Bunyonyi also holds cultural significance for the local communities living around it, mainly the Bakiga people. The lake's islands were historically used as a defensive strategy during tribal conflicts, and today they offer insights into the traditional way of life, customs, and rituals of the local people.
Lake Bunyonyi is also a venue for travelers seeking relaxation, tranquility, and a chance to disconnect from the hustle and bustle of modern life. And its a perfect place for chilling out before or after gorilla trekking in Bwindi Impenetrable Forest or Mgahinga Gorilla National Park.
After your Uganda gorilla safaris, you can take a boat cruise on the lake or go for a swim. The lake is regarded to be safe for swimming due to the absence of hippos, crocodiles, and Bilharzia.
How Was Lake Bunyonyi Formed?
Lake Bunyonyi is lava-dammed lake that was formed through geological processes over a million of years. It was a result of tectonic activity and volcanic process that shaped the Great African Rift Valley. The Great African Rift is a huge fault line caused by the breaking away of the Somali tectonic plate from the rest of the African continent.
The result is a trench that runs 4000 miles from the Red Sea in the north to Mozambique in the south, with a width of about 40 miles, (though it's increasing by about 2 cm every year). The huge forces that created it are also responsible for some of Africa's most dramatic landscapes, including the spectacular Virunga Volcanoes and the snow-capped Rwenzori Mountains.
In case of Bunyonyi, the lake was formed due to the lava flow that emerged from one of the Virunga Volcanoes and managed to block off the Ndego River at present-day Muko to create a natural dam.
How Deep Is Lake Bunyonyi?
Although the depth of the water is still debated, Lake Bunyonyi is believed to be the second deepest lake in Africa and the fourth deepest lake in the world, at 900 meters at its maximum depth. To put this depth into perspective, envision the equivalent of stacking 56 giraffes gracefully upon each other underwater.
How Many Islands Are On Lake Bunyonyi?
Lake Bunyonyi is dotted 29 islands, each overflowing with fascinating stories. These islands vary is size and shapes with their own names. Some of the islands are inhabited, while others are used for tourism and cultural activities. Some of the islands include:
1. Punishment Island (Akampene)
Perhaps the most famous of all Lake Bunyonyi's 29 islands, Punishment Island stands as a poignant remainder of cultural norms and practices of the past.
In the past, unmarried girls who got pregnant were brought by their fathers or brothers and punished by abandoning them on this island. Here, they faced two possible fates.
Any poor man who did not own sufficient cows to pay an untainted bride was permitted to fetch the disgraced girl from the island and make her hist wife. Failing that, the girl would usually starve to death or die while trying to swim ashore.
2. Bwama Island (Leper's Island)
Bwama Island also hides a dark past. In the 1920s, leprosy was one of the deadly diseases in Uganda. The disease was often surrounded by terrifying, negative stigmas and tales of leprosy patients being shunned as outcasts. Kabale was one of the areas with a lot of leprosy sufferers.
And if you visit Lake Bunyonyi you'll hear the tale of Dr. Leonard Sharp, a British missionary that came to Uganda in the 1920s to spread Christianity. After witnessing the huge impact of leprosy in the area, he set up an isolation center- Bwama Leprosy Hospital – on Bwama Island.
Local people suffering from leprosy were encouraged to voluntarily segregate themselves from their communities at Bwama to prevent infecting others. The treatment available was a course of painful injections, administered over months.
The centre was shut down in the 1980s; however, the hospital buildings are now used by Bwama Primary School. Visitors can interact with the locals and learn about their way of life, and even participate in community activities.
Bushara Island is a popular destination for eco-friendly tourist that offers comfortable accommodation and serene environment.
It is a perfect place to relax, bird watch, and enjoys the lake's beautiful scenery. Bushara Island is also where the headquarters of Lake Bunyonyi Development Company is. This Ugandan registered NGO supports sustainable farming in the Bunyonyi area as well as raising funds for orphans and providing workshops for local women to earn through the making and selling of handicrafts to visitors.
Kahugye Island is home to the Lake Bunyonyi Eco Resort that offers accommodation and various water activities to guests. Kahungye is also the only island in Lake Bunyonyi where you can see wild animals such as Waterbucks, Impalas, the Uganda Kobs and Zebras.
5. Bucuranuka Island (Upside Down Island)
Known for its enchanting beauty, Bucuranuka Island is a popular stop for boat trips on Lake Bunyonyi. This island is believed to have buried a group of male revelers who refused to share their abundant stock of beer with an old lady who had embarked on a canoe to join them.
Unfortunately for the drinking party, the woman was a sorceress. She returned to her canoe, paddled a safe distance away, and then used her magical powers to overturn the island-drowning everybody in the party and then flipping it back the right way up as if nothing had happened. This is why the Island is called Bucuranuka (meaning Upside down in Rukiga local Language).
Can You Swim In Lake Bunyonyi?
Yes, you can do swimming in Lake Bunyonyi.
Taking a refreshing swim in the lake after a day of exploring is always a popular activity with tourists. There is no need for concern about encountering dangerous animals such as crocodiles or hippos.
However, before taking a plunge, you advised to assess the water's depth especially in the deeper sections. You may feel safer wearing a life jacket if you are not a confident swimmer. It is also advisable to swim in the company of a companion at all times.
How to get to Lake Bunyonyi?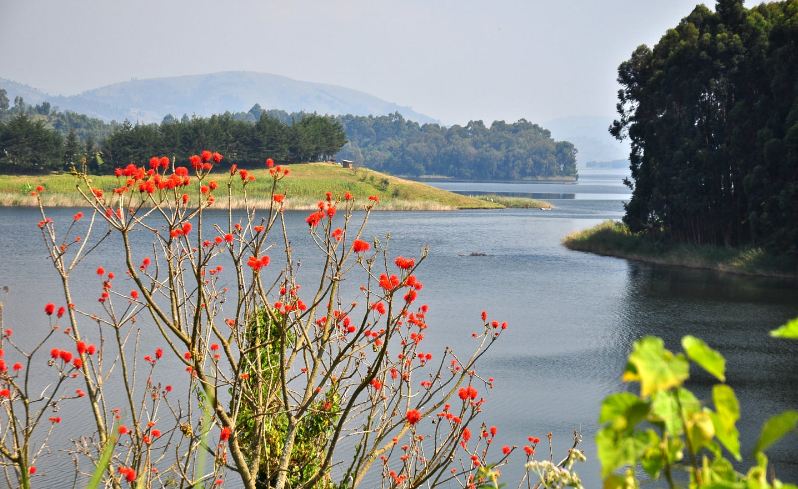 Getting to Lake Bunyonyi usually involves traveling to the southwest of Uganda. Here are the general steps to get to Lake Bunyonyi:
Start by flying into Entebbe International Airport, the main international gateway to Uganda. From Entebbe, you can take a domestic flight to Kihihi Airstrip or Kisoro Airstrip, both of which are relatively close to Lake Bunyonyi. Once you land at the airstrip, you can hire a vehicle or use local transportation to reach Lake Bunyonyi, which is about a few hours' drive away.
If you prefer a road trip, you can drive from Kampala, the capital city of Uganda, to Lake Bunyonyi. The journey takes approximately 7 to 8 hours, depending on traffic and road conditions.
Public transportation: Buses and minibuses (matatus) operate between Kampala and towns near Lake Bunyonyi, such as Kabale. From these towns, you can take local transportation or hire a taxi to the lake.
You can also consider booking a guided tour to Lake Bunyonyi or transportation package through a Uganda tour operator. Your tour operator can help arrange transportation, accommodations, and activities for your visit to Lake Bunyonyi.
When Is The Best Time To Visit Lake Bunyonyi?
The best time to visit Lake Bunyonyi is during the dry seasons, which generally occur from June to early September and from December to February. These dry season months offer more predictable weather conditions and less rainfall, creating good conditions for outdoor activities and exploration.
During these dry periods, the skies are typically clearer, and you can expect milder temperatures, making it an enjoyable time to participate in activities such as swimming, canoeing, boat cruises birdwatching, and hiking. But, note that Lake Bunyonyi's location at a higher elevation means that temperatures can be cooler compared to other areas of Uganda, especially during the evenings.
The dry season months are also peak tourist times, so accommodations and popular activities might be in higher demand. If you are looking for a quieter experience and you don't mind a bit more rainfall, the shoulder seasons of March to May and late September to November can also be good times to visit, with fewer crowds and potentially more budget-friendly options.
You may also like: When is the best time to visit Uganda?
What Activities Are There To Do Around Lake Bunyonyi?
Imagine sailing on the calm waters of Africa's second deepest lake in a traditional dugout canoe. A canoe ride is a perfect option, giving you extra time on the lake, a chance to stop right in the middle for a little serenity and panoramic view. You can choose to be paddled or even do the paddling yourself as long as you have a guide with you.
Leisurely motorboat tours are also available if you don't feel like paddling a canoe. The cruise allows to relax while enjoying panoramic views of the lake and its sorroundings.
Island hopping is a great way to discover the cultural and geographical diversity of the area. With a local guide, you get to learn a lot about the 29 islands. From inhabited islands with villages and schools to uninhabited islets covered in lush vegetation, you'll gain insights into the local way of life and the historical significance of these spots.
If you want to relax and chill out for one or two days, Lake Bunyonyi is also the perfect place to do it. If you have a good book and wish to read it in a cool and serene environment, then one of the quiet island resorts would be perfect. The crowning moment is watching the sunset at Lake Bunyonyi. The sunset here offers an opportunity to take beautiful photos of the sun's rays reflecting on the lake's glassy waters.
Bunyonyi means "Place of Many Little Birds". This beautiful lake area is inhabited by than 200 bird species. If you are a bird lover but also in dire need for a quiet getaway, Bunyonyi is the perfect place to experience this.
5. Village Cultural Walks
Another highly recommend activity to do at Lake Bunyonyi is the cultural walks in the area. This is nice opportunity to learn about the legends, traditions and customs of the people who make a home on the shores of Lake Bunyonyi. You can meet a traditional healer, a craft group; see beautiful views from one of the high points on the lake. It is great to mingle with the locals and try out tasks like digging the garden with local hoes or visiting one of the local schools to interact with the school children.
If one is not interested in the community walks, the area around Lake Bunyonyi has well established trails for scenic hikes. It is an excellent place to just take a stroll, shoot a few photos, and enjoy the scenery. The terrain is quite hilly which makes for some incredible views if you make it to the top.
It is safe to swim in Lake Bunyonyi. No dangerous parasites are present and the water is hippo and crocodile free. A change from the swimming pools is just what you need on holiday and Lake Bunyonyi is open for this all time of the day.
The recent addition to the things you can do at Lake Bunyonyi is Ziplining. Strong ropes are connected between trees in the opposite banks of the Lake. You get to swing over the lake's calm waters and even make half somersaults to touch the waters and feel the breeze on your face. Safety equipment is offered for this activity. The equipment is well tested to ensure the safety of everyone doing zip lining.
Bikes can be rented at several places around the lake and in Kabale town. Traffic is light. So biking here is safe and fun. On the mountain bike, you can explore the villages and the shore of the lake in less time than walking would take. There are several tracks around the lake and uphill on the surrounding hills.
While Lake Bunyonyi is not a gorilla trekking destination, its closeness to Bwindi Impenetrable National Park makes it an ideal base for this adventure. Bwindi is home to almost half of the world's mountain gorilla populations, offering an opportunity to track and observe these endangered apes in the wild.
The Rutindo local market attracts residents of Lake Bunyonyi area every Monday and Friday. On these days, you will find the market filled with people. It is a perfect place to observe how locals go about with their daily life. You can also mingle with them and buy some fresh Uganda fruits.
Idi Amin, Uganda's infamous military dictator had his positive sides too. One of it was endorsing the introduction of the Louisiana Crayfish to Lake Bunyonyi. They've been so successful that they have become the dominant specie in the lake and surrounding water bodies. All the lodges at the lake serve crayfish. If you're not interested in the Crayfish, you can also order for the tasty local Tilapia fish.
Where To Stay At Lake Bunyonyi?
There variety of accommodations at Lake Bunyonyi to suit different preferences and budgets. Here are some options for where to stay at Lake Bunyonyi:
Lodges and resorts: There are a number of lodges and lodges located along the shores of Lake Bunyonyi. These properties often offer comfortable rooms, stunning lake views, and amenities such as restaurants, bars, and recreational facilities.
Island retreats: Some of Lake Bunyonyi's islands have accommodations that allow you to truly immerse yourself in the lake's stunning scenic beauty. Staying on an island in the beautiful Lake Bunyonyi can provide a unique and tranquil experience away from the mainland.
Campsites: For a more rustic experience, you can choose campsites around Lake Bunyonyi. This allows you to be closer to nature and enjoy the outdoors.
Budget accommodations: If you are looking for budget-friendly places to stay at Lake Bunyonyi, there are guesthouses and hostels in nearby towns like Kabale that offer affordable lodging.
Eco-lodges: Lake Bunyonyi is known for its commitment to sustainable tourism. Eco-lodges offer environmentally friendly accommodations that blend seamlessly with the natural surroundings.
Community guesthouses: Some local communities offer guest house accommodations, allowing you to interact with the local residents and learn about their fascinating way of life.
Lakeside cottages: Lakeside cottages provide a cozy and intimate setting, often with private balconies or terraces facing the water
Before finalizing your reservation, it is worth checking online reviews, seeking recommendations from fellow travelers, and communicating directly with the accommodations to ensure they align with your expectations.
Ready For A Trip To Lake Bunyonyi?
Whether you are drawn to the attractive islands, the warm hospitality of the people, or the myriad of outdoor activities, a Lake Bunyonyi tour is more than a mere vacation—it's an opportunity to connect with nature, immerse yourself in a different way of life.
Contact us today to customize a trip to Lake Bunyonyi that is right for you!