When Is The Best Time To Visit Uganda?
---
---
Best Time To Visit Uganda: A Month By Month Guide
The best time to visit Uganda or the best time to travel to Uganda is from December to February and June and August, which are the country's two dry seasons.
These times are the best for trekking gorillas and chimpanzees in Uganda.Wildlife game viewing in Savannah game parks of Uganda is also best during dry seasons when wildlife is concentrated around water sources.
However, with a diverse geography and a moderate climate, Uganda is considered a great year-round Africa safari destination. A rainy season visit – between mid-March to May and again between September and November – is well worth considering.
You'll avoid the peak-season crowds and take advantage of lower, off-season rates for Uganda safari lodges.
Climate Guide for Uganda
Best Time To Visit Uganda (Which is the best month to visit Uganda)
1. Visiting Uganda in January & February
January
January is a hot month in Uganda.
And this weather is perfect for mountain gorilla trekking in Bwindi Impenetrable Forest and Chimpanzee trekking in Kibale Forest National Parks.
There is less rain and more sunshine. The skies are clear. You can observe gorilla families and chimpanzee communities on the move through the verdant tropical rainforests, an amazingly connective encounter with Mother Nature and her fantastic wild creatures.
January is also a fantastic month for watching migratory birds in Uganda. Migratory birds are superb subject for keen photographers.
February
February in Uganda is quite a dry month.
This makes it an ideal time to pay a visit to the parks in the southwest do gorilla trekking – without having to trek in muddy conditions.
Like January, February is also a great time game viewing.
Boat safaris on the Nile River to the bottom of Murchison Falls and Glazing Channel boat cruise in Queen Elizabeth Park are brilliant during this month.
Wildlife tends to gather at the water sources.
2. Visiting Uganda From March & May
March
The month of March marks the beginning of the first rainfall season in Uganda. Days are comfortably warm and temperatures are pleasant.
This is the perfect opportunity to spot the animals in the parks giving birth to their young. Birdwatchers will be mesmerized by an array of winged beauties.
April
April is the wettest month of the year in Uganda.
Some roads may be muddy and impassable due to the consistent downpour. And the national parks are far quieter in April.
However, this is a best time to take advantage of discounted rates for hotels, Uganda safari lodges, and Uganda safari tour packages. But you should note that it may be a wet-weather journey.
May
May is the end of the first rainfall season in Uganda. The rainfall is not quite as much rainfall as April. Despite the weather being wet in Uganda during this period, this can be a lovely time to explore the surrounding areas. The landscapes will be lush and verdant.
The vegetation will create stunning backdrops for photography.
3. Visiting Uganda Between June & August
June
June marks the beginning of the first dry season of Uganda. It is one of the best times to visit Uganda. It is the start of the peak season for luxury Uganda safaris.
When it comes to booking a gorilla trekking in Uganda, we advise that you book in advance, especially for gorilla permits, to avoid any unnecessary hassles.
July
July is also among the best months for Uganda gorilla trekking safaris. The weather conditions are fine weather. The hiking trails are clear of mud and are easier to navigate.
All Uganda safari activities are accessible. Uganda wildlife (wild animals of Uganda) tends to congregate around water sources, making them easier to spot in the national parks.
August
August is a fantastic time to visit Uganda's many national parks. You will enjoy fantastic game viewing. You will have a chance to see elephants, buffalo, hippos, and lions. You may even encounter the elusive leopard. We advise you book accommodation well in advance.
4. Visiting Uganda From September to December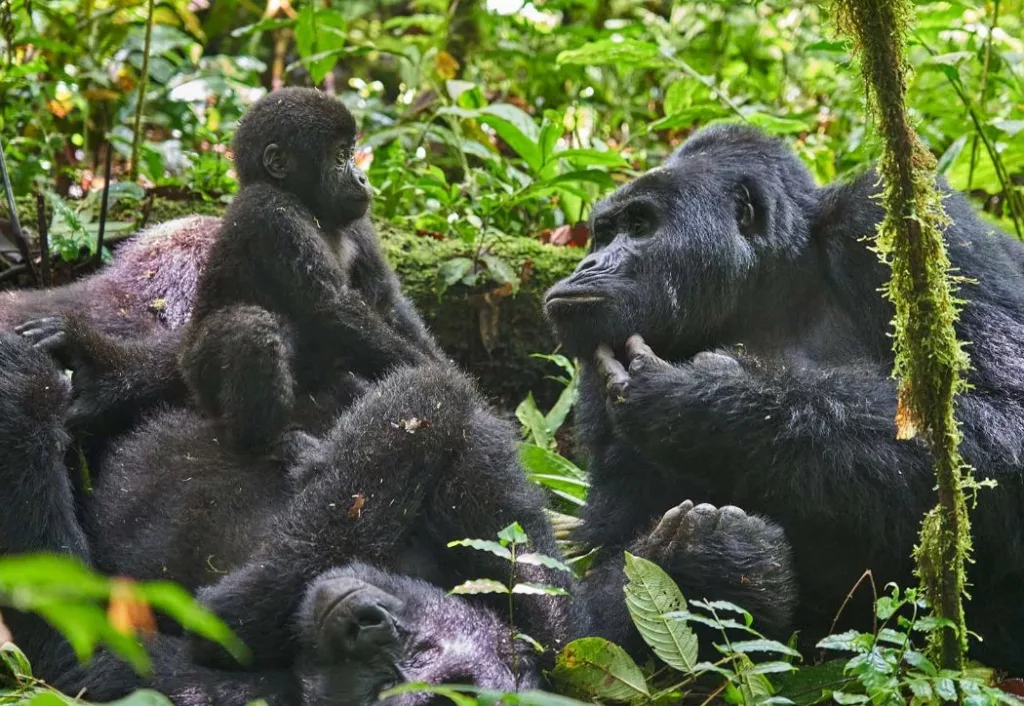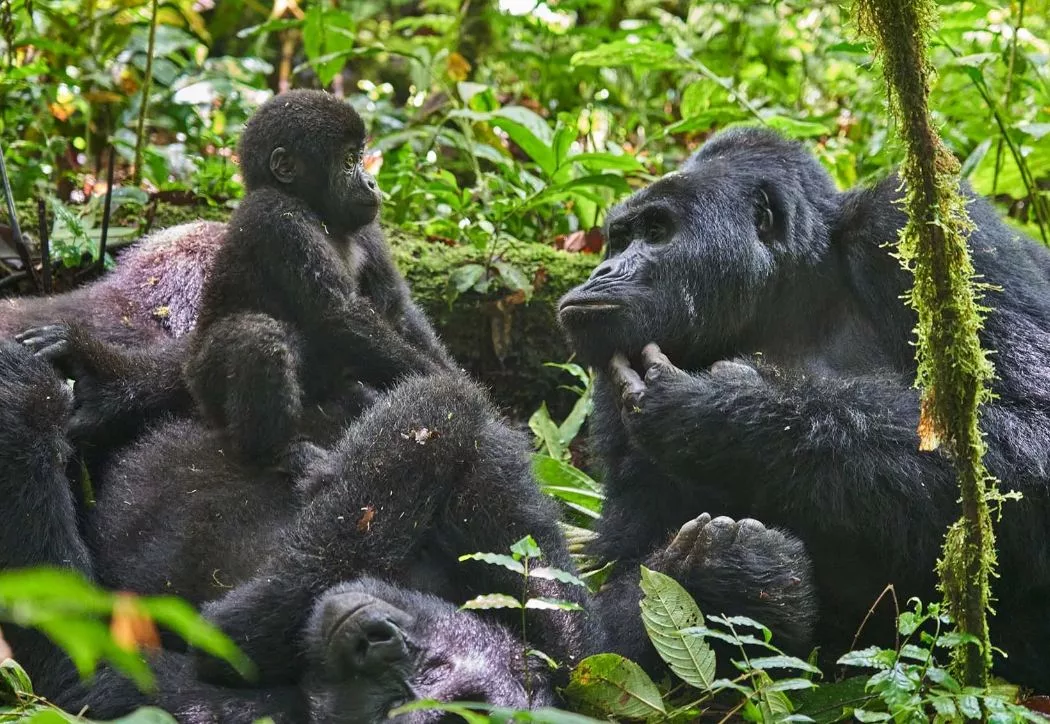 September
September is usually the end of the first dry season in Uganda. And depending on when the rains arrive, you may experience some rainfall on your Uganda safari.
This is not an ideal time of year for Uganda gorilla safaris. But, if you can brave the possibility of wet weather, you certainly save on accommodation and other travel costs.
October
The month of October is not a busy month when visiting Uganda. Prices are reasonable. Most of the game parks are still accessible at this time, but the rainfall can be a little unpredictable.
November
During November the rainfall continues in Uganda.
Uganda countryside dry plains turn a vibrant green. There are fewer visitors this month because of less than ideal weather conditions.
December
December is the end of the wet season when rainfall eases off.
It is a great time of the year to visit Uganda for safaris. This is a good time to travel to the northern region (Kidepo Valley National Park and Murchison Falls National Park).
The southern regions are also great for game viewing, chimpanzee trekking, and gorilla trekking safari tours. Plus, it's one of the best seasons for bird watching tours in Uganda, with a wide variety of migratory birds making their way into the area.
FAQs About The Best Time To Visit Uganda
Here are some of the popular questions people ask when planning to visit Uganda:
1. Does Uganda have the best weather in the world?
Uganda is often praised by travelers as having the best weather in the world! In fact, while in Uganda, you can have your shirt off all day and stay shirtless in the night without feeling any serious discomfort. Where in the world can you have this luxury?
If therefore you are planning a safari to Uganda, weather should not be a big concern but rather the good weather should be one of the reasons to visit Uganda.
2. What is Uganda's weather really like?
Uganda is situated along the equator line receiving direct sunshine throughout the year.
You may think with the direct sunshine Uganda would be a hot country with burning temperatures, but the suitably tagged "Pearl of Africa" enjoys some of the most pleasant temperatures throughout the year, the average temperature being about 27oC during the day and dropping to about 23oC in the night.
As you plan a trip to Uganda however, note there will be not-so-significant variations in weather and temperatures through the different regions of Uganda.
3. Which month is hottest in Uganda?
The hottest months in Uganda are January and February when the average daytime range is 24°C to 33°C (75°F to 91°F) with peaks of up to 40°C/104°F in the far north.
4. What is the best time to see the gorillas in Uganda?
June, July and August are the best time to go gorilla trekking in Uganda especially if you're planning to combine travels in Tanzania thanks to the wildebeest migration taking place over the plains of the Serengeti. These times are the best for trekking to see mountain gorillas and chimpanzees.
5. What are the rainy seasons in Uganda?
Uganda's climate is largely tropical with two rainy seasons per year, March to May and September to December. The northern region, which forms one quarter of the country lies outside the tropical belt, and hence experiences only one rainy season, March to October.
6. Which months are dry in Uganda?
The Dry months in Uganda are December, January, February, June, July and August. There are less rains in these months and the trails gorilla safari parks remain fairly dry during these months.
Final Though On The Best Time To Visit Uganda
Therefore, the best time to visit Uganda on safari is the dry season. But safaris are also about experiencing Africa. Uganda is genuinely an all-year-round safari destination, and each season has its own magic.
Fortunately, there are Uganda safari packages to suit just about every budget, and Tulambule also offers bespoke private safari tours. If you are thinking about your dream Uganda safari, talk to one of our experienced safari consultants.
If you liked this post, these tours cover similar ground…
4 Days Wildlife & Gorilla Tour
5 Days Gorilla & Game Viewing Tour
Uganda Travel Guides