Wondering how safe is Tanzania for tourists? All travel comes with some risks, but Tanzania is a very safe country for every nationality to visit. The risks commonly associated with travel to Tanzania relate to specific non-tourist areas of the country.
It is worth noting that all places you will be visiting on your Tanzania safari tour are low-risk areas and very safe to visit. However, here we have compiled a comprehensive guide on Tanzania's safety for tourists to give you complete peace of mind:
How safe is Tanzania for tourists?
Due to the sheer number and variety of its animals, and the professionalism of its safari industry, Tanzania is one of the best countries for wildlife safaris in Africa.
This East African country was visited by almost 1.5 million visitors in 2022.
It is among the most popular Africa safari destinations and is known as a safe country to visit by safari enthusiast from all over the world.
During your Tanzania safari holiday, you will be traveling outside the cities, which lessens the risk of crime. You will spend the most of your time in national parks and wildlife reserves – that are far from residential areas. Safaris in Tanzania are typically very safe and qualified guides know how to handle wildlife encounters.
While spend overnight in urban areas such as Zanzibar Town, Dar es Salaam or Arusha, there is little reason to worry. You just need to take precautions – such as leaving valuables in the safe in your room and avoiding walking around late at night.
Is Tanzania safe for American Tourists?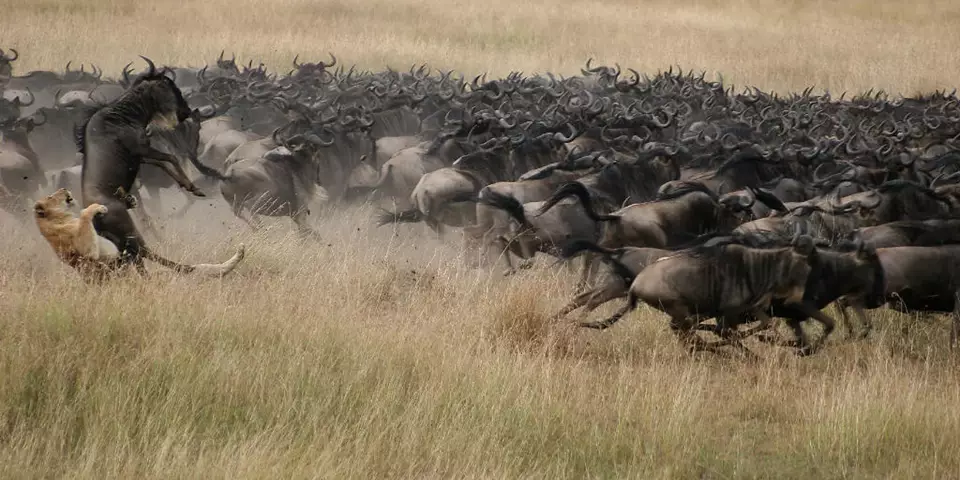 Yes, Tanzania is safe for American tourist and for every nationality to visit.
When on Tanzania safari trip, there is a low chance of you having an incident that puts you in any level of danger. This is particularly true when booking through a reputable tour operator that has extensive first-hand knowledge regarding travel in Tanzania.
If you are a first-time safari-goer, you are advised to conducting personal research on the country beforehand and bringing any concerns to your travel advisor. It is the best way to gain peace of mind before any trip.
Please Note: While it is important to do your research, it is easy to be misinformed. Thousands of tours visit the incredible wildlife areas of Tanzania every year without any incident. We advise booking your safari with experts who have invaluable, on-the-ground experience.
What are the risks of Tanzania Travel?
While all Tanzania's popular safari destinations are very safe for tourist, it is important to know what to expect from this wonderful country in East Africa. With that in mind, here we bring you a few things to consider while planning traveling to Tanzania:
As is the case throughout the world, petty crime like pickpocketing is quite common in Tanzania. These are most common in crowded areas, especially in the bigger cities, where opportunists may exploit the chance to pickpocket or grab your belongings.
Avoid wearing jewelry when walking in cities and any expensive belongings and valuables in the safe available in your room.
While walking around the city, make sure you avoid doing so after dark. But please note that that this is only applicable in towns or cities. While you are on safari, you need not worry about crime as all visitors in Tanzania are treated with the maximum respect.
2. Public Transport in Tanzania
It is highly recommended that you avoid public transportation in Tanzania. It is not the safest or most convenient way to get around any Tanzania city.
In the safari game parks, you won't have access to or the need for public transportation. During your safari, safari vehicles and pre-arranged transfers will take you where you want to go.
3. Border Areas & Terrorism in Tanzania
Some people think that Tanzania is not overrun by terrorism. However, this is not true.
The only risk of terrorist attacks in Tanzania may occur in the far southern area of the country, near the Mozambican border. Luckily, all the best tourist destinations of country are far removed from the deep southern of Tanzania, making terrorism a very low-risk scenario.
Wildlife in Tanzania is of no risk when you obey the local wildlife laws and follow the instructions of the rangers and guides. Please make sure you follow the advice and rules of national parks and your professional guides. They are experts who are there to keep you safe. Below are some general wildlife safety guidelines and tips.
Stay in the vehicle while on a game drive except at designated areas where you're permitted to get out
Avoid standing up in the vehicle, hang out of the window or sit on the roof
Do not drive between elephants in a herd, especially females and their young
Stay in a group close to your guide on a walking safari
5. Food and Water Safety in Tanzania
Some top Tanzania safari lodges and camps offer quality, delicious food of the highest standard. These ranges from local cuisine to familiar Western meals with an African twist
When on the streets of the Tanzania cities, it is advised to use your discretion about the sanitation and hygiene of local food vendors and restaurants.
Avoid places that leave you feeling unsafe.
You should also not drink local tap water in Tanzania. Luckily, safe bottled water is readily available and will be provided in every Tanzania lodge and camp.
6. Natural Disasters in Tanzania
There are few natural disasters experienced in Tanzania. You can only be concerned about flooding because this could affect your planed safari activities.
Luckily, the heavy rains often happen around the same time every year. We can easily advise you on the best time to visit Tanzania.
Tanzania is in a malaria zone. We recommend that you bring anti-malaria meds.
Also note that Tanzania Government needs proof of yellow fever vaccination upon arrival if you are travelling from a country with risk of yellow fever.
This also applies if you have a long layover (over 12 hours) in a country with a known yellow fever risk. Besides that, there are no specific vaccine requirements for entry into Tanzania.
Is Tanzania safe for solo female travellers?
Yes, going on a safari is an adventure of a lifetime, but for women, the prospect of travelling alone or in a group can be daunting. It is vital to acknowledge that women have different concerns and needs than men when it comes to travel. But women planning to travel to Tanzania solo or even with an all-female can do so without any concerns.
Female travellers can have a very safe safari in Tanzania. When in the comfort of a game park, women can rest assured they are completely safe and will be treated with the maximum respect by all the staff they encounter on their tour.
Here are some tips for women on safari:
Keep in mind that personal hygiene supplies may not be available when travelling to remote destinations.
Be aware of the local customs, laws, and potential risks
Stay in safe accommodation and avoid travelling alone at night;
In the unlikely event of being harassed by male strangers, a polite "No thank you" will usually suffice. If not, ask for assistance from your guide or lodge manager;
Portray yourself as a confident and experienced traveller. Usually, only those who look vulnerable (or lost) receive unwanted attention.
Is Arusha Safe for Tourists?
Arusha is the safari capital of Tanzania, situated on the southern slopes of Mount Meru, close to Mount Kilimanjaro. The city is close to the Serengeti, Ngorongoro, Olduvai Gorge, Lake Manyara National Park, Arusha National Park and Tarangire National Park.
This city is considered safe for tourists. There are also many things to do in Arusha, from game drives in Arusha National Park p to serene walks in working coffee plantations.
While Arusha is safe and you are unlikely to experience any trouble, it is always good to keep precautionary practices in place.
Safety and security on Mount Kilimanjaro
Climbing Africa's tallest mountain is a serious enterprise, and climber's safety is taken seriously. But there are no issues like crime and theft when it comes to climbing Kilimanjaro. You hike within the Kilimanjaro National Park, which is a safe and well-managed park.
Also, the climbing community is not a thieving one; it rather a wonderfully friendly and supportive one! Safety issues on Kilimanjaro are more to do with altitude sickness and having the correct clothing and gear to protect you against the elements. You will need to book with highly experienced individuals with decades of Kilimanjaro climbing experience between them.
Zanzibar is very safe for tourist from all over the world to visit.
The gorgeous island paradise offers the best beaches in Tanzania, luxury holiday accommodations, a vibrant historic town, and a truly relaxing getaway in a tropical climate.
It is one of the safest African destinations, even for solo female travelers. The local people are generally welcoming and laid-back. And many international travelers enjoy their time on the islands so much that they return time and again.
However, as with anywhere else, the typical precautions should be taken for extra peace of mind. That said, the only annoyances you are likely to encounter in Zanzibar are the Papasi and Beach Boys. Particularly evident in tourist-dense areas around Nungwi and Kendwa, the Papasi sell tours, and push their wares, sometimes over-zealously.
The best way to deal with these persistent salesmen is to firmly decline and not give them attention. If you feel harassed report the problem to your lodge or tour company so that they can assist. That said, within your resort and on private beaches, this will not be an issue.
Is Dar es Salaam Safe for Tourists?
Yes, Dar es Salaam is generally safe for tourists. In fact, some of the most authentic African safaris in Tanzania start in Dar es Salaam – long regarded as the gateway to the country's celebrated southern safari circuit, where you will find park like Ruaha and Nyerere National Parks.
You are unlikely to have any bad experiences in this Tanzania's largest city and financial hub, as safety levels here are good. But as with any major city, there are opportunists in Dar es Salaam who will take the chance to steal or rob you if given the right set of circumstances.
General Tanzania Safety Travel Tips
Here are the main points you should keep in mind when deciding to embark on any of the Tanzania safari and tours:
Buy good travel and health insurance
Check your passport and Tanzania visa requirements for your destination
Get all the required Tanzania vaccinations, antimalarial medication and insect repellent
Lock all your travel bags and keep all valuables in your hand luggage
Leave a copy of your travel itinerary and passport with loved ones at home. Be sure to check in now and then with them so they know your whereabouts and that you're safe;
Bring suitable clothing to protect you against the African sun, mosquitoes and to stay warm on open vehicle game drives
Check luggage restrictions on all your flights (including domestic flights)
Do not drive at night
Put your valuables in the safety deposit box of the hotel
It is essential to choose a reputable tour operator and to research the country and area you will be visiting;
Tanzania has a ban on single-use plastic bags, including those carried in travellers' luggage.
Ready to Book Your Tanzania Safari?
Contact us to start planning an epic yet fully safe safari to Tanzania. With almost 10 years s of experience and knowledge, we are professionals in crafting tailor-made Tanzania safari itineraries that are sure to be the trip of your dreams.