Yes – gorilla trekking in the rainforest jungles of Africa is safe both for you and this rare primate, provided that certain considerations are made. With male silverbacks weighing up to 200 kilograms and reaching nearly 6 feet when standing, it is valid to feel vulnerable when watching wild gorillas.
In this article, we introduce you to the safest gorilla trekking destinations in Africa, how safe are gorilla trekking, safety guidelines for gorilla trekking, and more useful tips to give you peace of mind about this extraordinary wildlife adventure.
Which Country Is Safest For Gorilla Trekking?
There are only a few places where gorilla trekking is done in Africa. At Tulambule, we support responsible tourism, so we only offer gorilla safaris to the safest places.
The best and most popular places for safe gorilla trekking in Africa include Uganda and Rwanda, which are home to rare and endangered mountain gorillas. The other only place where you can see mountain gorillas on Earth is the Democratic Republic of Congo.
1. Uganda
Uganda is a popular Africa safari destination and visitors rarely experience crime. The local people are warm and welcoming towards visitors. Moreover, the parks where the mountain gorillas live – are particularly well maintained and patrolled.
Visitor safety is a top priority at the parks, and experienced rangers, and often security, accompany travelers into the forests to visit the mountain gorillas; gorilla treks are trouble-free.
The gorilla trekking forest of Bwindi Impenetrable National Park in southwest Uganda is home more than half the world's population of gorillas. Due to its rich biodiversity and diverse habitats, Bwindi is a UNESCO World Heritage Site and the best place for gorilla trekking in Uganda. The other place where you can see gorillas in Uganda is Mgahinga Gorilla National Park.
2. Rwanda
Rwanda is arguably the safest country in Africa. This is immediately apparent upon arrival in the relaxed and charming capital Kigali.
Though there's a lot of security around, this doesn't tend to add tension for travelers; rather, the opposite. Gorilla trekking tours are well managed and mostly safe. In 2022, Rwanda was listed as the 6th-safest country in the world for solo travelers. Rwanda's response to the genocide of 1994 was an attempt to pull the country together, rather than further dividing it.
Today this has the effect of a solid safety record for travelers and Rwandans, with an emphasis on security. There are around 300 mountain gorillas in Volcanoes National Park (the oldest national park in Africa) where gorilla trekking in Rwanda is done.
How Safe Is Gorilla Trekking?
Gorilla trekking is a remarkable wildlife experience that we cannot recommend enough!
Especially since it is actually really safe. Mountain gorillas – though extremely large and powerful – are not interested in hurting humans. Moreover, the gorilla families that people visit on gorilla trekking tours are habituated to the presence of human.
There are of course some fairly rational rules that you should follow while trekking for gorillas to ensure your safety as well as the well-being of the gorillas.
And your gorilla trekking guide is the person to look to if you are ever uncertain about what to do (or not do). He or she is there to protect you and knows the visited troop well.
1. Gorillas Are Gentle Giants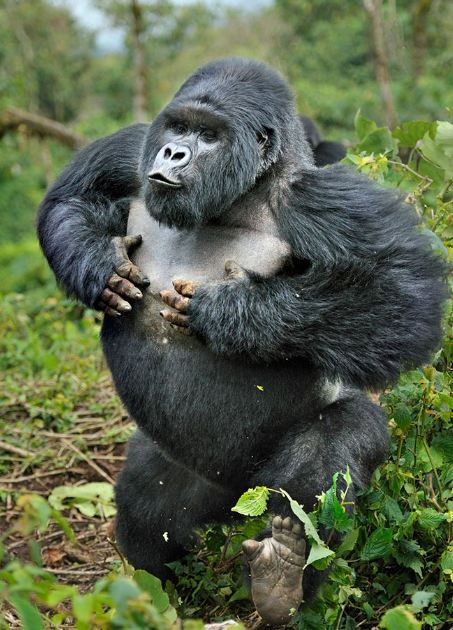 You might reasonably have doubts about the mountain gorillas themselves. Mountain gorillas are exceptionally large and powerful.
A silverback can weigh up to 220 kg (485 pounds)! But despite their unfair reputation, they're not interested in hurting humans.
They are really gentle giants. And are quite shy by nature.
Mountain gorillas are even vegetarians predominantly, who at least – sometimes eat small insects.
So, while gorillas will defend themselves if attacked, they are not aggressive animals. And they have no interest in messing with humans.
2. You Visit Gorillas That Are Habituated
Further to enhance everyone's safety is the fact that the mountain gorilla families you visit on a trek are habituated. This means these gorillas have undergone a long process of slowly becoming accustomed to the human presence. They are, therefore, less likely to become alarmed and agitated by your presence.
3. You Trek With Expert Local Guides And Armed Rangers
Moreover, when you go on a gorilla trek you go in the company of a trained guide and armed rangers. Such men and women know the gorilla family groups being visited, and know what can and cannot be done. It is important to always listen to your ranger and stay with the group while trekking. Listen to what you're told to do and not do. Poking a silverback's stomach, for instance, is not allowed.
But if you follow the rules of your trek guide and act with common sense, you're perfectly safe visiting the gorillas. You certainly are NOT safe from getting very muddy on a gorilla trek, as these Tulambule trekkers quickly learned!
4. There Is Gorilla Trekking Safety Guidelines To Follow
Obviously there are rules to follow when trekking and watching the mountain gorillas that are geared towards not angering, frightening or in any other way upsetting the gorillas. Here are some simple safety guidelines to follow when in the presence of mountain gorillas to further ensure everything goes smoothly:
Don't use flash photography, as this could startle them.
Only stand as close to the primates as the trek guide says you can (which is usually no closer than 7 metres/23 feet).
Don't make sudden movements or loud noises as these could alarm the gorillas.
Don't wear bright or neon colours, and don't wear strong cologne or perfume.
If a gorilla comes close, remain submissive and do not look them in the eye, as this is interpreted as a challenge. As tempting as it is, do not touch a baby gorilla.
If you happen to look into the eyes of a gorilla, take a brief moment to enjoy the experience, but then immediately take your gaze off the gorilla's eyes and look down. This signals to the gorilla that you are not a threat and that everyone can relax.
Always stick with your group under the leadership of the park Rangers and Guides. Moving out of the group without a Ranger could put you in danger.
5. The Forest Trek Is Safe, But Tough
Mountain gorillas live in montane forest, which means you have to walk along forest trails to find them. A gorilla trek is all about seeing these magnificent animals in their natural habitat, after all.
Every forest trek varies in length and difficulty depending on a few factors, like which park you visit, the weather, and the particular gorilla troop you've been assigned (troops' locations are monitored by park rangers and each trek group is assigned a specific troop to visit).
Generally speaking, visitors can ask to be assigned a troop near or far from the starting point. The less fit, for example, may wish to have shorter hike. Hikes range from about half an hour to three or four hours. There are no overnight hikes.
At Tulambule we usually opt for the longer trek, as the trek itself is part of the fun. This is because you're walking through beautiful, remote and well-preserved indigenous forest. We love the towering trees, ancient ferns, overgrown bush, energetic streams, butterflies, bird calls … all of it!
It's a hike that's special and rewarding even if there were no mountain gorillas in the mix!
More Safety Tips For Gorilla Trekking
1. You Need To Be Prepared
Probably the biggest 'danger' on a gorilla trek is to do with navigating the mountainous and forested terrain. You often walk along narrow or even non-existent trails.
As we discuss in our guide of what to wear for gorilla trekking, you should cover up your arms and legs to avoid being scratched (or bitten by insects). You should also wear thick gloves as you'll likely want to hold onto some vegetation for leverage, but there can be thorns.
Further, note that the route you walk is likely to be steep in places, as well as muddy and slippery. So you want hiking boots with good grip. And you might also consider bringing along trekking poles or a walking stick, as many others do. You can also hire the services of a porter, who not only carries your backpack for you but also helps you to navigate tricky sections.
Finally, it can be really cold in the early morning, as well as hot at midday when the there's no cloud cover. And it often rains, as you're in rainforest after all! So you need to be prepared for all kinds of weather, having warm layers, a waterproof shell, and sunscreen and a sunhat.
2. Travel With A Local Tour Guide
We also recommend travelling with a local tour guide to further ensure your safety. No matter where you go in the world, having a local look after you is always a great idea, as they know the culture, environment, people and wildlife of the place.
3. Book With A Good Hotel
It is important to book a good hotel which provides not only comfortable rooms but with stringent security measures in place. Your tour operator can help you select the best hotels with good security policies in place. Don't book with hotels that have poor reviews or are less known by other travelers.
Very cheap hotels are normally having crowds and can be penetrated by criminals.
You don't want to wake up only to find your room broken into or your valuables taken. Go for the mid-range and luxury hotels if you can.
4. Request for an Easier Hike
If you doubt your fitness or are an elder, we recommend that you let your tour operator know about it before booking your gorilla tour.
On the day of briefing, the Rangers will allocate gorilla families based on fitness among other factors.
If you are unfit or an elder, insist on tracking a gorilla family that is closer to the starting point to avoid having to hike for long distances.
If you think that you are fit enough, you should go for the medium or more difficult hike. Elders and the physically disabled should read our article on gorilla trekking for the very old.
FAQs About Gorilla Trekking
1. Is Gorilla Trekking In DRC Safe?
Gorilla trekking is also possible in the Democratic Republic of Congo. However Congo's Virunga National Park which is home to gorillas is often tumbling in currents of political instability.
For decades, the people of Congo have struggled through war and instability. As is inevitable, this tableau of human suffering has split over into the conservation of the country's national resources, and Virunga National Park has found itself in the middle of countless conflicts.
Though valiant efforts were made to protect the park, the end of the 20th century saw much of the park's wildlife massacred almost to the point of extinction.
2. How Difficult Is Gorilla Trekking?
Gorilla trekking involves hiking through difficult terrain, thick vegetation, hills and valleys. The activity can be challenging and strenuous but it is doable for all relatively fit and health trekkers.
3. What Are The Chances Of Seeing Gorillas In Uganda?
In our experience organizing gorilla tours in Uganda and Rwanda, the chances of seeing the gorillas are 99%, though I would confidently say 100%.
4. Which Month Is Best For Gorilla Trekking In Uganda?
The best time to visit for gorilla trekking is during the dry seasons: December to February and between June and August. However, it is possible to trek gorilla all year round.
A safe and thrilling adventure!
So yes, gorilla trekking is a safe adventure holiday and we recommend you gather together some friends or loved ones and come on over for an experience you'll never forget! And as always, please feel free to chat through any questions or concerns with us.