Can The Very Old Or People With Mobility Issues Go On A Gorilla Trekking Safari?
Gorilla Trekking For The Very Old – Mountain gorilla trekking in Africa is a bucket list adventure many nature lovers want to tick off, and yet it is a physically demanding activity.
As their name tells it, mountain gorillas live in the densely forested mountains.
The high altitudes and unpredictable movements of gorillas, coupled with thick vegetation, can make for a strenuous experience that tests all fitness levels.
This can leave one wondering, should people with mobility issues even think about taking part in this once-in-a-lifetime adventure? This is a very important question I want to address in this article. The answer is YES!
The handicapped, disabled, elderly or any physically impaired and challenged person has a chance of trekking gorillas in Africa. Provisions have been put in place to enable everyone have the opportunity to trek gorillas, as long as he/she is aged 15 years and above.
Mountain Gorillas – A little Background
Before Dian Fossey's ground-breaking research on Mountain Gorillas and her landmark movie "Gorilla in the Mist", gorillas were seen largely in a negative light, based on King Kong and cheap B-movie monsters.
At one point, a survey of the most feared animals in the world featured gorillas alongside sharks and spiders. Fossey changed all that by living and interacting with the friendly mountain gorillas for 20 years in the Jungle!
She helped to bring a new understanding of their true nature to the world. She showed to us that these huge apes are actually gentle giants, with individual personalities and interesting social lives; in many ways they are like us.
Today African mountain gorillas are a biggest draw for travellers. And those who come to spend a magical moment with them describe a life-changing experience.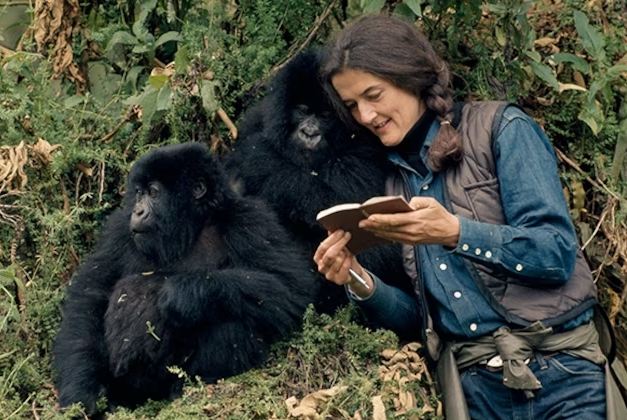 Where To See Mount Gorillas?
Mountain gorilla cannot thrive in zoos like the lowland gorillas.
Everyone who wants to see them must take a safari to Africa. They can only be seen in three African countries of Uganda, Rwanda and DR Congo. In Congo, gorillas live in Virunga National Park while in Rwanda they reside in Volcanoes National Park.
Uganda is lucky to have more than half of the 1,063 remaining mountain gorillas and in two national parks of Bwindi Impenetrable National Park and Mgahinga Gorilla National Park.
Rwanda gorilla safaris are expensive with a gorilla permit costing $1500 while in Uganda gorilla safaris permit costs $700.
Why gorilla trekking expensive? Gorilla trekking is considered the ultimate wildlife experience on earth. Mountain gorillas are highly endangered and that is one other reason why the permit for trekking gorilla sells like hot cake.
An Essential Guide To Gorilla Trekking For The Very Old & Physically Incapacitated:
Gorilla trekking in Uganda and Rwanda is not only for the youthful or those who are energetic and young.
You don't have to go for other wildlife encounters and miss out on the very best just because of your age, fitness or physical limitations.
In fact, most travelers who go to track gorillas are 40 years and above. You're never too old for gorilla trekking as long as you are allowed on a plane.
In 2013, a 94 years old lady successfully completed the gorilla trekking adventure in Bwindi Impenetrable Forest National Park. She still remains the oldest female to do Gorilla trekking in Uganda!
So, if you have been wondering as to whether to bring your 60 years old granny for gorilla trekking or not and have questions about Gorilla trekking for the disabled and people with mobility difficulties, the answer is that it is all possible and here we will tell you how:
1. Trekking The Nearest Gorilla Family:
Previously, whenever you bought a gorilla permit, you would be instantly allocated a gorilla family to visit. So basically, your gorilla trekking permit would be issued with a pre-determined gorilla family group. However, that is no longer the case.
Currently, you're only allocated to a particular sector where you will be going for the gorilla trek. Uganda's Bwindi Impenetrable Forest Park which contains almost half of the world's population of endangered mountain Gorillas (about 459 at last count) has four sectors: Buhoma, Ruhija, Nkuringo and Rushaga.
Each sector acts as a self-standing gorilla trekking destinations and has a number of gorilla families. The families are allocated to the visitors on the day of trekking. A maximum of 8 visitors are assigned to a particular gorilla family.
You are assigned a gorilla family to trek depending on a number of factors such as your age and you physical state/physical fitness.
Therefore, if you are an elderly person or have disability and mobility challenges, it will be at this stage that your guide will request that you be assigned to the gorilla family group that is known to be near the trailhead.
This is so that you don't have to walk for long hours to find the Gorillas (the round trek to see gorillas can take 2 to 7 hours.) Mountain Gorillas freely move within the forest territory.
But, because the park rangers have daily contact with them, they always know which group is near at the time.
2. Hiring Porters
It is advisable pretty much especially for the very old to hire a porter on their gorilla trekking tours. The porters are always available at the park headquarters
These people are residents of the area and will make your overall experience more enjoyable.
They are very helpful since they will give you a push or a pull when it is required to ensure that your make it to the gorillas. They will help you maneuver past the difficult areas during the trek because they know the terrain so well.
Porters will also help with carrying your camera equipment and your day pack.
Besides that, hiring a porter helps them earn a living for their family. Or make ends meet in some way which also helps towards conservation as they will look to protect the Gorillas which help them get a day job and earn a living.
Some of the porters are reformed poachers who now proudly earn their livelihoods that way and committed to conservation.
Cost of Hiring A Porter
It costs $10 to $20 to hire a porter in Uganda and Rwanda depending on how much there is to carry.
3. Hiring The Sedan Chair
This is the ultimate express gorilla trekking solution for the elderly or seniors in age and gorilla trekking for the disabled or people with mobility issues.
As the name goes, the sedan chair is indeed a real comfortable sedan chair fixed on a metallic platform. It has handles that is lifted on shoulders by a group of four young and energetic men.
You will comfortably be carried into the forest for your watching experience and back making it a one size fits all mountain gorillas trekking solution for both the disabled elderly, and physically incapacitated.
Cost of Hiring A Sedan Chair
The cost of a sedan chair is between $300 and $500. It can easily be arranged through your hotel/lodge or tour operator like Tulambule.
4. Hiring A Bamboo Stretcher
The lesser version of the sedan is the bamboo stretcher which also serves the purpose. This is a well-sawn stretcher that is used to carry the handicapped or disabled person to the gorillas.
Unlike the Sedan chair that a person sits on and is carried in that sitting posture, the stretcher is flexible as it allows one to lie-down or seat as you are carried through the gorilla trekking adventure.
Please Note: All trackers (fit or not) are given simple hiking sticks to help with their mobility. The elderly may need to come with their own special hiking sticks.
Other Important Things To Consider During Gorilla Trekking For The Very Old
1. Safety And Security
Apart from the ability to complete the gorilla trekking tour, elderly and people with mobility issues may worry about security in the park considering that they are already fragile and even vulnerable. Security and safety during gorilla trekking in Rwanda and Uganda is excellent.
All gorilla treks are led by armed rangers whose role is to protect guests from dangerous forest animals like elephants and buffaloes.
In Uganda and Rwanda, there have been no cases of militias in Uganda and Rwanda in over 20 year but the national park authorities leave nothing to chance.
The situation in DR Congo is unpredictable given the different security incidences in the past. Congo gorilla trekking tours involves having to get used to countless security checks and more escorts.
2. Long Driving Distance
Another issue that worries visitors to the gorilla parks of Uganda is the driving distance from Kampala or Entebbe. For this issue, there are 2 solutions. One is to arrive from Rwanda's Kigali city instead of Entebbe or Kampala cities in Uganda.
The driving time and distance from Kigali to Bwindi and Mgahinga is shorter. Driving from Entebbe/Kampala to Bwindi can take 8 to 9 hours. But from Kigali city, it takes only 3 to 4 hours to reach Bwindi Impenetrable Forest.
Another solution for the long driving distance is to book a domestic chattered/scheduled flight. This can be arranged from Entebbe International Airport or Kajjansi Airstrip to the nearest airstrip at Bwindi Impenetrable National Park.
Your Uganda tour operator can then wait for you at the airstrip to take you on a short drive to your lodge near or inside the park. The domestic flights are expensive but the reward to reach the park in only one hour.
If your budget cannot allow for a flight to Bwindi, then you don't have to worry. The Uganda gorilla safari parks are located in areas with remarkable scenery and other amazing wildlife safari parks.
You will not be bored even if you choose to travel by road. You will encounter amazing African countryside, rural villages, national parks, mountains, valleys and natural African wilderness that will leave you enthralled.
At Tulambule, our long Uganda gorilla safaris often include small stops to relax and discover hidden points of interest like the equator crossing.
If you are combing gorilla trekking with other wildlife encounters with us, then the tour can be designed to reduce on driving time. You would be stopping in different Uganda national parks each day until you arrive at the gorilla trekking destinations.
3. Accommodation
The accommodation within and around the gorilla parks are of high quality.
They range from ultra-luxury, luxury hotels, and mid-range to budget safari lodges, camps, cottages, dormitories and basic campsites. Most of them are built to allow people with disabilities to move about easily.
Please ensure that you book comfortable accommodation and ensure that it is closer to the park entry point / briefing point. That way, you don't have to wake up so early in the morning and won't drive long distances in the vehicle.
5. Book Your Gorilla Permit In Advance
When most gorilla permits have been booked, it becomes difficult to get an easier trek especially for Bwindi's gorilla trekking sectors.
Seniors are advised to book their trips at least three to six months in advance so that they can get gorilla permit in sector where gorilla trekking is easy.
Some gorilla trekking sectors in Bwindi like Nkuringo is better suited to more physically fit/physically active visitors.
6. Things To Carry
Aside from securing an easier group and being carried in the sedan chairs, elderly people need to know what to pack and what to wear for gorilla trekking.
A gorilla trekking parking list should include hiking boots, hand gloves, rain jackets, sweaters, sunglasses, long-sleeved shirts, long pants, walking stick, insect repellents, a good camera, and first aid kits.
Also when heading out for gorilla trekking, try to carry enough drinking water and energy snacks. They will help keep the body in good condition and energetic.
7. Best Time To Go
The When Is The Best Time To Visit Uganda?">best time to visit Uganda for gorilla trekking whether you are a person with disability or not is during the dry season.
This is when the gorilla parks record the lowest or no rain making it easier to track these amazing creatures. The dry months start from June to September or December to February.
It is possible to go trek gorillas during the wet or rainy season (from March to May or October to November) as well but that is when plenty of rains are recorded.
Please Note: In case you are of middle age but relatively unfit, it is important to prepare in advance by hiking around your house. If you live in a forest, mountainous or hilly area, use the chance to move about to prepare your body for your tour.
Other activities that can help you prepare for gorilla trekking include strolling, climbing, light running and walking for long distances.
Our Top Gorilla Trekking For The Very Old & People With Mobility Issues
Final Thought on Gorilla Trekking For The Very Old & Disable
It is also important to inform your tour operator about any fitness concerns or physical limitations before booking a safari to see the mountain gorillas. This will help the operator plan according and arrange any special equipment with the park authorities.
It is also important to remember that driving distances in Uganda are vast, so a fly-in safari will be much more comfortable than a road safari – especially if you the elder have back problems. At Tulambule, we tailor-make safari vacations based on your travel needs.
Whether that's securing a room close to public areas at a lodge with no stairs, or booking suitable accommodation for mobility-impaired travellers, our experts know the ins and outs of planning unforgettable Uganda safaris for seniors, elderly and physically incapacitated people.