When it comes to beach holidays, the Sensation Islands of the Seychelles archipelago, give tough competition to mainstream destinations like Mauritius, Singapore, Thailand, and Malaysia.
Set against the calm blue waters of the Indian Ocean, with just granite boulders or the occasional cluster of palm trees breaking up the the stretches of white sand beaches, the Seychelles allow you a chance to live out your tropical island fantasy.
With so many beaches spread across the 115 islands, it becomes a difficult task to decide which ones to visit and which ones to skip. Here is a list of some of the best beaches in Seychelles that you can visit on your holiday in this wondrous place.
1. Anse Source d'Argent, La Digue
If you have ever wanted to know where those stunning photos of the Seychelles were taken, chances are they were taken on La Digue.
Anse Source D'Argent is found on La Digue Island.
It is the most beautiful of the beaches in Seychelles and was crowned as the most photographic beach in the world by National Geographic.
It also served as backdrop for Hollywood movies such as Tom Hanks' "Cast Away" and "Crusoe." This idyllic stretch of pure soft white sand beach, with its magnificent boulders, turquoise waters, and undulating palms, is great for sunbathing and snorkelling.
With knee-high water depths, families with children and novice swimmers will feel at peace, and one may view tropical fish and turtles without having to swim or snorkel.
Located on quiet southern coast of Mahé Island, Anse Intendance feature one of the greenest beach backdrops on the entire Seychelles Archipelago.
Beautiful tropical palms, climbable boulders and softest white sand lie in its foreground alongside thick vegetation-carpeted hills.
While it is not a public beach, its home to the 5-star Banyan Tree, the only resort on Anse Intendance's coastline, which adds a touch of beauty.
Because the beach is not protected by a reef, swimming is not always safe. Surfers, on the other hand, will find it to have some of the best waves along the island. Between October and February, sea turtles nest here as well.
Backed by forests near the western end of Praslin Island, Anse Lazio is framed by dramatic granitic boulders at either end.
A line of palm trees runs between them, softly swaying in the tropical breeze.
With powder-like white sand, bath-warm waters and turquoise sea, it is really a remarkable place. The beach's eastern portion leads down to a coral-rich underwater life, making it a great spot for snorkelers.
The beach is easily accessible by car or bus and appeals to locals and tourists. However, visitors seeking seclusion can find smaller coves along the area.
Because of the abundance of restaurants, guest houses, and water sports available, Mahé Island's longest beach is also the island's most visited. Beau Vallon is far from secluded, with local picnicking and playing music under takamaka trees and vendors offering Creole cuisine, drinks, and apparel along its crescent-shaped shoreline.
Its location on Mahé's northwestern tip makes it one of the best beaches in Seychelles to immerse oneself in the local scene.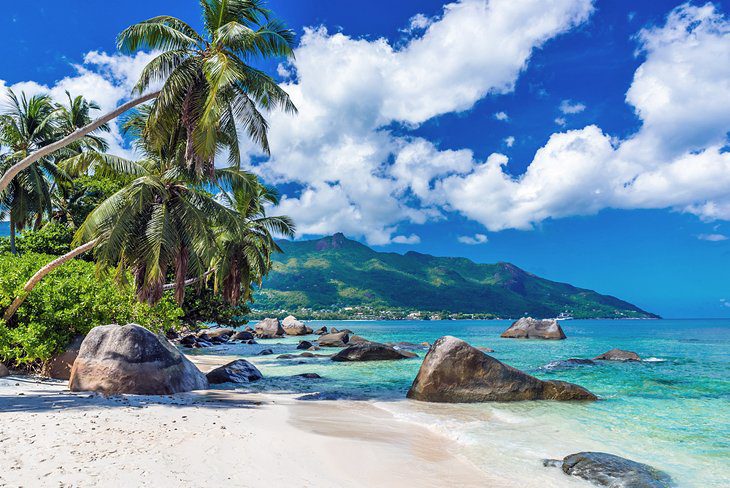 5. Honeymoon Beach, North Island,
You will never have to face the crowd issues at Honeymoon Beach, which is one of the most exclusive beaches in on the planet.
It is located on North Island, an 11-villa, $5,000-plus-per-night private island where even guests – former boarders have included royal honeymooners the Duke and Duchess of Cambridge and the Clooneys – must book in advance in order to gain access to the sliver of paradise.
Well-heeled couples and newlyweds often spend their private time here with a Champagne picnic while enjoying breathtaking view of mountainous Silhouette Island (the 3rd largest granitic island in Seychelles) in the near distance.
6. Anse Georgette, Praslin
A strong rival to Anse Lazio for the "most beautiful beach in Praslin" title, Anse Georgette is a small but stunning stretch of powdery white sand on the extreme northwest of Praslin Island.
The beach is located on the grounds of the Constance Lemuria, a five star Resort and non-guests must plan in advance to gain access through the resort, or arrive by boat.
Those who come here are offered with magnificent snorkelling opportunities and soft-white sands, bordered by lush vegetation and softly-sculpted granite boulders. During sunset, the sun and sky put on quite the light show along an extended horizon.
Located on Mahé Island and nearly hidden away, the Anse Louis beach is ideal for those seeking for Mahé beach experience without the crowds.
The beach is easy to identify amongst the many compact beaches on the island because of a formidable, forested cliff made of dark brown granite.
Part of its coastline is shared by the MAIA Luxury Spa and Resort, an ultra-private hotel, but visitors are able to enjoy full access to Anse Louis' stretches of sand.
Petite Anse beach on Mahe Island offers some of the best views on the island.
Facing northward towards coastline-hugging islands and the mainland's verdant peaks, it is home to the Four Seasons Resort Seychelles resort.
This luxurious resort runs along the entire span of this captivating cove. But like all Mahé's beaches, the Petite Anse remains open to the public.
However, visitors must inform the front gate to be escorted to the beach For the perfect Seychellois sundowner, order a snack and/or beverage from the resort's bar/restaurant and take in front-and-center sunset views over a glistening Indian Ocean.
Anse Cocos on La Digue is perfect for travelers who do not mind combining a bit of hiking with their day at the beach.
While getting to it involves a 30-minute hike from Grand Anse, guests get to experience a similar scene to the incredible Anse Source D'Argent's, curvy chunks of granite boulders and clear warm waters – only without the crowds.
The tides at this beach can sometimes be high, but Anse Cocos provides a saving grace for swimmers in the form of a shallow natural swimming pool framed by boulders at the end of the bay.
10. Anse Volbert (Cote D'Or), Praslin
Also known as Cote D'Or, Praslin Island's beach is one of the longest beaches in the Seychelles archipelago. It spans over 2 kilometres (1.2 miles) of powder-soft sand, dramatic granite formations and superb snorkelling conditions.
It is also home to one of the popular Seychelles beach resorts and numerous top-notch accommodation. It is of the best beaches to visit especially on your honeymoon in Seychelles.
11. Anse St. Sauveur, Praslin
A relatively small Seychelles beach on south of Praslin, Anse St. Sauveur is a must visit place for those who want to relax in the arms of nature, under the shade of beautiful coconut trees, amidst a soothing environment away from the bustling city life.
Its calm and shallow waters make it one of the best beaches in Seychelles for sun-bathing and snorkeling.
12. West Beach, Bird Island
As the name suggest, Bird Island is popular for its avian diversity, especially the nesting sooty terns, but the main beach on the northernmost Seychelles isle is not just for birders.
The sand here, is the softest of anywhere across the Seychelles archipelago. It also offers an unequalled riot of purples, pinks and oranges come sunset. A sundowner here is the stuff holiday dreams are made of.
FAQs About Beaches in Seychelles
1. Does Seychelles have good beaches?
Yes. The Seychelles has some of the best beaches in the world.
The country is a group of islands in the Indian Ocean known with beautiful stretches of sand. It is situate just off the coast of East Africa and boasts pristine, white sandy beaches surrounded by turquoise tranquil waters.
2. What is the number one beach in the Seychelles?
Anse Source d'Argent on La Digue Island is the best beach in Seychelles and is one of the most photographed shorelines on the planet.
3. Which has better beaches Mauritius or Seychelles?
With only granite boulders or the occasional cluster of palm trees breaking the never-ending beaches, the Seychelles Islands are hard to beat as a tropical beach holiday destination.
Its postcard-perfect beaches are among the world's finest, augmented by award-winning resorts and super-stylish villas to offer you the chance to live out your tropical island fantasy.
Trip ideas for exploring the Seychelles