With over 100 islands of pristine forests, white sand beaches and flourishing coral gardens, deciding which part of Seychelles is best to visit can be difficult. We recommend the best places to visit in Seychelles in this guide.
Most visitors on Seychelles tours choose to stay on Praslin or Mahé, but with so much to see and do, we recommend some island hopping. You can take a cycling tour around La Digue, spend some time relaxing on the luxurious private islands, or cruise to remote Outer Islands, which are best places to visit in Seychelles for scuba diving.
Diving is superb all year, but if you want crystal-clear conditions and visibility up to 30m, the ideal months to visit the Seychelles are April, May, October and November.
Best places to visit in the Seychelles
Featuring heavily on our suggested Seychelles tours and holiday itineraries, these destinations are places that have been consistently popular with our travellers. How you choose to include them in your Seychelles holiday can be tailored into a route that best suits your interests.
Mahé is largest of the Seychelles islands and home to Victoria, one of the smallest capital cities in the world. This mountainous inland has over 60 beaches, including Baie Beau Vallon – one of the finest beaches in Africa.
Aside from stunning beaches, Mahé offers a range of exciting adventure activities. You can cruise to Morne Seychellois, a 30km2 National Park of mountainous jungle and mangroves. The park features a 14-kilometer network of hiking routes, including Seychelles' highest point.
You can also take a leisurely drive past vanilla and tea plantations, up narrow roads that wind through forest-covered hills, and down into Victoria. A morning in Victoria can easily spend strolling along the broad roads and exploring the local markets with their exotic spices and fruits. Remember to shop for sarongs and handmade jewellery.
You may also like; best things to do in Seychelles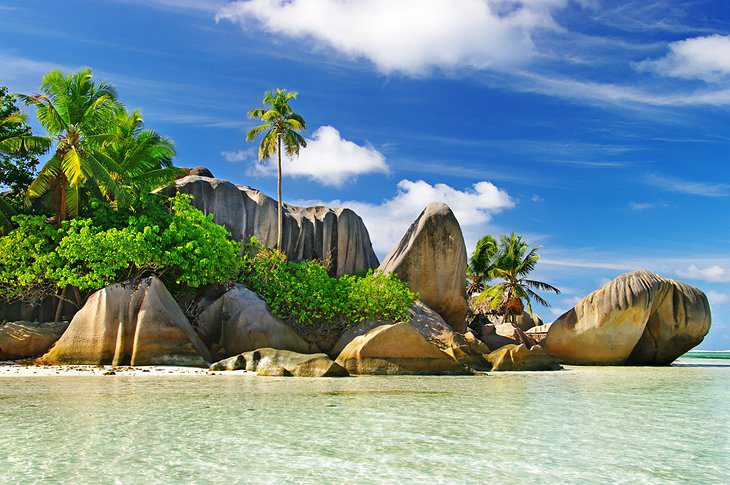 International flights land on Mahé Island, but for the full paradisal introduction, visit Praslin – the second largest island of the Seychelles. While it is one of the most visited of the Seychelles islands, Praslin is somewhat quieter than Mahé. And it has its fair share of photogenic beaches.
You can stroll along Anse Lazio beach in the North West, framed by granite boulders, or powdery Anse Georgette. In the east, gently shelving Anse Volbert is great for families and it is near a supermarket. And when you are tired of the sand between your toes, take hike through Vallée de Mai an ancient forest jungle and UNESCO World Heritage Site.
This forest is famed for its gigantic palm trees, rare black parrots, and the erotically-shaped Coco-de-Mer (nicknamed the "love nut") – the world's largest seed that grows high up in the towering palms. To find some of the region's best snorkelling spot, tour Praslin's outlying islands by catamaran.
If you have ever wondered where those unbelievably gorgeous pictures of the Seychelles were shot, chances are they were taken on the lovely La Digue Island, which is approximately a 15-minute ferry ride from Praslin.
On this laid-back tiny island, the traditional Seychellois way of life remains as it always has.
And cycling is the transport mode of choice – no cars are permitted unless they provide a public service. Cycle to palm-fringed white sandy beaches like La Digue Beach, which is nestled between towering boulders, swim in clear warm water and soak up the sun on Anse Source d'Argent, which is regarded not just one of Africa's best beaches, but one of the world's most beautiful beaches.
This is Seychelles at its most relaxed, where rare giant tortoises are often the only road traffic. The crystal-clear waters around the tiny granite island are also a prime place for snorkelling.
For those with the true holiday budget, the best places to visit in Seychelles for out-of-this-world luxury and total privacy are the private islands.
Large villas open out onto the softest white-sand beaches, private pools overlook the ocean and personal butlers deliver impeccable service – candlelit dinner on your private deck or on the beach? It is entirely up to you!
Our top picks for a private island getaway are Cousine Island or Denis Island, where luxury accommodation like Denis Private Island Lodge may be all yours to enjoy.
But, if you truly want to feel like royalty, head to North Island – Prince William and Kate's honeymoon hideaway. Each exclusive-use island is reserved for the guests staying there, so if you've ever wanted to know what it like to have your own tropical island, now is your opportunity.
You also like; family holiday in Seychelles.
The outer Seychelles archipelago is made up of many groups of coral islands. Few of these far-flung islands are inhabited, some are not much bigger than a sand spit, and most are encircled by the deep blue stain of pristine coral reefs – making it a true remote paradise.
The scuba diving here is simply remarkable: there are columns and caves to explore and an astounding marine life – ranging from tiny reef fish to turtles, mantas and hammerhead sharks – to discover. And best of all, there is almost no one else around.
Only a few of the outer islands have places to stay and we would recommend Four Seasons Desroches Island, lying approximately 230 kilometers from Mahé Island.
Besides being a great option for a remote and utterly private holiday break, the place is also widely regarded as one of the best destinations for honeymoon in Africa.
Read more about Seychelles Tours & Holidays
These itineraries are just suggestions for how a holiday in Seychelles could entail. They are just for inspiration, because your tour will be created around your particular interests and desires.