Situated in the Indian Ocean off the East Africa coast, the Seychelles is an archipelago of 115 islands. The major attractions are mesmerizing beaches; exquisite ribbons of powdery white sand lapped by blue waters and backed by lush hills, palm trees and massive boulders. Do Seychelles tours and holidays sound like the perfect honeymoon to you? Then get to planning. Below, are everything you need to know about a honeymoon in Seychelles.
Is Seychelles Good for a Honeymoon?
With its many private islands, gorgeous sand beaches, and pleasant tropical climate, the Seychelles is an ideal choice for a honeymoon holiday.
Pros of a Honeymoon in Seychelles
The remoteness of Seychelles islands makes them exclusive and fairly difficult to get to. And so a visit definitely includes rubbing elbows with the elite and maybe a celeb or two.
Denis Island and Cousin Island are both outstanding choices for a private honeymoon in Seychelles whereas superb North Island – the 2011 destination for Prince William and Kate honeymoon – will make you feel like royalty.
The beachfront resorts and hotels at these destinations combine lavish luxury with total seclusion, and feature amenities such as private pools and personal staff.
And besides gorgeous beaches: La Digue – a picturesque island with quiet roads, massive granite boulders, and heavenly swimming coves – is seamlessly suited to be explored on a bicycle. Then there is also the magical underwater world to be discovered.
Cons of a Honeymoon In Seychelles
With Seychelles's exclusivity and luxury comes a big price tag.
A honeymoon in Seychelles is by no means on the budget-friendly side. And because it is a slightly difficult destination to get to (even compared to other nearby places like the Mauritius, Maldives, and Dubai), you don't want to plan a short honeymoon holiday there.
You will want to budget for a day or two of travel both ways, and then, because it took you so long to get there, at least 7 days or more on the islands. It is also worth noting that arriving at Seychelles International Airport does not necessarily mean your journey is done. If you are staying on a smaller island, you'll need a boat or helicopter transfer to get you there.
Best time Visit Seychelles For A honeymoon
Warm and sunny year-round make Seychelles a great destination for a honeymoon holiday in Africa. The hottest months are December to April. The wettest are January and February. If you plan to scuba dive April/May and October/November offer best underwater visibility.
Best Islands to Visit During Your Honeymoon In Seychelles
Deciding upon where to go on for a Seychelles honeymoon is not easy. There are several beautiful islands with a variety of pristine beaches and tropical vegetation. So, we give you some of the most beautiful places for honeymoon in Seychelles that you can include in your holiday.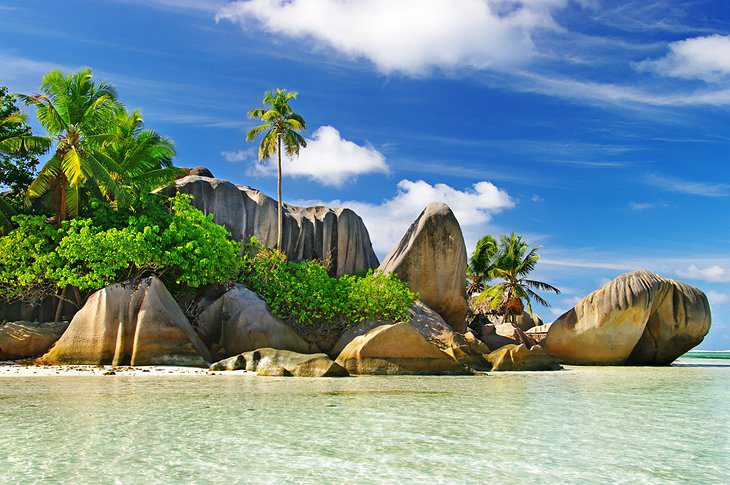 La Digue Island perhaps will be your ideal destination for a honeymoon in Seychelles. This third largest island in the archipelago is simply marvelous.
It's coastline is studded with breathtakingly gorgeous beaches. The hilly interior is covered with tangled jungle, tall trees and wild hiking trails. Yet, miraculously, despite being just a 15-minute ferry journey from Praslin, the majority of it is untouched by development.
You don't have to look further than Anse Source d'Argent – famed for being one of the most photographed beaches on the planet.
This beach is a sight to behold. Its dazzling white sands are lapped by shallow emerald waters, backed by beautiful granite boulders and shaded by craning coconut palm trees. One of the most charming features is that the preferred method of transport here, the old-fashioned bicycle.
Praslin Island is the ultimate destination for a honeymoon in Seychelles and is the second largest Island in the archipelago.
This island has lots of temptations including stylish lodgings, tangled mysterious jungles, curving hills, clear warm waters, and gorgeous beaches.
Take a walk in the World Heritage listed Vallée de Mai to see coco de mer palms. Go snorkeling, scuba diving, swimming and sunbathing on Anse Lazio, one of the best beaches in the world.
Mahe is the largest island in the country. It is home to the country's capital, Victoria, and about 90% of the Seychelles' population. Irrespective of its crowded nature, the Island maintains its exquisite beauty with numerous pristine beaches, the largest selection of resorts and activities.
You can hike the rugged interior of Morne Seychellois National Park, diving pristine sites and snorkelling within sight of whale sharks in or just beyond the glorious beaches. All in all, it is a terrific Seychelles destination for a honeymoon in Seychelles.
Denis Private Island has white sand, turquoise seas, coral reefs and palm trees. With its luxurious accommodation, it is ideal for those looking for an idyllic tropical island beach honeymoon holiday.
Due to its remote location it is for those looking to get away from it all, without the intrusion of modern life such as TVs, endless email checking and the noise of bars or traffic.
Silhouette home to a 5 start resort known as the Hilton Seychelles Labriz resort and it is well known for its incense trees. This island also boasts of white sand beaches and is surrounded by tall mountain peaks.
Bird Island features lush green interiors and is encircled by coral sand beaches and clear waters. In terms of accommodation, all it has to offer are 24 bungalows making it the perfect castaway island. As it does not offer many activities for families it is a perfect destination for honeymoon in Seychelles.
The island is rather distinctive when compared with other islands of Seychelles archipelago and one can experience the very best of Seychelles here. Its coastline stretches for more than 10 kilometers, providing for easy exploration of the island by foot or by electric buggies.
The island is commonly referred to as the Treasure Island as it's immortalized by the tales of treasure chests buried in the sand. The island has just one luxurious accommodation choice i.e. Fregate Island Private.
8. North Island Seychelles
North Island Seychelles is in a league apart. The private island is reached by charter or helicopter. And when you land you know you are in a rarified spot.
It has a 11-villa resort that has hosted boldface named honeymooners such as Prince William and Kate Middleton and George Clooney and Amal Alamuddin.
Best Beaches For Honeymoon In Seychelles
Anse Lazio, Praslin
Anse Georgette, Praslin
Anse Source D'Argent, La Digue
Beau Vallon Beach, Mahé
Anse Intendance, Mahé
Petit Anse La Digue
Anse Marron, La Digue
Things To Do During Your Honeymoon In Seychelles
Here are some of the best things to do in on honeymoon in Seychelles. Include these to add some interesting memories to your honeymoon vacation.
Take a stroll on one of the gorgeous Seychelles beaches under the glittering sky and spend some quiet time with your partner.
Take a walk through Vallée de Mai, the 'Garden of Eden' at Praslin Island of Seychelles.
Island-hop around Curieuse, Cousin, Praslin, La Digue and Mahe
Enjoy the stunning sunsets and start the new day with dazzling sunrises.
Relax with the tropical couple massage and enjoy the melodic silence.
Enjoy water sports like scuba diving, snorkeling, sea kayaking, etc.
Bag your own beach in the tropical heaven and have a picnic there.
Visit victoria market and witness the lifestyle of the natives of Seychelles.
Tour L'Union Estate and meet giant tortoises.
Plan a hiking tour if you like exploring and enjoy the magnificent views of the island.
Take a cycling tour at La Digue Island
Take a catamaran day boat tour to St Anne Marine National Park to see the 100-plus resident land tortoises on Moyenne Island.
Best Places To Stay During your Seychelles Honeymoon
We would suggest staying on two or three islands during your honeymoon in Seychelles, to combine time on an isolated isle with some exploration on the island of Mahé or Praslin.
Le Nautique Seychelles
AVANI Seychelles Barbarons Resort & Spa
JA Enchanted Island Resort
North Island Lodge
Enchanted Island Resort
Bird Island Lodge
Denis Private Island
Le Domaine De L'Orangeraie, La Digue
Four Seasons Resort Seychelles
Fregate Island Private
Le Château De Feuilles
Six Senses Zil Pasyon
Although Seychelles works as a one-centre honeymoon holiday destination, it also lends itself well to island-hopping. For wildlife enthusiasts, i would suggest combining a safari in Kenya, Tanzania, Rwanda or Uganda with a week on the beach in Seychelles.
Start planning your honeymoon in Seychelles
These itineraries below are just suggestions of what a honeymoon holiday in Seychelles could entail. They are just for inspiration, because your holiday will be created around your particular interests.