La Digue is 4th largest inhabited island and one of the best places to visit in Seychelles. It also one of the well know of Seychelles 115 island. It covers just 10 square kilometers and has a population of about 3,000 people who have preserved much of their traditional way of life.
A trip to La Digue, just 6km (20 minute boat ride) east of Praslin, and accessed only by daily ferries, is like stepping back in time. Colourful ox-carts and traditional bicycles offer transport, priorities revolve around simple pleasures, and a leisurely pace prevails. There is a handful of lovely beach lodges and guest houses here.
Yet La Digue boasts the most stunningly photogenic beaches in Seychelles at Anse Source d'Argent, with its powder sand and pink granite boulders, as well as a genuinely traditional Creole community. The tiny Veuve Nature Reserve herealso hosts most of the world's 200 remaining Seychelles black paradise flycatchers.
The flat roads of La Digue are easy to explore and distances are relatively short. In fact, it is so easy to cycle between the beaches that staying right next to one seems unimportant.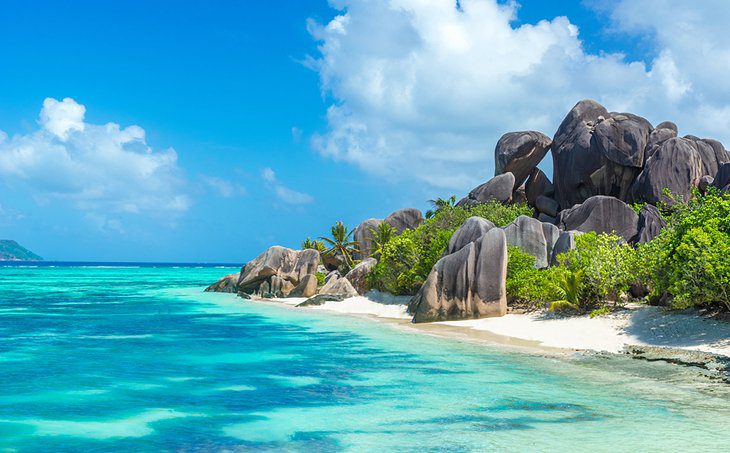 La Digue was discovered in 1742 by explorer Lazare Picault, but it was not named until 1768, after a 360-ton ship commanded by navigator Marc-Joseph Marion du Fresne. The earliest occupants of La Digue were French colonists who came around 1789 with African slaves.
Most of them returned to France, but the island became home to many freed slaves, French deportees, and Asian immigrants in the decades that followed.
These early islanders earned a living by making copra from coconuts and growing vanilla on their plantations. This tradition continues today, but tourism is the primary industry. With its world-famous beaches, remarkable marine life, and beautiful Veuve Nature Reserve, La Digue Island provides visitors on Seychelles tours an awesome island holiday!
Best Things To Do On La Digue
While unwinding on the beach with cool summer drinks might seem like a good idea, this little island offers you so much more. Below, we have suggested a few things to do in La Digue as well as some must-visit beaches:
1. Take A Cycling Tour around the island
One of the best ways to experience La Digue is by cycling around. Bikes are available for hire on almost every street corner, and with very few cars on the island, it's a safe and delightful way to spend your time. You may rent a bike for the full day with no limits on where you can travel.
The road around the island is the most attractive cycling path since it hugs the shore and provides gorgeous views after breathtaking views.
Along the road, there are several boutique craft and jewellery stalls, as well as fruit vendors where they make smoothies and juices to order (or open up a drinking coconut for you), which is ideal for rehydrating.
2. Visit Anse Source d'Argent
Well-known for being one of the most photographed beaches on the planet, Anse Source d'Argent is a sight to behold. It is easily accessible by bike and the route there is spectacular, taking you through a nature reserve, as well as coconut and vanilla plantations, whose delightfully sweet smell moves gently with the cool breeze.
The beach lives up to its reputation completely.
Enormous carved granite boulders border Anse Source d'Argent, and the tranquil coral-filled water goes on for what appears to be an eternity. The sculpted silhouettes of the nearby islands offer a dramatic backdrop to this breathtakingly beautiful beach.
It is open to anyone, and despite its popularity, there is room for everyone to enjoy this place. The water is some of the clearest in the Seychelles – and since it is naturally shallow, when snorkelling you feel more amongst the fish and coral than anywhere else.
You can order a fruit platter from one of the wooden beach shacks and enjoy a deliciously refreshing treat while taking in the truly enthralling surroundings.
Anse Marron is possibly the most beautiful natural pool and beach combination on Earth. The beach is hidden behind massive granite boulders on La Digue's isolated southern tip. With its sheltered, crystal-clear waters, the little inlet is truly a hidden gem of solitude. It is a surreal place for a swim or snorkel. The sand on this magnificently wild beach is blindingly white, and the difficulty of getting there by foot only adds to its charm.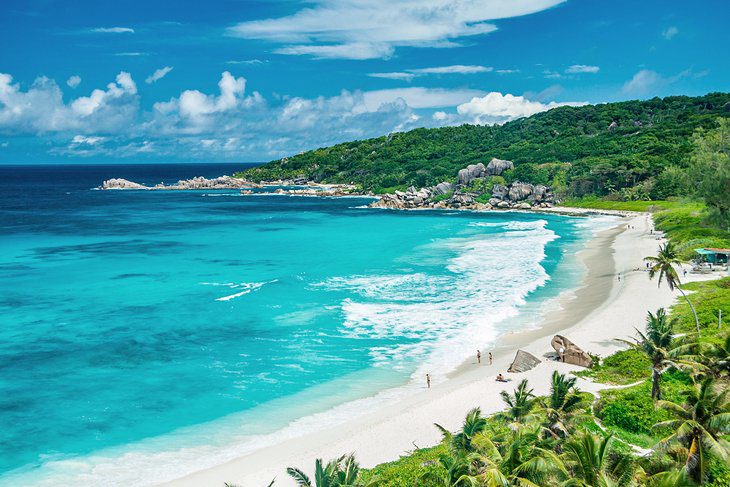 Grand Anse is La Digue's longest beach, situated on the southeast coast. It's a beautiful place to sun yourself, and while busier than nearby Petite Anse and Anse Cocos, it sees fewer visitors than Anse Source d'Argent simply because it's further from La Passe.
Please note that swimming can be dangerous here due to the strong offshore currents during the southeast monsoon, from April to October; and aside from a massive casuarina tree, there is not much shade.
This wonderful crescent of soft white sand is located between Grande Anse and Anse Cocos on La Digue's southeast coast. While less than a 300 meter walk (along a well-defined trail) from the northern end of Grande Anse, Petite Anse attracts few sunbathers. Its only downsides are the lack of shad and the strong riptides that make it dangerous for swimming.
This picturesque beach of salt-white sand and turquoise water curves gracefully between distant granitic boulders. What sets it apart from others on this beach stretch of coast is the beachfront shade provided by craning palms and casuarina trees.
It's a great place to unwind, and given the effort required to hike here, it's also one of the quietest beaches on La Digue Islam. Rip currents are an issue for swimming, but the northern tip of the beach has some protected pools for a dip.
Anse Cocos is reached via a 900 meter-long path that meanders north from behind the juice stands at the southern end of Petite Anse. In total, it is a 1.3km walk from the restaurant on Grande Anse.
7. Go hiking for the best views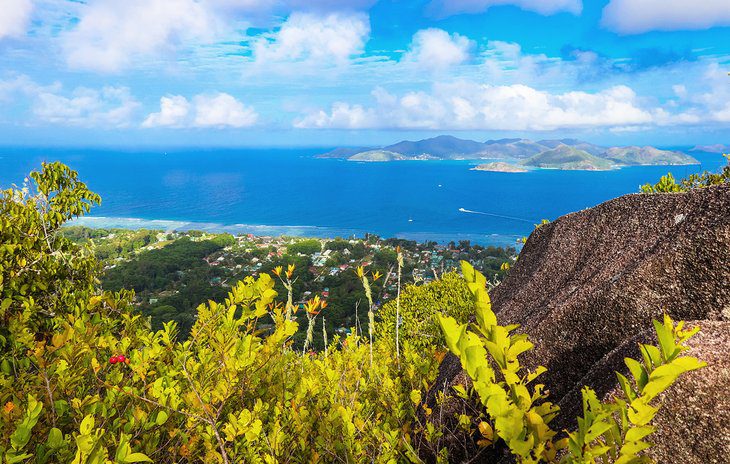 If you are an active person, you can make full use of the Seychelles' hiking trails. Hike to the highest peak of La Digue (333m) known as Belle Vue (Eagle's Nest Mountain).
It's an effort to hike here, but the view is worth every step. At the top, you will have sensational views out over the island, as well as out to Mahé, Praslin, Curieuse, Félicité, Grande Soeur, Petite Soeur and even Frégate.
The best hike is done in the early morning so that you make it to the top just as the sky began to lighten on the horizon. Sit in silence and watch as the tropical sun rise and reached all of the surrounding islands individually.
8. Stop by the local restaurants
If you the do the Belle Vue hike in the daylight, you will take adventure of the casual, quirky, boutique bar Snack Bellevue, built halfway up the trek.
The bar is listed among the 'Top 10 Best Seychelles Restaurants' on TripAdvisor. Move past the plastic tables and laidback attitude and embrace the uniqueness of this eatery's position.
It is located at the top of the road portion of the hike and has some of the most beautiful and breathtaking views of any restaurant. It is a popular choice for sunset dinners, and its quirky casual nature and reclusive position create an intimate dining experience as you watch the sun set over the nearby islands and surrounding Indian Ocean waters.
9. Explore Veuve Nature Reserve
Beautifully kept, Veuve Nature Reserve is a lovely trail for nature lovers of all ages and places. La Digue is one of the last refuges of the black paradise flycatcher, which local people call the veuve (widow). This little forest reserve, which has been set aside to protect its natural habitat, is believed to now shelter over a dozen pairs.
Males have long black tail feathers. Other species you can see here include terrapins, fruit bats and moorhens. There are many nature walk trails punctuated with interpretive panels about flora.
La Digue Tours And Holidays
If you are interested in a tour or holiday on La Digue Island, below a sample of Seychelle beach holidays. La Digue tours are usually part of a comprehensive Seychelles itinerary but this island can also be enjoyed as a stand-alone destination.
Please note that these itineraries are just suggestions of what a tour Seychelles could entail. Treat them as inspiration, because your trip will be created according to your interest and budget.
FAQs about la digue Tours & Holidays
1. When Is The Best Time to visit la digue?
Arguably, the best times to go to La Digue are April to May and October to November.
At these times, the water tends to be calmest, providing good visibility for snorkelling as well as a smooth ferry journey across to the island.
However, La Digue is a year-round holiday destination as the temperature on the island rarely dips below 24°C even at night, averaging a comfortable 28°C in the daytime.
2. Can you stay on La Digue?
Yes. There are some place where you can stay on La Digue. Accommodation ranges from stylish beach resorts to private honeymoon villas – enough to suit all tastes, budgets and trip types.
Whether you need a luxury beach holiday or a romantic private-island getaway, accommodation at La Digue is sure to inspire you. Below are some of the best places to stay on La Digue Island;
Le Domaine de L'Orangeraie
Le Repaire Boutique Hotel
Le Nautique Luxury Waterfront Hotel
Casa De Leela
Cocotier Du Rocher
Domaine les Rochers Apartments & Bungalows
La Digue Island Lodge
L'Union Estate Beach Chalets
3. Why is La Digue famous?
La Digue Island is best known for its picture-perfect beaches, especially Anse Source d'Argent, Grand Anse, Anse Cocos and Anse Marron and Petite Anse,
4. Is it worth going to La Digue?
All things considered, La Digue Island is among the best places you could ever imagine for a wonderful holiday trip. It is laid-back. You can enjoy your time with your other half. And the sunsets here are some of the most romantic scenes you can think of.
5. How long to spend in La Digue?
La Digue is smaller than Mahe and Praslin. So two to four days there can be enough.
6. Can you walk around La Digue?
La Digue is a very small island when compared tour Praslin and Mahé, where most tourists go when they visit Seychelles. It is so small that you can walk everywhere.
7. How many beaches are there in La Digue?
Although it is a small island of just 10 km², La Digue has a total of 18 beaches.