Living within the dense rainforest jungle of Kibale National Park is humanity's closest relative: the chimpanzee, one of the planet's most iconic, endangered primates.
Kibale Forest National Park is home to approximately 1500 wild chimpanzees living in 13 communities. Of these, various groups have been successfully habituated; some for scientific study and others for chimpanzee trekking tourism.
You can see these social, intelligent tailless apes in person on an extension to your Uganda wildlife safari or gorilla tour. It is one of nature's rarest, most emotionally-charged experiences – one that should be included on any safari to Uganda.
Here is what to expect.
What's it like to Go Chimp Trekking in Kibale?
Chimpanzee trekking in Kibale Forest is an awesome adventure. You wake at around dawn.
After a good breakfast, you transfer to the Kanyanchu Visitor Centre in Kibale Forest National Park to do your Chimpanzee trekking activity which begins promptly at 8 am.
The encounter commences with a briefing, during which you will learn a little about the Great Apes you're about to see, as well as being given some dos and don'ts.
Top of the list is to avoid getting too close to chimps. This is not only for your safety, but also for theirs as our viruses and diseases can easily spread to them due to shared DNA.
It is also not wise to imitate chimpanzee calls. Although it might seem fun to mimic them, if you are not careful you might unintentionally end up recreating a battle cry and bring more than 120 angry chimpanzees down upon you.
Once you have been briefed, you are separated into groups of not more than 7, each accompanied by a local ranger guide, who is armed in case of emergencies.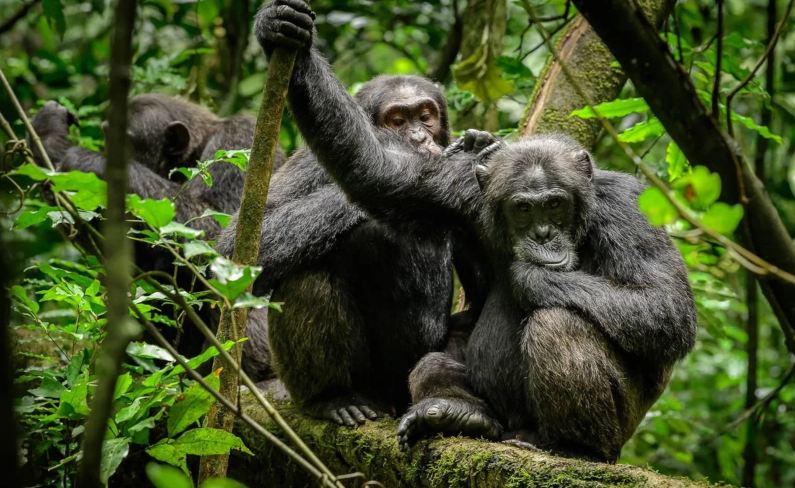 And then it's time to head into the forest.
Trekking through the tangled jungle undergrowth, ducking under low branches and watching your step for twisted roots, you will move in the direction of where the chimps were last seen, all the time listening for their calls in the tree canopies.
If you are lucky, you will soon hear pant-hoot calls.
And it's difficult to think of any sound more spine-tingling than the explosive pant-hoot call with which chimps announce their presence. As you follow the direction of the calls, you should soon find one of the community sub-groups.
They may be high up in the treetops, grooming, playing or feasting on figs.
But if you are lucky, some will have come to the ground, and that is when the real magical encounter happens.
Face to face with wild chimps
Nothing beats that first, up-close encounter with chimpanzees in their natural habitat.
You will be thrilled by how intelligent they are, with their expressions, poses and their almost humanlike interactions.
You will be mesmerized by the way they look right at you with their bright eyes, and even pose for your camera. You may wonder if they are enjoying the interaction even more than you are.
The mountain gorillas may be the star tourist attraction in Uganda, but coming face-to-face with a chimpanzee in the wild is every bit as breathlessly exhilarating.
In fact, this wildlife encounter may be better as the trekking terrain is much easier and the price significantly cheaper. All good reasons why you might want to consider including a chimpanzee trekking tour right at the top of your Uganda must-see list.
You have a full hour to enjoy these precious creatures and you are free to take as many photos as you wish!
Are chimpanzee sightings guaranteed?
No. chimpanzee sightings are not guaranteed in Kibale. However, the odds of seeing chimps on any given trekking excursion stands at around 95% – far higher than any other place that offer chimpanzee trekking in the whole world.
The main reason why sightings are less certain than is the case with gorilla trekking is that chimp are a lot more mobile. To improve your chances of seeing chimpanzees on your Uganda wildlife tour, you could consider booking two trekking excursions.
You can book one in the morning and one in the afternoon, or visiting two different chimpanzee trekking locations in Uganda.
What fitness level is required?
Usually, you will spend 2 to 4 hours on the move, first looking for the chimps, then moving with them, so you need to be fit enough to manage that sort of time on your feet easily.
If you are not, then it would be a good idea to do a bit of light training before your trip.
But Kibale Forest National Park is relatively flat. You will spend most of your time on clear trails.
And some trekking tours turn out to be a great deal less demanding than others, depending on how quickly the chimpanzees are located.
The fitter and more agile you are, the more easily you will cope if you find yourself chasing the chimpanzees into the tangled jungle undergrowth.
Apart from chimps, what other wildlife might I see?
Chimpanzee trekking excursions tend to focus on their primary goal, at the exclusion of other wildlife, but there is of course other wildlife you can Kibale Forest's lush flora.
The park protects one of the most biodiverse rainforests in East Africa. It is home more than 60 mammal, 12 species of monkeys, and over 375 bird species recorded to date.
The most commonly seen monkeys in Kibale Forest are red colobus, black-and-white colobus, red-tailed monkey, L'Hoest's monkey and the endemic Uganda mangabey.
Key bird species in Kibale National Park include the Green-breasted pitta, African pitta, great blue turaco, double-toothed barbet, Dusky Crimsonwing, blue-breasted kingfisher and red-bellied paradise flycatcher.
An excellent way to see a good range of these forest dwelling bird species and monkeys is to take a guided nature walk in Bigodi Wetland Sanctuary, which is the swampy centerpiece of a community-based ecotourism project bordering the park.
Is a chimp trekking trip in Kibale safe?
Chimpanzee tracking in Kibale Forest National Park is widely regarded to be safe.
We have never heard of a guest being injured by a chimpanzee.
But please note that a large chimpanzee is comparable in size to a human adult. It is also far stronger. So it is vital you follow your guide's instructions to ensure your safety.
Children under the age of 12, being smaller and more vulnerable than adults, are not allowed to go chimpanzee trekking in Kibale Forest.
For reasons of both safety and comfort, it is a good idea to put good hiking shoes, long trouser and a long-sleeved shirt.
You can tuck your trouser legs into your socks minimizes the risk of being attacked by safari ants. These insects are harmless. However, they quite common and have a nasty bite.
You are also advised to put on neutral colors that blend into the bush.
Khaki, green, and gray are recommended.
A walking stick might be useful for navigating through tricky areas.
How much does chimpanzee trekking in Kibale cost?
The baseline cost is a chimpanzee tracking fee of US$200 for foreign non-resident, US$150 for foreign resident with a working permit, and UGX 150,000 for East African Citizens. The fee is levied by the Uganda Wildlife Authority.
This includes the park entrance fee and the services of a guide. If you make your way to the trekking trailhead at Kanyanchu independently, it is all you will need to pay.
Stand-alone 3- or 4-day chimpanzee trekking packages to Kibale National Park, leaving from the cities of Kampala or Entebbe, generally range in price from US$750 to US$2,000 per person sharing, depending largely on the quality of accommodation.
In practice, most visitors to Kibale National Park include it on longer tours that also incorporate other parks in western Uganda, such as Bwindi Impenetrable National Park, Queen Elizabeth National Park and Murchison Falls National Park.
Depending on your safari package, the duration and the type of accommodation provided, these tours typically cost upwards of US$250 per person per day sharing.
At Kibale, you sleep under the canopies of old trees or perched atop a ridge. Enjoy panoramic views of the rainforest and the Rwenzori Mountains of the Moon, and for that more adventurous, take refuge high above in old-style tree houses.
There is a wide range of accommodation options close to Kibale National Park to suit all budgets.
Private cottages, with electricity, Wi-Fi and all the works are the most luxurious option, but there are great tented camps for those looking to rest a little closer to nature.
If you' are planning a chimp trek in Kibale, consider the distance to Kanyanchu, the start of the trail.
Best Available Lodges include;
Kibale Forest Camp
Chimpanzee Forest Lodge
Primate Lodge
Mountains of the Moon Hotel
Kyaninga Lodge
Ndali Lodge
Isunga Lodge
Kibale Forest National Park is located about 326 kilometers (5 hour drive) from Uganda's capital city, Kampala. You can't reach it by car. Visitors can take a charter or schedule flight to the nearby Kasese airstrip and then have a 2 hour drive to the park.
Given these logistical details and the limited number of available trekking permits, a Kibale Chimpanzee trekking tours requires some days of notice to plan.
But it can be added to nearly any Uganda safari or gorilla trek.
Kibale Chimpanzee Trekking Itineraries
The Uganda chimpanzee tours below showcase just some of what is possible. Use these itineraries as starting points, or to draw inspiration. Then get in touch, and let our expert team help craft the perfect itinerary for you.