Community-based tourism not only provide a true insight into local lives, but also ensures your travel experience has a meaningful impact on local people. At Tulambule, we support Community-based tourism and when we visit the communities on our Uganda safari itineraries, our clients have the opportunity to connect with the local people and make a positive impact.
What is community-based tourism?
Community-based tourism is tourism that ensures that local communities have complete ownership and management of the tourism experience, ensuring economic benefits of tourism remain in their community. This type of tourism is intended to provide tourists with an authentic taste of a local community's heritage, their cultural traditions and natural resources, providing an immersive and rich travel experience.
What is the Benefits of Community-Based Tourism?
Economic: Community-based tourism creates jobs and generates revenue while limiting money that leave the community. It also contributes to the diversification of economic activity beyond farming, which decreases risk in years when climate change results in little or no harvest.
Shared value: Within community-based tourism, there is a distribution of benefits to all households. For instance, while not all families will host homestays some may act as guides or provide meals. Even those not directly involved in tourism benefit from the agreed use of the community fund.
Social: Community-based tourism provides people with skills-training, opportunities for community infrastructure development (power, roads, sanitation, schools, water) and health benefits (water and waste management education). It also promotes a more equitable community structure and the association with foreign travellers helps raise confidence and pride among the people.
Environmental: Conservation of the environment, awareness and wildlife protection are also great benefits of community-based tourism
Female empowerment: One of the greatest benefits of community-based tourism is the empowerment of women in the community, as they are often largely responsible for the management and generation of the experience and therefore income.
Preservation of culture: Community-based tourism can also prevent young people in village to leaving for larger cities, by providing employment opportunities for them locally.
Top Community-Based Tourism Experiences and Initiatives in Uganda
Uganda is culturally diverse country with 40 languages, countless customs, traditions, superb crafts and uplifting music and dance.
As tourism grows here, so too do the chances for the local people to get involved in tourism. There is several example of community based tourism in Uganda, which ensures that your money stays in the country and reaches the people who need it most.
Most tourism in Uganda takes place in national parks with official guides – which shut local people and businesses out. But by looking beyond the wildlife parks, even for just a couple of days of your Uganda safari, your money will go much further, and you'll totally shift your opinion of Uganda as a place to see wildlife. Here are some of the genuine community based tourism projects in Uganda:
1. Bigodi Tourism - KAFRED
For more than 20 years, Bigodi Village in Kamwenge District in western Uganda has experienced a transformative impact on the lives of its residents through community-based tourism initiatives.
With the Kibale Forest National Park nearby, tourists began visiting the area in the 1990s, opening up new opportunities for the locals to engage in various enterprises.
On the edges of this Uganda chimpanzee trekking destination is the Bigodi Wetlands Sanctuary. This wildlife-rich wetland is one of the community-run initiative in the area.
The wetland sanctuary is managed by an award winning Community Based Organization (CBO) called KAFRED, with the aim of conserving the unique biodiversity and environmental values of the wetlands. Here, you can have:
Interpretive guided nature walks (2-3 hours) through the Bigodi Wetland which is home of 8 species of primates and over 200 species of birds.
Interpretive village walks (3 hours) through the village of Bigodi that "home of two tribes"; the Batoro and Bakiga
Traditional Kitooro food tasting, watching local dancers, buying handicrafts and staying overnight in a community home.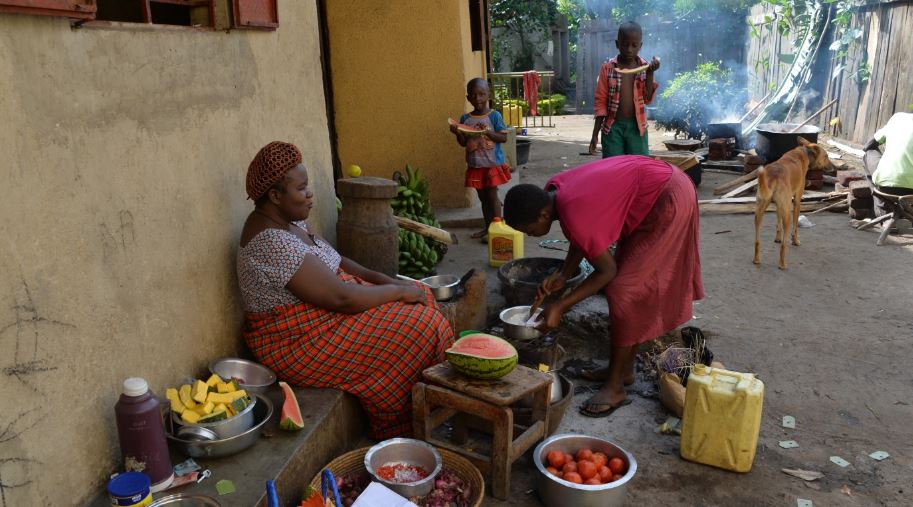 Who is KAFRED? And how do tourists support their community?
KAFRED means Kibale Association for Rural and Environmental Development. It is community based organisation that strives for the conservation of biodiversity and the development of its local community through ecotourism and other environmentally sustainable business.
It was established in 1992 and has been actively promoting conservation by reinvesting tourism revenues into diverse community development projects. Examples of community projects funded KAFRED thanks to tourism revenue include:
Construction and management of Bigodi Secondary School and Bigodi Primary School
Support of Bigodi Health Center III
Employment and training for local people as tours guide
Training women in handcraft product development and marketing of quality crafts
Setting up of a fund for families affected by crop raiding animals (such as elephants or primates)
Support of a school conservation education program – UNITE – in collaboration with North Carolina Zoo
A scholarship programme for students from families that cannot afford further education.
Help to initiate other local business endeavors such as Bigodi beekeeping and fish farming
2. Entanda Cultural Experience
Entanda Cultural Experience is a community-based tourism organization in Mityana town, offering the best cultural adventure near Kampala City. The initiative is found Ssekanyonyi Sub-County. The village has around 400 homesteads with close to 2000 residents.
The Entanda Cultural Experience was established in 2014 under the guidance of Dr Celestine Katongole, a tourism lecturer at Makerere University Business School (MUBS). Here you can get an insight into the local culture through a range of activities;
Listen to the sekitulege, a musical instrument played only by adults
Meet a bark cloth maker to learn about traditional bark cloth clothing in Buganda (a Bantu kingdom within Uganda)
Take a walk through the nearby bushland with the senior ssenga (aunt) and learn about local medicine and herbs.
Enjoy fresh, authentic luwombo, a traditional Ugandan dish cooked in a banana leaf pouch, once served to royals centuries ago.
Eat your meal the traditional way, with your hands, sitting on mats in a circle.
Try the locally-processed medicinal wine made from herbs and tree bark.
Join a soccer match between the villagers and visitors
Test your archery skills, or try roasting goat meat.
Witness traditional wrestling, a sport played for centuries in Buganda.
You can even wrestle the oldest villager, aged over 70. If you can win, you get a special prize.
3. Batwa Cultural Trail at Mgahinga Gorilla Park
Tourists are may be drawn to Mgahinga Gorilla National Park by the chance to see the endangered mountain gorillas, but there is another reason to visit: the Batwa.
On the fringes of the park are the last remaining members of the endangered Batwa Pygmy tribe that once thrived in this montane rainforest jungle.
A visit to their community is not only a way to learn more about these former hunter-gatherer's traditional forest practices, but a way to support a people whose ancient way of life has been almost completely wiped out by modernity.
Here, you can embark on the Batwa Cultural Trail, a gentle 5-hour nature walk through the forest in company by community Batwa guides who will show you how they forage for food, trap animals with snares made from branches, and make tools and medicines out of plants.
4. Buhoma Community Haven Lodge
There are local lodges and guesthouse owned by individuals or communities in Uganda, such as the excellent Buhoma Community Lodge near Bwindi Impenetrable National Park.
Staying in a community-owned accommodation on your Uganda safari does not necessarily mean you will be roughing it; Buhoma Community Lodge one of best midrange lodges at this Uganda gorilla safaris park. Established in 2014, Buhoma Community Haven Lodge was constructed by the Buhoma Mukono Community Development Association.
This association was founded in far back in 1993 with the aim of improving social economic income of the communities in Mukono parish by improving health, education standards, empowering women, conservation through creation of a sustainable resource base in our communities.
All revenues earned from the guests at the lodge is ploughed back in the communities by supporting schools, water projects, women groups, and sponsoring needy students in the communities.
5. Ride 4 a Woman - Buhoma
Ride 4 a Woman is a charitable organisation set up to support and empowers women struggling with HIV, poverty and domestic violence in the community of Buhoma near Bwind.
The Trust offers ongoing support by buying, using and selling their locally made products and taking clients to visit their projects. Here, you can tour the shop full of handmade fabric products, including handbags, dining table covers, and iPad cases.
The organization also have expert basket weavers at the center, where you can join them in a 2-3 hour baske weaving lesson. For more information on the great work Rid 4 A Woman initiative do and the activities guests can take part in, check out their website here.
6. The Batwa Experiences at Buhoma, Bwindi
We also support visitors participating in the Batwa Pygmies Cultural experiences at Bwindi created as part of the Batwa Empowerment Village (BEV) and community cultural visits.
This also offers many different experiences including a cultural encounter in the forest with the local Batwa people as guides to learn about their former hunter-gather lifestyle. You learn about how they lived and hunted in the forest, learn about medicinal plants and watch for animals and birds.
You may choose to share a traditional meal with the Batwa People, hear ancient traditional songs and legends or join in a mock hunting party. You can even test your skill with a Batwa bow and arrow and participate in their fascinating traditional dances.
A safari to Queen Elizabeth National Park is not just about viewing wildlife and landscapes – it is also a chance to immerse yourself in the fascinating local culture.
Responsible travel is at the heart of any Uganda wildlife tour to Queen. Engaging in community-based tourism initiatives in Uganda allows you to support these sustainable tourism practices and contribute positively to the well-being of the local people.
A perfect community to visit is the Kataara Women's Poverty Alleviation Group (KWPAG) near Queen Elizabeth National Park in Katara Village. The women here make a living out of elephant dung papers from which they make different products like necklaces, beads, books, and folders.
This is possible because of an agreement with Uganda Wildlife Authority (UWA), that permitted them to access the resources necessary for their activities from Queen Elizabeth Park.
But that is not all. For climate change adaptation they have also set beehives at the park border to reduce human-elephant conflicts in the community, and has also improved women's income to harvest honey for sale including cross-pollination of community crops to increase crop production thus boosting income for the local community after the sale of surplus food.
Other things they do include selling coffee from their own plantation and weaving. If you're into a cultural experience and would like to give back to the community, this is the best cultural thing to do.
8. Ishasha Community Uplift Group
The Ishasha Community Uplift Group's livelihoods are focused on subsistence farming.
This group is found in a small rural community, close to the edge of Ishasha Sector in the south of Queen Elizabeth National Park. Local people here face daily challenges including crop raiding by animals as they work towards earning a living to support their families.
In spite of living hand to mouth, some members of the community have established a Savings and Credit scheme towards which they contribute regularly, allowing them to build up funds for investments in additional land and income bearing projects such as chicken rearing.
They also offer an educational tourism activity for guests which bring in much required income – Agartha's Tate of Uganda tour.
Agartha is a craftswomen, tailor and subsistence farmer who welcomes visitors into her homestead and shares with you how the women in Bakiga tribe keep their home and prepare their local food. During the tour, Agartha takes in stories of life as a Bakiga wife while encouraging you to taste what you have prepared together.
9. Community Coffee Tours in Kapichorwa
When visiting Sipi Falls or Mount Elgon National Park in Eastern Uganda you have a great opportunity to take a coffee tour with the local farmers. The farmers will take you through the process of planting of the coffee from the nursery beds, into the coffee trees and harvesting.
You'll learn about the ins and outs of organic Arabica coffee. On a coffee tour you will also see how coffee beans are harvested, dried, roasted to make delicious coffee.
If you would like to support the local farmers, you can do by purchasing some coffee to take back home. This coffee tour helps in supporting the farmers who are also proud of showing their specialty in coffee production.
Boomu Women's Group is a community-based tourism initiative found in the Village of Boomu in northwestern Uganda. It is located on the road to Murchison Falls National Park, just a few hundred meters ahead of the park gate, 8km from the chimpanzee trekking site in Budongo Forest.
The group was founded in 1999 by women from the village who wanted to create sustainable livelihood opportunities for themselves and their families while preserving their cultural heritage.
They offer a range of cultural activities, including guided village tours, traditional music and dance performances, craft making, and cooking lessons. Visitors can also opt for a homestay with a local family to experience daily life in the Village and learn about the local culture and traditional.
Our trips with community-based tourism experiences
At Tulambule, we offer tours that involves community activities and we aim to ensure they are authentic and noninvasive as possible for the people involved.