Chimpanzee trekking in Budongo Forest is an exciting and active Uganda wildlife adventure that takes you on a hike deep into the heart of the rainforest.
Budongo Forest is a southern extension of the famous Murchison Falls National Park.
The forest ranks among Africa's best and most underrated chimpanzee trekking destinations.
It comprises about 826 km2 of medium-altitude rainforest on the edge of the Albertine Rift.
This vast forest reserve hosts a diverse variety of forest birds, monkeys, butterflies and plants. The major attraction of Budongo, however, is trekking to see chimps, which share 98.7% of our DNA, and have many decidedly humanlike behaviors.
Chimpanzee trekking in Budongo is totally different from the typical Africa safaris experiences and offers people a welcome break from savannah game drives.
Yes, it can sometimes be challenging to locate chimpanzees in the wild, but that is part of the adventure. And for those who do get lucky, watching these humanlike Great Apes forage and interact in the interior of a rainforest jungle can be a highlight of a safari in Uganda.
An exciting experience for ages 12 and over
Enjoy a trek through the forest of Budongo
See chimps in their natural habitat
Marvel at their behaviour – playing, fighting, and grooming each other
About Chimpanzees in Budongo Forest
Chimpanzees are tracked in different areas in Uganda and Budongo Forest Reserve is one of the few remaining strongholds for chimpanzees in Uganda and the whole of Africa.
Chimps are highly endangered. As of 2023, between 170,000 and 300,000 chimps are believed to exist in the wild, a decrease from over 1,000,000 chimpanzees in the early 1900s!
Budongo is home to around 700 chimpanzees and about 100 are habituated for tracking. The chimp populations are rapidly decreasing due poaching, habitat loss, and diseases.
In Uganda, conservation efforts play a vital role in protecting chimps and their habitat.
National parks and reserves have been set up to offer a safe place for chimps to thrive, while local communities are involved in sustainable tourism initiatives. By choosing to go chimpanzee trekking in Budongo, you're actively support these conservation efforts.
The revenue generated from Budongo chimpanzee trekking tours helps fund research, anti-poaching patrols, and community development projects.
Chimpanzee trekking in Budongo Forest is a golden opportunity to make positive impacts that contribute to the long-term survival of chimpanzees and their ecosystems.
What to Expect On Your Chimpanzee Trekking Tour In Budongo Forest?
Chimp trekking in Budongo is run twice a day, once at 8 am, and again at 2 pm.
Pre-trek briefing: When you arrive at the Kaniyo Pabidi eco-site, you'll receive a briefing from your guides. They will provide essential information about safety, conservation, and the behavior of chimpanzees.
Trekking through the forest; After the briefing, you'll walk or drive to the trailhead for the start of your exhilarating trek of 3 to 4 hours through dense vegetation. The trails can be relatively challenging at times, but the anticipation of spotting chimpanzees keeps you motivated. En-route, your guide will enthrall you with stories and facts about the Budongo and her other inhabitants including monkeys, birds, trees, and butterflies.
Close encounters with chimps: Upon sighting the chimpanzees, you'll spend a precious hour observing and photographing these incredible creatures. Please keep a respectful distance and follow your guide's instructions to avoid disturbing their natural behavior.
Learning about chimpanzee behavior: During the trek, your guides will share insights into chimp behavior and conservation efforts. This educational aspect adds depth to the experience and fosters a greater appreciation for these intelligent beings.
How much is chimpanzee trekking in Budongo Forest Reserve?
You will need to purchase a permit before you can attend a chimp trek. A chimpanzee trekking permit is issued to visitors above the age of 12 years and above.
A chimpanzee trekking permit in Budongo forest during the peak season costs;
130 USD per person for foreign nonresidents
120 USD per person for foreign residents
85 USD per person for East African citizens
Chimpanzee trekking permit in Budongo forest during the low season costs
120 USD per person for foreign nonresidents
110 USD per person for foreign residents
80 USD per person for East Africa citizens
Chimpanzee Habituation Experience
For those wanting to spend a little longer with the chimps, you can join the chimpanzee habituation experience. Budongo Forest and Kibale Forest National Park are the only two places that offer the chimp habituation experience in Uganda.
This immersive adventure starts at 06:30am. Guests join a habituation and research team that goes out every morning to study and habituate the Chimps.
With an early start, you get to watch the chimpanzees waking up and de-nest, search for food, rest, play and start making new nests in the evening to go to sleep again.
With Habituation you'll spend an entire day with these amazing primates and learn about their way of life. The research staff leading the trek is very learned in forest botany, chimpanzee behavior, as well as the personalities and interactions of the individual chimpanzees.
A chimpanzee habituation permit in Budongo forest costs;
230 USD per person for foreign nonresidents
160 USD per person for foreign residents
90 USD for east African citizens
How Does Budongo Compare With Other Uganda Chimp Trekking Reserves?
Budongo is one of the best places in Uganda to track chimpanzees.
The chances of seeing chimps here is not quite as high as it is at Kibale Forest National Park but it compares favorably with most other chimpanzee trekking destinations in Uganda.
As with its counterpart in Kibale Forest, the chimp community visited in Budongo Forest was first habituated in the 1990s, so it is very used to tourists and relaxed in their presence.
Of all the chimpanzee tracking reserves you might visit on a Uganda safari, Budongo probably has the flattest terrain and the best network of footpaths.
This is a plus for relatively unfit travelers, as it means they are less likely to need to scramble long distances through the undergrowth or to be challenged by steep, slippery slopes when tracking the chimps.
Another advantage of Chimpanzee trekking in Budongo Forest is that despite being about 40% cheaper than Kibale National Park, it is more remote and attracts far fewer visitors, so you are unlikely to come across too many other chimp trekkers on any given day.
Which other places are recommended to visit before or after chimp trekking in Budongo?
Budongo Forest slots well into any Uganda safari itinerary packages that also include Murchison Falls National Park and/or Ziwa Rhino Sanctuary.
The package might be a shortish round Uganda trip from Kampala and Entebbe to Murchison Falls, or a longer Uganda safari tour that continues southwest from Murchison to Kibale, Queen Elizabeth and/or Bwindi Impenetrable National Parks.
The reason why Budongo Forest pairs so well with Murchison Falls is that, while the two are treated as separate destinations, the chimpanzee tracking trailhead and associated Budongo Eco-lodge lie right alongside the main road to Murchison Falls.
Indeed, this trailhead now actually lies inside the main entrance gate to Murchison Falls, so chimp treks can be arranged en route to, or as a day trip from any lodge or camp in the park.
Budongo and Murchison Falls also complement each other in terms of wildlife. Where Budongo is strong on chimpanzees and other forest wildlife, Murchison Falls is a good place to see savannah dwellers such as lions, leopards, elephants, buffalos, hyenas, and giraffes.
The waterfall for which the park is named is among the most spectacular anywhere in Africa, and it lies on a stretch of the Nile River where hippos, crocodiles and waterbirds are abundant.
En route to or from Entebbe, it is also worth slotting in a visit to Ziwa Rhino Sanctuary, where Uganda's only rhinos can be tracked on foot.
Are chimp sightings guaranteed in Budongo?
Like any other place that offer chimpanzee treks in Africa, chimp sightings in Budongo cannot be guaranteed. But Budongo Forest has enjoyed a success rate of about 85% in recent years.
In Uganda, it is only bettered by Kibale National Park and possibly Kalinzu Forest.
This success rate at Budongo Forrest and other chimp trekking destinations is far lower than it is for gorilla trekking in Bwindi Impenetrable Forest National Park and other places where wild gorillas can be seen in Africa like Rwanda and Congo.
The reason for this is nothing to do with levels of habituation (the process of making the animals used to people and easy to view), but rather reflects the relative ease of locating the 2 great apes.
Simply the chimps are more restless than gorillas, and tend to move around a lot more often at a pace no human could match in the thick jungle undergrowth.
Chimps also tend to spend more time obscured by foliage in the high canopy.
When is the best time to go?
Your chances of a good chimpanzee sighting in Budongo Forest are highest in the relatively dry months of December to February and June to July.
Also, the early morning session tends to be most productive. To improve your chances of seeing chimps, consider booking a second trek, either in Budongo or elsewhere in Uganda.
Is chimpanzee trekking in Budongo Forest safe?
Chimpanzee trekking in Budongo and elsewhere in Uganda is a very safe activity.
Habituated chimp communities such as those in Budongo Forest are always very relaxed around people. And so far as we are aware, no who has visitor to Uganda has ever been injured by a chimpanzee.
That said, an adult male chimpanzee is larger and far stronger than the average adult human. However, there's also a slight chance of encountering elephant and buffalo in the forest.
So you're advised to listen carefully at the briefing and to follow their guide's instructions at all times. The biggest danger associated with chimp trekking in Budongo is probably slipping or twisting an ankle in the tangled forest undergrowth, so wear solid shoes and ask for a walking stick.
Why the age limit of chimpanzee trekking is 12?
The minimum age for chimpanzee trekking in Budongo and elsewhere in Uganda is 12.
This is because it is said that young children are more vulnerable than adults and less likely to obey instructions.
The chimp trek needs some level of determination, which adults are more likely to possess. In summary, adults are usually better prepared to handle challenges like insects, thick forests, and muddy trails.
What to pack for chimpanzee trekking?
If you book your safari with us, we will send you a detailed kit list ahead of your trip, but here a list of things to bring on your chimp trek:
Lightweight waterproof trousers
A quick-dry long-sleeved T-shirt
A lightweight waterproof jacket
A hat
Thick socks
A sturdy pair of hiking boots
Sunglasses
Gloves
Bottled water
Sun cream
Insect repellent
Camera/Phone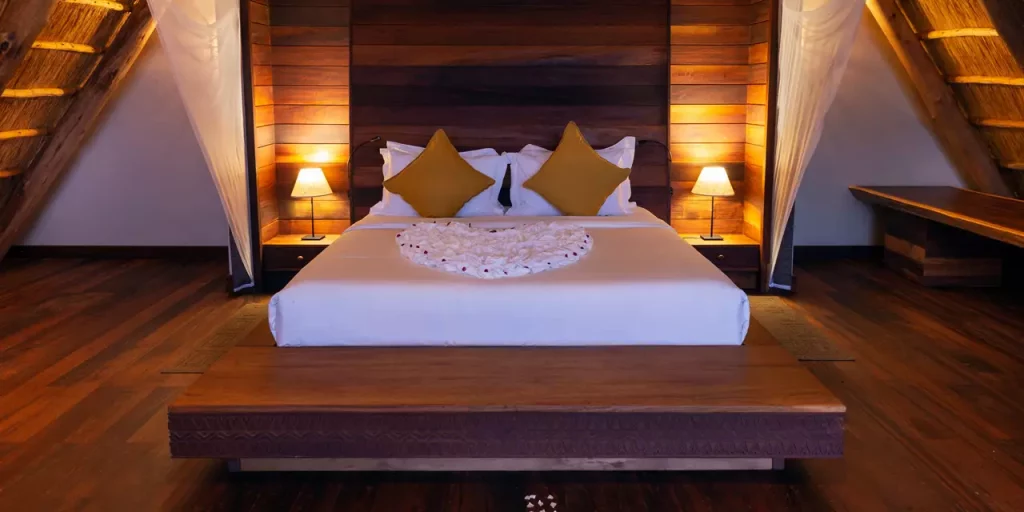 You can stay at Budongo Eco-Lodge inside the forest.
But, there are also a variety of accommodation options in Murchison Falls National Park. These lodges cater for a range of budgets: from modest, through the mid-range, to luxury.
However, which accommodation will be right for you depends on many factors, including your safari budget, group size, and duration of stay.
Read more about the best places to stay in Murchison Falls National Park