Why Visit Kalinzu Forest For Chimp Trekking?
Situated on the western border of Queen Elizabeth National Park, the 137km²/53mi² Kalinzu Forest Reserve protects a tropical rainforest that rises from the Rift Valley floor to the Kichwamba Escarpment. About 300 wild chimpanzees roam its pristine jungle and two communities have been fully habituated, one for tourist visits and the other for research purposes.
Kalinzu Forest is less publicized than other chimpanzee trekking destinations, but it is emerging as a popular addition to budget safari tours, thanks to its combination of low prices, accessibility and high success rate. Like chimpanzee trekking elsewhere in Africa, encountering these humanlike apes (with which we humans share almost 99% of our DNA) in Kalinzu is utterly unforgettable.
9 Reasons to Visit Kalinzu Forest for Chimpanzee Trekking Tours In Uganda
1. You Have 90% chances of seeing Chimps
2. Affordable chimpanzee trekking price
Another reason for going chimpanzee trekking in Kalinzu Forest Reserve is that permits are much cheaper than elsewhere.
Priced at US $50 per person, the chimp permits here are significantly more budget-friendly compared to the US $200 cost for chimpanzee trekking in Kibale Forest and US$ 150 cost of chimpanzee trekking in Budongo Forest Reserve.
The lower permit price at Kalinzu means that you could consider a second chimp trek (and even a third or fourth) should the first attempt be unsuccessful.
Chimpanzee permits can be booked at the reception Centre of the reserve or more conveniently through a Uganda tour operator. Though Chimpanzee permits in Kalinzu forest can be got on the day of tracking, it is important to book in advance to be on the safer side.
3. Combines easily with a safari in Queen Elizabeth
Nearby Queen Elizabeth National Park is included on most Uganda safari packages, and Kalinzu Forest Reserve can easily be visited as a day trip from most lodges there.
4. combine easily with Gorilla trekking tour
5. Kalinzu Forest is highly accessible
Kalinzu Forest Reserve is about 375 km away from Uganda's capital city, Kampala. The reserve's reception office and trekking trailhead are set right alongside a busy surfaced main road.
It is very accessible to independent travelers, whether they are on a self-drive holiday or use public transport. In fact, its offices of Kalinzu Forest Reserve were built in an area that would allow visitors connect to and from Queen Elizabeth National Park.
Kalinzu Forest Reserve is also relatively uncrowded chimpanzee trekking destination.
The forest is less publicized than other chimpanzee trekking destinations, but it is the second best place to see wild chimpanzees in Uganda. And the low number of visitors here means you will probably have the chimpanzee encounter much to yourself.
7. It is a community-based ecotourism project
8. Chimpanzee trekking in Kalinzu Forest is safe
Although male chimpanzees are heavier and stronger than human adults, the habituated community here is very relaxed around people.
While you are in the forest, there is a chance of bumping into the likes of elephant and buffalo, but this is a very rare occurrence. And when it does happen, the animal will normally move on.
Prior to your chimpanzee trek, an experienced guide will brief you about safety. If you follow their instructions, you have little to worry about. Note, however, that for safety reasons, children under the age of 12 are not allowed to track chimpanzees.
9. There are other animals to see in Kalinzu Forest
Kalinzu is home to a wide diversity of mammals, birds and other creatures. Chimps aside, 5 other species of Uganda primates that are active by day are regularly encountered in the forest. These are black-and-white colobus, olive baboon, blue monkey, red-tailed monkey and L'Hoest's monkey.
Kalinzu Forest is also an important refuge for the rare pygmy antelope, while buffalos, elephants, leopards and even lions occasionally stray across from the nearby Queen Elizabeth National Park.
A bird checklist of more than 370 species features an impressive selection of striking forest specialists including Black-and-white-casqued hornbill, Great blue turaco and black bee-eater.
Best Time to Trek chimpanzees Kalinzu Forest
The best time to goes chimpanzee trekking in Kalinzu Forest is during the dry seasons of December to February and June to October.
This is also the best time to visit other Uganda safari destinations for general wildlife game viewing. Rain has a lower likelihood of ruining your planned safari activities or things to do during the dry season.
More important than the time of year, though, is the time of day. The morning chimpanzee trek (which leaves from the reception office at 8 AM) typically offers the best sightings.
This is partly because chimps are more active and vocal in the morning, so they tend to be easier to locate and to see clearly. But it is also because you can stay out longer if required without having to worry about returning in the dark.
That said, if the afternoon chimp trek which leaves at 3 pm slots in better with your Uganda safari itinerary, it is also often very productive, so worth doing.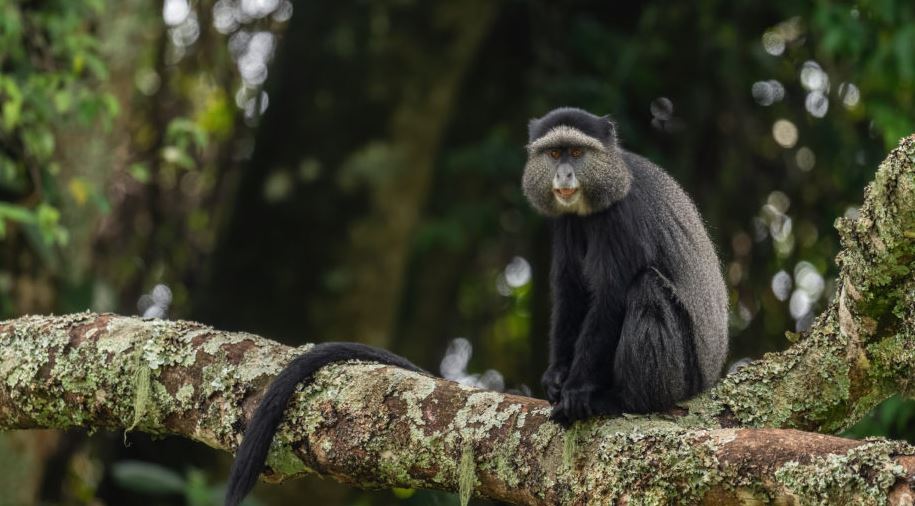 A disadvantage of tracking at Kalinzu is that the hike tends to be slightly harder work than it is in Kibale National Park or Budongo Forest, as you need to walk farther and the terrain is more hilly. But even so, the level of fitness required is moderate.
If you are reasonably agile and comfortable with the idea of spending around 4 hours on your feet, you should be fine. If that sounds daunting, however, then you might want to do some light training before you travel.
More Tip for chimpanzee trekking in Kalinzu Forest
Daypack: You will need a waterproof daypack for the chimpanzee trekking in the rainforest of Kalinzu, including at least one liter of water and energy snacks.
Footwear: We suggest using hiking boots for protection and ankle support. Use a good pair of Merino wool socks which are great for trekking.
Clothing for the Chimpanzee trek: Wear long pants and long-sleeved shirts to protect you from scratches and bites. Bring a light rain jacket or poncho that you can put into your day pack. Additionally, we recommend a hat for protection.
Insect Repellent: There are many insects in the jungle, and so wearing a good insect repellent such as RID or a citronella-based one is a good idea to ensure your chimp trek is comfortable. Take some along in your backpack for reapplications.
Camera: A phone often has a good enough camera these days, but if you have a really good camera, we suggest you take it with you to capture these moments of a lifetime. Ensure your phone or camera battery is charged the night before.
Read for Chimpanzee trekking in Kalinzu Forest?
Kalinzu Forest stands as an amazing destination for chimpanzee trekking tours in Uganda. With its abundant chimpanzee population, diverse primate species, and affordable permits, it offers an accessible and rewarding experience for nature enthusiasts.
And with proper planning and guidance, visitors can have a safe and rewarding experience that offers a glimpse into the fascinating world of chimpanzees.
Contact us today to plan your affordable chimp trekking trip to Kalinzu.