Head To Head: Gorilla Trekking Rwanda Vs Uganda
Gorilla trekking Rwanda Vs Uganda, Where to go in 2023/2024? These two countries are the world's best gorilla trekking destinations, and which to visit depends on your safari needs.
They both offer excellent trekking adventures and your chances of seeing wild gorillas in both countries are 99%. In this blog post, we bring you some of the differences like number of gorilla permits, landscape, cost, trekking conditions, and accessibility.
Overview: Gorilla Trekking Rwanda Vs Uganda
| | Rwanda | Uganda |
| --- | --- | --- |
| Gorilla Species | Mountain Gorilla | Mountain Gorilla |
| Best Gorilla trekking destination | Volcanoes National Park | Bwindi Impenetrable National Park |
| Mountain Gorilla Population | Around 33% of the mountain gorilla population | About 50% of the mountain gorilla population |
| Number of habituated gorilla families | 12 gorilla families | 22 gorilla families |
| Number of gorilla permits | 96 gorilla permits | 176 gorilla permits |
| Cost of a gorilla permit | USD 1500 | USD 700 |
| Trekking time | Approx. 1 to 6 hours | Approx. 2 to 6 hours |
| Time allowed with gorillas (excluding trekking time) | One hour | One hour |
| Gorilla trekking age limit | 15 years | 15 years |
| Max guest per trek | 8 guests | 8 guests |

Is Uganda Or Rwanda Better For Gorilla Trekking?

1. Number Of Gorilla Permits
As one of Africa's most extraordinary wildlife experiences, gorilla trekking is becoming more and more popular. Fortunately, strict rules and regulations are in place to protect these endangered gentle giants. And the number of gorilla permits available per day is limited.
Only 8 visitors can spend 1 hour with a habituated gorilla family per day. Rwanda has 12 gorilla families available for trekking in Volcanoes National Park. Uganda has 21 gorilla families in Bwindi Impenetrable Forest and only 1 gorilla family in Mgahinga Gorilla National Park.
Mgahinga in the Virunga Volcanoes is a wonderful place for gorilla trekking in Uganda, possibly my favorite. However, with just one gorilla family group and very few places to stay in the area, it is not a popular option for gorilla safaris in Uganda.
For the purposes of this blog post, I have left this off-the-beaten-track Uganda gorilla safari park out of the equation. Thus comparisons below are between the two most famous and accessible gorilla trekking destinations: Bwindi Impenetrable Forest in Uganda and Volcanoes NP in Rwanda.

2. Landscape & Habitat Of The Gorilla Parks
The landscape and habitat of the main gorilla safari parks in Uganda and Rwanda are different.
Volcanoes National Park in Rwanda is part a chain of eight free-standing (mostly dormant) Volcanoes known as the Virunga Mountains. Here, the mountain gorillas stay almost exclusively in the bamboo forest zone, a beautiful setting in which to see these magnificent apes. The park's vegetation tends to be quite open, which is ideal for easy gorilla watching.
Uganda's Bwindi Impenetrable Forest National Park is an extensive tract of tropical rain-forest. It is a fabulous setting too, but as its name suggests, the denser vegetation can sometimes make gorilla treks in Bwindi a bit more challenging.
How much does gorilla trekking cost in Uganda vs Rwanda? Another significant point to consider when comparing gorilla trekking Rwanda Vs Uganda is the cost of the gorilla safari.
A Uganda gorilla trekking permit cost USD 700 per person per trek. And a permit for gorilla trekking permit in Rwanda costs USD 1,500 per person per trek – a big difference.
Of course, one can say that the difference is not considerable when absorbed into a 10-day tour package. However, this fee does not include any travel arrangements, such as safari accommodation, transport, meals en-route, your driver guide, etc.
The permit fees only cover the gorilla trekking activity, the park ranger guide for gorilla trekking, and the trackers who go ahead to find the gorillas. Also tips for the guide and optional porter are extra.

4. Gorilla Trekking Conditions
Generally, the gorilla trekking conditions tend to be a bit easier in Rwanda than in Uganda. This is not absolute though. Conditions change every day depending on the location of the gorillas.
Each gorilla family group has its territory. Some of them are usually easier to reach than others. Conditions tend to deteriorate after heavy rain when the forest paths become very slippery. This is especially true in Bwindi Forest, which sees very high rainfall throughout the year.
The trails in Rwanda are usually quite defined, while the tracks in Uganda tend to be very steep and overgrown. However, it is worth bearing in the mind, the high altitude in Rwanda's Volcanoes National Park can be a challenge for some people.
There are a variety good accommodation options for gorilla trekking in Rwanda and Uganda.
Rwanda has more choice in top-end luxury safari lodges, while Uganda has more choices in mid-range and budget safari accommodation. Several Uganda safari lodges border the gorilla park and have a true forest feel, while in Rwanda many safari lodges and camps have mountain and/or lake views, but most are a bit farther away from the forest boundary.

6. Accessibility of The Gorilla Parks
Rwanda's Volcanoes National Park is considerably more accessible than Uganda's Bwindi Impenetrable Forest National Park. The drive from Kigali, the capital city of Rwanda to Volcanoes takes about 3 hours on a good road. The drive from Entebbe or Kampala, Uganda's gateways for most visitors, to Bwindi Impenetrable Forest takes between 8 and 10 hours.
While there is only one starting point for gorilla trekking tours in Rwanda, there are four different trailheads in Bwindi. Some of them need a good 4×4 vehicle to get to.
There are, however, scheduled flights to Bwindi. And you can take a Uganda gorilla trekking tour from Kigali, which is a drive of approximately 4 hours. Alternatively, a stay in Bwindi can be incorporated into a comprehensive road tour in Uganda, visiting other safari parks and wildlife reserves.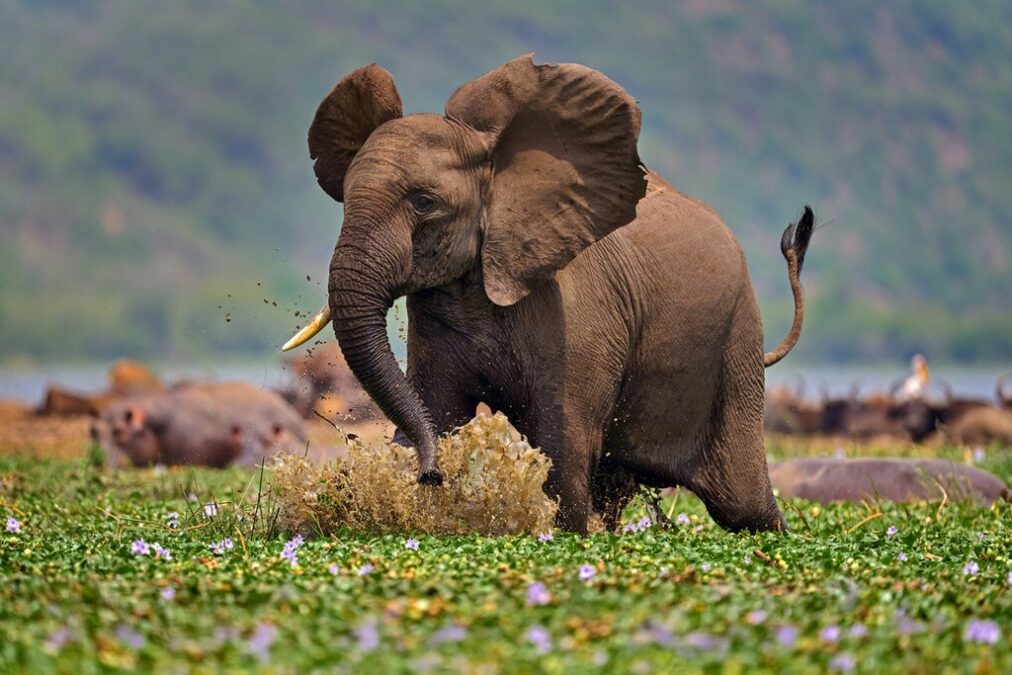 Most people will combine a gorilla trekking tour with a longer wildlife safari. In this case, Uganda offers more options than Rwanda.
Uganda's Queen Elizabeth and Murchison Falls National Parks are two top-notch savannah game reserves. You will see most of Africa's iconic safari animals here, including lions, leopards, buffalos, elephants, hippos, crocodiles, and giraffes.
All the Big 5 animals are present except for rhinos, which can be tracked on foot in Ziwa Rhino Sanctuary. Uganda is also Africa's top destination for chimpanzee trekking adventures. And Lake Bunyonyi is a great place to chill out for a couple of days at the end of an action-packed safari.
Rwanda is less established as a stand-alone Africa safari destination. But it has a few very good off-the-beaten-track destinations worth tagging onto your gorilla tour. Most notable are Akagera National Park, a scenic Big 5 savannah game park, and Nyungwe National Park, a montane rainforest jungle, which shelters 13 primate species, including chimps.
The best time of the year for gorilla trekking in Uganda and Rwanda is from June to August and December to February. These are the driest months of the year.
At this time, the trails tend to be less slippery. And the forest hikes are easier. Your trekking experience will be less likely interrupted by rainfall. But, Rwanda's Volcanoes National Park sees less rainfall overall and conditions are mostly fine from May to February.
Bwindi Impenetrable National Park is a true rainforest jungle, and you can get wet here at any time. You will still see the gorillas though. As long as you avoid the peaks of the rains (April to May and October to November) you should be OK. Waterproof jackets are a must, of course.
Which country is best for gorilla trekking?
Ultimately, deciding between a gorilla safari in Rwanda or Uganda depends on your interests, priorities, and preferences. Both countries offer incredible gorilla trekking experiences.
By considering the insights provided by Tulambule, you can make an informed decision and ensure a memorable and unforgettable gorilla trekking adventure.
A Sample of Our Best Gorilla Trekking Tours