Gorilla Trekking Rwanda vs Uganda: Where To Go In 2023
---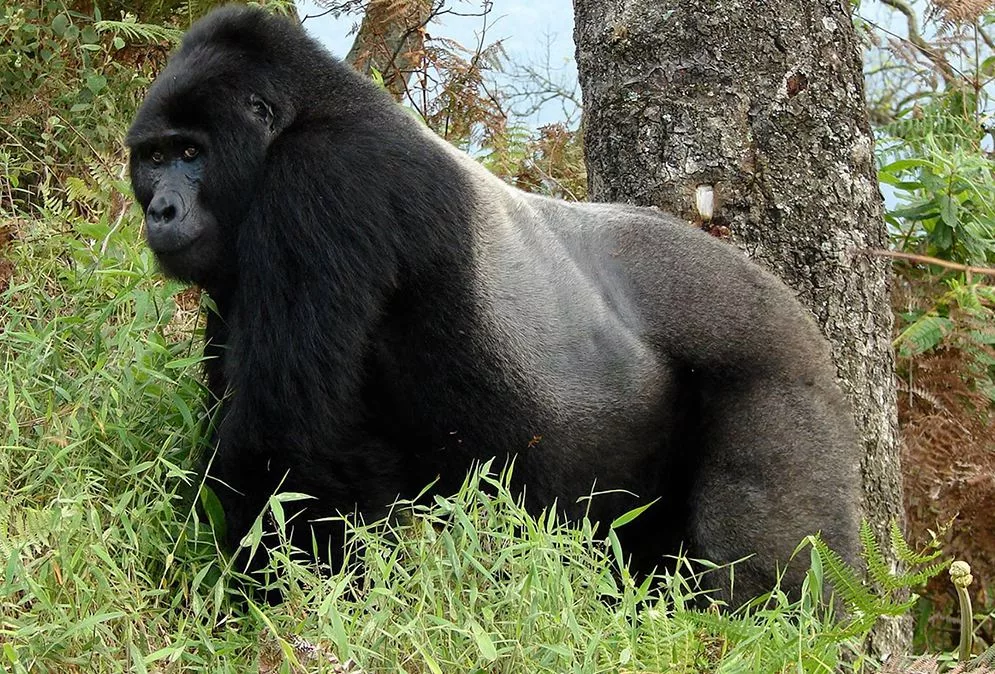 ---
Gorilla Trekking Rwanda Vs Uganda: Which Country Is Best For Gorilla Trekking?
Which is best to visit for gorilla trekking Rwanda Vs Uganda depends on your safari needs. This is because Uganda and Rwanda are both great options for mountain gorilla trekking in Africa.
These two Africa safari destinations offer a great chance to see some of the planet's last remaining 1063 mountain gorillas – the world's largest primate, weighing in at up to 220kg – in their misty montane forest homes.
But to see them, you first must decide which country to visit. Do you go gorilla trekking in Uganda? Or do you go gorilla trekking in Rwanda? The two safari countries have much in common when it comes to gorilla trekking tours.
But there are differences too. To help you decide where to go for gorilla trekking on your safari in Africa, read on for the main points of comparison.
Overview: Gorilla Trekking Rwanda vs Uganda
Uganda
Rwanda
Gorilla Species
Mountain Gorilla
Mountain Gorilla
Gorilla Trekking Destinations
Bwindi Impenetrable National Park

Mgahinga Gorilla National Park
Volcanoes National Park
Number Of Gorilla Families
21 gorilla families in Bwindi
1 gorilla family Mgahinga
12 gorilla families
Available Gorilla Permits Daily
176 gorilla trekking permits
96 gorilla permits
Cost Of A Gorilla Trekking Permit
USD 700
USD 1500
Gorilla Trekking Time
Up to 7 hours, depending proximity of gorilla families
Up to 6 hours, depending on proximity of gorilla families
Time Allowed With Gorillas (excluding trekking time)
One hour
One hour
Chances of Seeing Gorillas
About 99%
About 99%
Gorilla trekking rules
Max 8 guests per trek
Min age for trekking :15
You must be healthy, no flu
Max 8 guests per trek
Min age for trekking :15
You must be healthy
Where To Go Gorilla Trekking?
The endangered mountain gorillas are divided into two populations, one in Bwindi Impenetrable National Park of Uganda and the other in the volcanic Virunga Mountains.
The Virunga Mountains region includes 3 national parks – Mgahinga Gorilla National Park in Uganda, Rwanda's Volcanoes National Park, and Virunga National Park in the Democratic Republic of Congo.
Mountain gorilla live in families of typically 5 to 30 individuals. And all of the gorilla families in these national parks are wild, but some are habituated.
What is gorilla habituation? Gorilla habituation is a slow process of getting a specific family of wild gorillas used to seeing and being around humans.
Only habituated gorilla families are allowed to be visited by gorilla trekking groups – unhabituated groups are left alone. This is done for the safety and well-being of both the gorillas and humans.
The habituation is carried out by a team of specialists that includes conservationists, trackers, researchers and park rangers. It usually takes place over a span of 2 to 3 years.
Is Uganda Or Rwanda Better For Gorilla Trekking?
Rwanda has 12 habituated gorilla families in Volcanoes National Park and Uganda has 22 habituated gorilla families with 21 of them living in Bwindi Impenetrable National Park.
Mgahinga Gorilla National Park is an amazing destination for Uganda gorilla tours, possibly my favorite. But with just one habituated gorilla family, it is not a popular option for gorilla safaris in Uganda.
For the purposes of this article, I have left this off-the-beaten-track Uganda gorilla safari park out of the equation.The comparisons below are between the two most popular and accessible Africa gorilla trekking destinations: Volcanoes in Rwanda and Bwindi in Uganda.
Comparison 1: Number Of Gorilla Permits
The first important point to consider when comparing gorilla trekking Rwanda Vs Uganda is the number of gorilla trekking permits available daily. To go for a gorilla trekking you must buy a gorilla trekking permit. The permits are very limited and are bought in advance to ensure availability.
Only 8 visitors can spend 1 hour with a habituated family of gorillas per day. Because Rwanda has 12 families, it offers 95 gorilla trekking permits per day. And because Uganda has 22 habituated gorilla families, it offers 176 gorilla trekking permits per day.
Comparison 2: Cost Of A Gorilla Trek
Another significant point to consider when comparing gorilla trekking Uganda Vs Rwanda is the cost of the gorilla safari. A Uganda gorilla trekking permit cost USD 700 and a permit for gorilla trekking permit in Rwanda costs USD 1,500 per person per trek – a big difference.
Of course, you can argue that the difference is not considerable when absorbed into a 10-day safari package. But this fee does not include any travel arrangements, such as safari accommodation, transport, your driver guide, etc. The permit fees only covers the gorilla trekking activity, the park ranger guide for gorilla trekking, and the trackers who go ahead to find the gorillas. Also tips for the guide and optional porter are extra.
Comparison 3: Landscape & Habitat Of The Gorilla Parks
The landscape and habitat of the main gorilla trekking safari parks in Uganda and Rwanda are very different. Rwanda's Volcanoes NP is part a chain of free-standing dormant Volcanoes known as the Virunga Mountains.
Here, the mountain gorillas stay nearly exclusively in the bamboo forest zone, a beautiful setting in which to see these magnificent apes. The park's vegetation tends to be quite open, which is ideal for easy viewing of gorillas.
Uganda's Bwindi is an extensive tract of tropical rain-forest. It is a fabulous setting as well, but as the name suggests, the denser vegetation can sometimes make gorilla treks in Uganda more challenging.
Comparison 4: Gorilla Trek Conditions
Generally, the gorilla trek conditions tend to be a bit easier in Rwanda than in Uganda. This is not absolute though.
Conditions change daily depending on the location of the gorillas.
Each gorilla family group has its territory and some of them are usually easier to reach than others. Conditions tend to deteriorate after heavy rain when the forest paths become very slippery. This is especially true in Bwindi, which sees very high rainfall throughout the year.
The trails in Rwanda are usually quite defined, while the tracks in Uganda tend to be very steep and overgrown. However, it's worth bearing, the high altitude in Rwanda can be a challenge for some people.
Comparison 5: Other Wildlife to See in Gorilla Parks
Bwindi Impenetrable Forest was a World Heritage Site by UNESCO in 1994 partly because of its incredible diversity. Of course most famously, Bwindi is home to almost half the world's population of Mountain Gorillas, about 459 individuals at last count.
But also have almost 350 bird species (including 23 of the 24 Albertine Rift endemic species), 120 mammal species including various other primate species, over 370 butterfly species, and over 1,000 flowering plant species. The 160km2 Volcanoes National Park in Rwanda has about 200 recorded bird species as well as the rare and endemic golden monkeys.
Comparison 6: Accommodation Options
There are a variety of good accommodation options to choose from on a gorilla trekking safari in Uganda or Rwanda. However, there is an increasing drive in Rwanda to the top-end luxury accommodation with the opening of Bisate Lodge, the Singita Kwitonda Lodge and the recent addition of One & Only's Gorilla's Nest.
These high-end lodges join the established offerings of Sabyinyo Lodge and Volcanoes Virunga Lodge; both of which are fantastic options for those looking for a more affordable, yet still luxurious stay.
Ugandan accommodation tends to come at a lower price point of mid-range and budget options. But there are still fabulous luxurious options here with Volcanoes Bwindi Lodge and Sanctuary Gorilla Forest Camp being among our favorites.
For those looking for spectacular views, exclusivity and something a little special, you cannot beat the homely Clouds Mountain Gorilla Lodge in a remote corner of Bwindi Impenetrable Forest National Park.
Several lodges in Uganda border the park and have a true forest feel, while in Rwanda many lodges have mountain and/or lake views, but most are a bit farther away from the forest boundary.
Comparison 7: Accessibility
When comparing gorilla trekking Uganda Vs Rwanda, it is also important to consider the accessibility of the main gorilla trekking destinations.
Volcanoes National Park in Rwanda is considerably more accessible than Bwindi and Mgahinga Gorilla National Parks in Uganda.
The drive from Rwanda's capital city, Kigali, to Volcanoes National Park is about 160km (3 hour) on a good road. The drive from Entebbe, Uganda's gateway for most visitors, to Bwindi or Mgahinga takes between 8 and 10 hours.
While there is only one starting point for gorilla trekking in Rwanda, there are four different trailheads in Bwindi. Some of them require a good 4×4 to get to.
There are, however, scheduled flights to Bwindi which takes approximately 1 hour and 40 minutes. Alternatively, a stay in Bwindi can be incorporated into a larger road tour in Uganda, visiting other parks and reserves.
For a quick gorilla trekking tour or an add-on to a safari in Kenya or Tanzania, Rwanda is most convenient. But also, you can take a Uganda gorilla trekking tour from Kigali, which is a drive of approximately 4 hours.
Comparison 8: Overall Rwanda & Uganda Safari
Most travellers will incorporate a gorilla trekking tour into a longer safari in Uganda or Rwanda.
For this, Uganda has more options than Rwanda. Uganda's Murchison Falls National Park and Queen Elizabeth National Park are two top-notch Savannah reserves.
You'll see most iconic Africa safari animals here, including buffaloes, elephants, lions, leopards, hippos, and giraffes. All of the African Big 5 animals are present in the Uganda wildlife safari parks except for rhinos, which can be seen in Ziwa Rhino Sanctuary.
Uganda is also Africa's top destination for birding with over 1090 species. And Kibale Forest National Park which is hosts the highest density and diversity of primates is the best place for chimpanzee trekking on the continent.
Uganda's snow-capped Rwenzori Mountain – Africa's tallest mountain range (5109 meters) offers some of the best hiking in the world. And Jinja source of the Nile River offers some of the best white water rafting in the world and other thrilling adventures while Lake Bunyonyi is a great place to chill out for a couple of days at the end of an action-packed Uganda safari.
Rwanda is less established as a stand-alone Africa safari destination, but it has a few very good off-the-beaten-track gems worth tagging onto your gorilla trek Rwanda tour.
Most notable are Akagera National Park, a scenic Big Five savannah park, and Nyungwe Forest National Park, a montane rainforest, which is home to 13 primate species, including wild chimpanzees.
Comparison 9: Traveller Types
If you have limited time, then Rwanda is where to see gorillas in Africa.
You can simply land at Kigali International Airport, be driven to your accommodation, trek the next day and leave for the airport the following morning, making it possible to wrap up your gorilla trekking trip in two days.
Uganda offers animal lovers who want to go on a Uganda gorilla trekking adventure a wonderful opportunity to combine it with a safari in one of Africa's up-and-coming safari destinations.
And thanks to Uganda's low cost of trekking permits, it's a great choice for travellers looking for budget-friendly options to see gorillas in Africa.
Gorilla Trekking Rwanda vs Uganda: What's the same?
Firstly, the rules and regulations for mountain gorilla trekking are the same in Uganda and Rwanda, to protect both you and the gorillas. These include:
If you're sick or have any infectious diseases, don't go gorilla trekking because gorilla's shares about 98% of our DNA can easily catch our diseases.
If you need to sneeze or cough, please turn away from the gorillas and cover your mouth and nose to reduce the chances of transmitting bacteria or viruses to these to the gentle apes.
Expect to spend only the allotted one hour with the mountain gorillas, departing when the time is up.
Stay at least 7 meters (21 feet) away from the gorillas, not because they are dangerous but because they are wild and you can transmit diseases to them.
Keep the noise levels down (from within 200 m from gorillas), don't point, and don't use your flash when taking gorilla photographs.
You are not allowed to eat and drink or smoke near the gorillas.
You may not touch the gorillas even if they come close to you as these curious apes sometimes do.
Please do not litter in the gorilla habitats.
If gorillas charges as they may sometimes go, do not run away. Crouch down slowly and avoid direct eye contact, until the gorilla moves off.
If you need to go then ask for help from your guide to dig a hole in the forest and make sure it gets covered up afterward.
The gorilla trekking age limit is 15 years and above.
Ready To Begin Planning Your Gorilla Tour In Africa?
Regardless of the gorilla destination you select, it pays to be well-prepared for your gorilla trekking adventure. Trekking through rainforest may be muddy work.
It can be hot and humid with occasional short downpours too, so appropriate clothing, sturdy hiking boots, and gear like trekking poles and gaiters all add up to a more comfortable trek. Additionally, it can be hot and humid, with occasional short downpours.
Therefore, right clothes, strong hiking shoes, and equipment such as trekking poles and gaiters make for a more comfortable gorilla trek. Its Africa safari bucket-list experience precisely because it is not easy to get close to gorillas in the wild but, when you do, you'll be more than thrilled. And we can help you get there!
Tags:
Gorilla safari Rwanda
,
Gorilla Trekking