Discover Karamoja Region: Authentic Culture, Nature & Adventure
The Karamoja region is a hidden gem.
The region is set on a large plateau between the mountains of South Sudan and the Eastern Rift escarpment of Kenya in the north east of Uganda.
It is one of the most remote areas of the county, but it offers some of the best outdoor adventures and authentic cultural experiences in Uganda.
For years the major Uganda safaris attraction to this area was Kidepo Valley National Park, where lion prides, herds of zebra, buffalos, elephants, giraffes, and waterbuck share the savannah with species found in no other national parks in Uganda such as cheetah, kudus, caracals, black-backed jackals and common ostriches.
Most travellers would fly in and out only spending time in the park's environs. But this has now changed and the Karamoja region is full of unique cultural and wildlife experiences you'll not get anywhere else in Africa let alone Uganda. It also has stunning scenery for nature lovers, hikers, and cyclists; the perfect destination for true adventurer.
Weather And Climate in Karamoja Region
The climate in Karamoja region is semi-arid and wind swept, but reveals beautiful panoramas, sunsets over mountain peaks, and amazingly starry nights.
In some years droughts are common. Temperatures can reach as high as 40°C, but average around 29°C in the afternoon and 17°C at night.
Altitudes range from 999 to 2720m, resulting in climatic changes within the area. And temperatures drop by about 6.5°C for every 1000m you climb.
Wet Season
There is one Wet season in Karamoja region (differing from 2 Wet seasons in most areas of Uganda) from April to August. There isn't a lot of rainfall, when compared to the Wet seasons of the areas in the south.
The lowest annual temperatures are experienced in wet season. But the daytime still averages around 27°C/81°F, with morning temperatures around 17°C/63°F.
Dry Season
The dry season in Karamoja region is from September to March.
From September to November, it might still rain some days as the wet season transitions into the dry season. It is getting warmer, with average temperatures of about 29°C in the afternoon and 17°C in the morning.
From December to February, there is almost no rain and it gets drier and hotter. January and February are the warmest months with daytime temperatures of 32°C and morning temperatures of 18°C.
Peak temperatures can easily rise to 40°C. March is still dry, but the first rains will break the heat and settle the dust.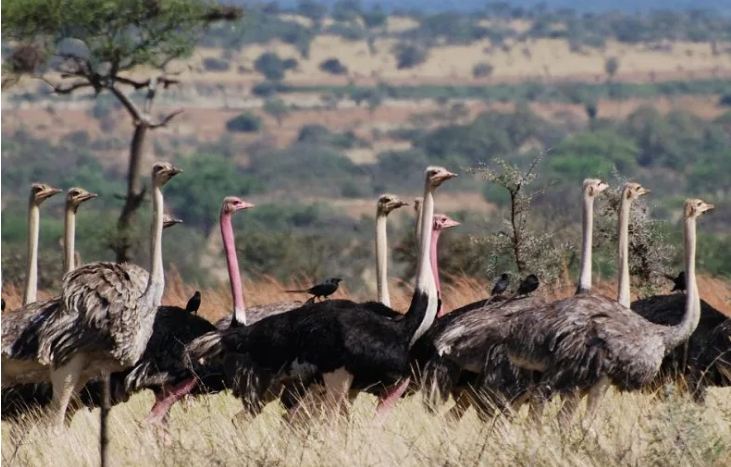 Karamajongo People
The Karamoja region has been the home of Karamajong, a proudly unique people still surviving as pastoralists. The name Karamojong was derived from the phrase "ekar ngimojong", which means "the old men can walk no further".
These are nomadic pastoralists are known for their love of cattle and their resistance to the trappings of modern civilization. They believed to have originated from a southerly migration by the Jie, an Ethiopia pastoralists tribe 300-400 years ago.
Upon reaching the Kenyan-Ugandan-Sudanese border region, the Jie split to create the Toposa of South Sudan, the Turkana of Kenya, and the Dodoth of northern Karamoja.
Then, some of the Turkana Jie crossed the mountains that line the present-day border Kenyans to the plains of northeastern Uganda.
Some groups remained around Kotido as the Uganda Jie. Others continued further, until the aged parents among them became fed up with walking, the gist of the word 'Karimojong' meaning "the old men can walk no further".
The youth among them continued nomadic lifestyle further southwards and settled in today's southern Karamoja. However, a significantly sized group went west and formed the Iteso, the Kumam, and the Langi.
Karamojong Culture
More recently, to more Westernized Ugandans, Karamojong was something of an embarrassment. The common view was that they were a backward lot, who ran around naked, and half-century ago, the latter was absolutely true.
The attire of a male Karamojong comprised solely of an elaborated style hairdo, a feathered headdress, a small T-shaped stool, and a spear, while the female dress was represented by a heavy roll of neck beads and a bit of a skirt.
These minimalist styles were pushed underground in the 1970s when Dictator Idi Amin Dada sent soldiers to impose Western dress on Karamonjong at gunpoint.
Men took to wearing, at the very best, a light blanket/cloak, usually of a striped or-interestingly suggested a Gaelic connection-tartan pattern.
During the 1990s, this was frequently worn as a sole item of clothing but these days, some additional layers now seem mandatory.
Rural Karamojongs
Despite expanding wardrobes and pressure from Kampala to join the modern world, most rural Karamojongs remain true to their traditional way of life.
Communities still commonly inhabit manyattas; traditional homesteads in which concentric defensive rings of thorny brushwood surround a central compound containing huts, granaries, and cattle pens.
Unlike the rest of Uganda, some semblance of the cultural dress remains part of everyday attire. For men, this is epitomized by the cloak and some form of the Western hat with ostrich feathers added to indicate status.
Though the great-headed ruffs of the past are less common, neck beads remain very much in vogue with the ladies.
Karamojong Language
The language of the Karamojongo people Ngakarimojong is an interesting and seemingly ancient curiosity. The Scotsman John Wilson, who lived in and around Karamoja for 30 years, has identified numerous words and phrases of similar meaning in Ngakarimojong and Gaelic.
Subsequent investigation has identified further similarities with other widely spaced languages including Hebrew, Spanish, Sumerian, Akkadian, Tibetan, etc.
For example, we have bot (a house in Gaelic) and eboot (a temporary dwelling in Ngakarimojong); cainnean (live embers in Gaelic), and ekeno (a fireplace in Ngakarimojong).
The Spanish word corral, for a circular stock enclosure, is uncannily close to the Ngakarimojong synonym ekorr, and the Spanish ajorar for 'theft of cattle' is not dissimilar to the Ngakarimojong ajore meaning 'cattle raid'.
The thinking is that these various, far-flung modern languages are legacies of a common tongue spoken by the ancient human population, presumably before the Tower of Babel incident and perhaps as far as back as the late Pleistocene.
Things To Do in Different Districts Of Karamoja Region
There are plenty of activities and experiences to do of varying durations and exertion levels; all you need is an open mind and sense of adventure.
Moroto
Moroto is around 13hrs drive from Kampala. It is worth a one-to-three-day visit on your way from Jinja / Sipi Falls / Mt Elgon to Kidepo Valley.
The town is located near the gentle slopes of volcanic Mount Moroto (3085m), and it is the beating heart of the Karamoja region. It is surrounded by savannah plains and withholds a range of exciting things to do for everybody.
Some of the activities you can do in Moroto are:
Hike Mount Moroto & Visit the Tepeth Tribe
East Africa is famous for its mountains of which some of the most impressive, the Ruwenzori Mountains and Mount Elgon are in Uganda.
The beauty of Mount Moroto is that you get all the panoramic views and sense of achievement you would have if you climb the more well-known mountains but in milder surroundings, no requirement for technical equipment.
And during the hike you have great interaction with the Tepeth people and learn about culture; spirits, gods and sacred sites of these fascinating mountain people.
Cycling Tours
This part of Uganda is relatively untouched and biking is a great way to explore the region. Whether you are looking for stunning views, cultural experiences of just a riding off into the sunset this is the place to do it.
Karamojong Village Visit
The best way to get the most out of a visit to this area is to participate and immerse yourself in the local culture.
A visit to a traditional homestay gives you an unparalleled insight in to what life is like for the Karamojong. It also gives you a first-hand appreciation of the culture and heritage of the region.
A Night with Karamojong Warrior Nomads
A night spent sleeping in a Kraal with Karamojong Warrior Nomads who are now cattle herders is an experience not to miss. You will see how the cattle are cared for, milked, and herded as well as the traditional spearing of the cow for its blood. If all goes well you might even get your own Karamajong name.
Archaeology And History Tour
Learn about the history of Karamoja with a visit to the Karamoja museum and a recently discovered Rock Art site.
Most of Uganda's rock art is concentrated in the east and south east of the country although there are a few other sites in other parts of Uganda. The premier rock art site is at Nyero, which is between Mbale and Soroti.
Other notable places which have rock art in the region are Kadam Rock in Nakapiripirit, Napak Rock in Napak District and Mount Moroto in Moroto.
The rock art found in this area is similar to the rock art drawn by the Cushitic Tribes who are believed to have migrated to Karamoja some 3,000 years ago. The art depicts animals grazing and people carrying bows and arrows.
Kotido
Kotido is around 14hrs from Kampala. A visit to Kotido is a great half day stop-over on your way from Moroto to Kidepo with a rich living culture. Some of the activities you can do in Kotido are:
Visit Nakapelimoru Village
The Nakapelimoru is the largest traditional village in East Africa and home to the Jié (fighters). The community has grown over the years and culture has been preserved like the controversial facial and body scarifications.
A visit to the village begins with a briefing held on a rock formation overlooking Nakapelimoru. You then proceed with a local guide to a homestead and learn about the culture specific to this village as well as the more general traditions of the Karamojong area.
Visit Kotido Cattle Auction
Kotido is also known for its cattle auction when local traders come every Wednesday to buy and sell cows. This is the perfect place to meet the community, purchase authentic local crafts like jewellery and artefacts.
Kaabong
Kaabong is around a 15-hour drive from Kampala.
This region is in the most north eastern in Uganda and boarders South-Sudan and Kenya. It is well known for Kidepo National Park and the home of the Ik-tribe.
The Ik tribe is the smallest tribe in Uganda and historically used to live within the National Park but they were displaced when the park was formed. They now live in and around Mount Morungole, which is now also known as Ikland.
A visit to this region will reward you with an exceptional cultural experience as the Ik have a unique set of traditions that are still practiced today.
The breath taking scenery only gets better the higher you go and you will be able to look in to the western Kenya and Southern Sudan. The visit and hike are a full day activity beginning at around 07.00 and finishing at 17.00.
Wildlife Game Viewing In Karamoja Region
The Karamojong region is home to 4 of Uganda's most remote and beautiful National Parks and Wildlife Reserves.
Each one has a similar story, one of historical abundant and unique wildlife, followed by human wildlife conflict and civil war.
This resulted in a decrease in the wildlife numbers which have only begun to show an upward trend in the recent past.
Animals such as Cheetahs, Roan Antelope, Kudus, White Eared Kob and Ostrich can only be seen in the wild in this part of Uganda:
Pian Upe Wildlife Reserve – Nakapiripirit & Napak
Matheniko Wildlife Reserve – Napak, Kotido & Abim
Bokara Wildlife Reserve – Moroto
Kidepo Valley National Park – Kaabong
Bird Watching In Karamoja Region
Birders on Uganda birding tours have featured Northeastern Karamoja sub-region as 'Undiscovered Outback of Uganda 'and 'A truly unique birding Environment' due to the magnificent scenery, remarkable tribal cultures, birds and wildlife that you won't see elsewhere in Uganda.
There is the Fox's Weaver (Uganda's only endemic bird species) and the Karamoja Apalis, where Karamoja Apalis which is endemic to East Africa.
Other unique Uganda birds include Crested Francolin, Red-eyed Dove, Ring-necked Dove, Laughing Dove, Emerald-spotted Wood-Dove, Namaqua Dove, African Green-Pigeon, Buff-crested Bustard, White-bellied Go-away-bird, White-browed Coucal, Dideric Cuckoo, Northern Red-billed Hornbill, Abyssinian Roller, Lilac-breasted Roller, Red-and-yellow Barbet, D'Arnaud's Barbet, Red-fronted Tinkerbird, Red-fronted Barbet, Pygmy Falcon, Fox Kestrel, Fork-tailed Drongo, Boran Cisticola, etc…
Mineral Resources of Karamoja
Karamoja is richly blessed with the endowment of yet-to-be exploited mineral resources. Professionals speak of the existence of about 50 different minerals and precious stones, like gold, silver, copper, iron, titanium, manganese, cobalt, niobium, tantalite, chrome, rare earth and radioactive minerals.
Gold is found in the entire Matheniko County in a belt stretching from the north to the south of Karamoja in the Upe area, which experts say is one of the world's largest deposits with the highest levels of purity.
Is Karamoja Region Safe?
From colonial times up to 7 years ago the Karamoja, has been isolated.
Under British colonial rule the area was a closed district and mobility restricted making it only accessible with a permit.
During reign of Idd Amin, the Karimojong people were suppressed and humiliated. In the 1980s, the Karimojong obtained guns from abandoned army barracks that caused a tribal war for almost 30 years.
Until in 2001 the Ugandan People Defence Force (UPDF) started a successful 10-year program to disarm the Karamajong people.
In 2011 peace returned finally, but much damage had been done. Unfortunately, the insecure past of the Karamojong has given the region and the people a negative image within Uganda and beyond.
But happily, the process has started and many countries have changed their travel advice and are allowing their people to travel through this undiscovered region of Uganda for the first time in decades.
Also, the Ugandan Government and its partners are putting a lot of effort into improving its infrastructure and electricity has reached the region.
How to Get to Karamoja Region
The road conditions throughout Karamoja region are rapidly improving. This has greatly shortened the previous famously long travel time. However, we recommend that that you carefully read the advisory below before planning your Uganda safari tour through Northeast Uganda.
Road Trip To Karamoja Region
The Western Route
When you prefer to take the western route to and from Kidepo Valley National Park, we recommend driving via Gulu and Kitgum. Common stops on this route are Murchison Falls National Park and Ziwa Rhino Sanctuary.
The Eastern Route
The Eastern route to Karamoja is the uncut Karamoja wilderness route entering the subregion from Pian Upe Wildlife Reserve.
Whereafter the road advisable goes via Nakapiripirit at the slopes of Mt Kadam to Moroto and connecting with Kotido, Kaabong and Kidepo Valley National Park. (Click here for the Google Maps link).
In rainy season the road conditions of the Southern part (From Muyembe to Namalu) formerly could change dramatically and block any car from passing (May-September). The other option is to drive via Soroti and Iriiri to Moroto and continue northwards up to Kidepo Valley.
Sparse services
Petrol stations
The distance between petrol stations in the Karamoja subregion is on an average 90Km.
Petrol stations are located in Sironko (Total), Namalu, Nabilatuk, Nakapiripirit, Matany, Moroto (Hass), Kotido (Total), Kaabong, Karenga and Kitgum.
Fresh foods and supermarkets
Fresh foods are not a commodity in Karamoja and are imported from outside the region.
Fruits and vegetables are therefore only available with certainty in Moroto. Though fresh meat is available in any trading centre and is advisable to purchase in the morning hours before stock runs out.
The majority of towns in Karamoja also have convenience stores and the bigger towns like Kotido and Moroto also have supermarkets with a wider variety of products.
Though services like refilling small camping gas bottles is not available.
Getting To Karamoja Region By Airplane
As tour operator we provide bookings service for scheduled and chartered flights from various destinations within Uganda. In addition to the flight, we also provide a pick-up service from any airport, hotel or other destination.
The most common entry point to Uganda is Entebbe International Airport (EBB) that's located close to Entebbe city. Flights can also be organized from Kajjansi Airfield that's located closer to Kampala, the capital city of Uganda.
Scheduled flight rates are starting from $420 per person for a one way ticket. Contact us for more information, departure time, capacity and prices.