Uganda Or Rwanda: Which Is Best for Your Next African Safari? If you're thinking of safari to East Africa, you may want to consider the often-overlooked safari countries of Rwanda and Uganda.
While they may not be as famous as their neighbouring countries of Kenya and Tanzania for travellers seeking an African safari experience, you'll be surprised at the number of outdoor activities they offer.
Due to their smaller size, you can explore these unique countries in a relatively shorter time, allowing you to really make the most of your visit.
You will have the best wildlife experiences (including gorilla trekking, chimpanzee tracking, safari game drives and boat cruises in Savannah game parks and birdwatching tours), mountaineering, community encounters and several other adventures. All you need to do is decide where to go.
Uganda or Rwanda: here is what you should know.
Safari Activities
Rwanda and Uganda are both similar and different at the same time. Some activities can be found in both countries, while others are more specific to the destination.
On paper, it might seem like Uganda has more to offer. Home to 10 national parks, 12 wildlife reserves and several lakes and rivers developed for tourism, Uganda can make Rwanda's four national parks seem minimal. But there is more to it than that.
Let me take you through some examples.
1. Gorilla trekking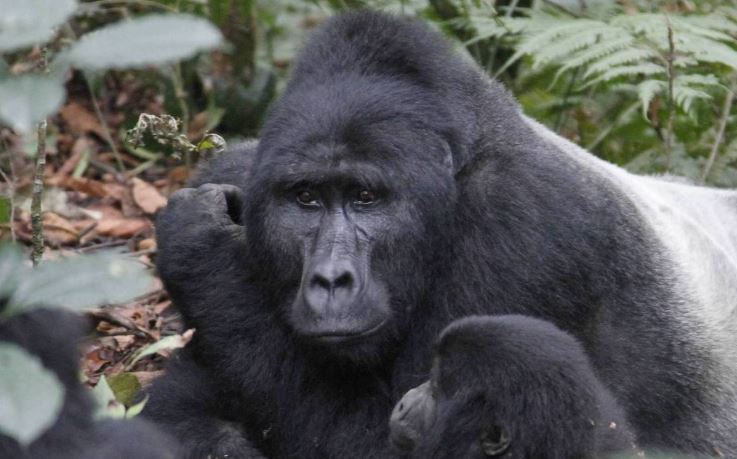 Uganda
Uganda is home to more than half of the world's population of wild mountain gorillas. Most of Uganda's gorillas are found in Bwindi Impenetrable National Park and the rest in Mgahinga Gorilla National Park.
Bwindi is an 8 to 9-hour drive from Entebbe or Kampala or a handy 1 ½ hour flight from Entebbe International Airport. Gorilla trekking in Bwindi Impenetrable Forest promises a lifetime adventure through thick forest, allowing you to experience the 'African jungle feel' firsthand.
Depending on the mountain gorilla family you visit, you may have to trek to steep areas of the Bwindi Impenetrable Forest National Park, meaning you need to be fairly fit.
A Uganda gorilla trekking permit costs US$700 for foreign non-resident visitors.
Rwanda
Mountain gorilla trekking in Rwanda is done in Volcanoes National Park. Volcanoes NP is located about a 3-hour drive from Kigali city, or 30 minutes by helicopter.
Rwanda gorilla trekking experience takes place in slightly less dense vegetation than Bwindi Impenetrable Forest National Park. But offers similar surroundings to Uganda's Mgahinga Gorilla National Park as both are located in the Virunga Volcanoes.
A Rwanda gorilla permit costs US$1500 in Rwanda.
2. Chimpanzee tracking
Uganda
Chimpanzee trekking in Uganda takes place in Kalinzu Forest Reserve, Budongo Forest Reserve, Queen Elizabeth National Park's Kyambura Gorge and Kibale Forest National Park.
Most of the chimpanzee trekking tours in Uganda happens in Kibale Forest. Here you will find more habituated chimpanzee communities.
And, as a result, chimpanzee sightings in Kibale National Park are almost guaranteed. The chimp trek is less hectic than gorilla trekking, with less steep topography to tackle and shorter hiking distances.
Rwanda
Chimpanzee trekking in Rwanda happens in Nyungwe Forest National Park and the small Gishwati-Mukura National Park. The chimpanzee trekking tours in Nyungwe Forest is slightly more hectic.
This is because of the hilly landscape and the somewhat elusive nature of the chimpanzees in Nyungwe. They tend to congregate in the trees here, posing a challenge for photographers especially.
3. Bird Watching
Uganda
Uganda is home to more than 1090 bird species, which accounts for around 50% of Africa's total bird species and 11% of the world's bird species. They are found in a variety of habitats across the country, including forests, wetlands, savannah grassland, woodland, and on the banks of rivers and lakes.
Birding in Uganda is done in both protected areas and non-protected areas, from agricultural land to small pockets of vegetation in cities. Visitors on a two-week birding safari in Uganda can expect to see over 400 different species of Uganda birds.
Rwanda
Rwanda is home to more than 700 species of birds– a huge number for a country of its size. Just like in Uganda, the bird habitats found here consist mostly of wetlands, forests, savannah grassland, woodland, lakes and rivers.
4. Game drives
Uganda
Uganda offers safari game drives through its savannah parks. These largely take place in Murchison Falls National Park, Queen Elizabeth National Park, Pian Upe Wildlife Reserve, Lake Mburo National Park, and Kidepo Valley National Park. Normally, wildlife game drives take place in the morning, early evening and at night, allowing visitors the chance to spot nocturnal animals too.
Rwanda
Game drives in Rwanda take place in Akagera National Park. The park is an excellent choice for visitors hoping to catch a glimpse of all of the Big Five animals at the same time.
Akagera National Park also offers a safari boat cruise on Lake Ilema, a unique experience that allows you an insight into the full range of wildlife in Rwanda.
5. Community experiences
Uganda
Uganda is home to more than 50 tribes, each with its own unique culture, language, and food. You can choose to visit some of these when on a Uganda safari, in addition to the usual Uganda wildlife experiences on offer. You can taste their food, dance to their music and listen to the fascinating folktale.
Rwanda
Unlike in Uganda, Rwanda has three tribes and its cultural and community experiences tend to vary less across the country. However, that is not to say they are not worth having. If you are seeking insight into a culture and way of life entirely different from their own, Rwanda is an excellent choice too.
6. Adventure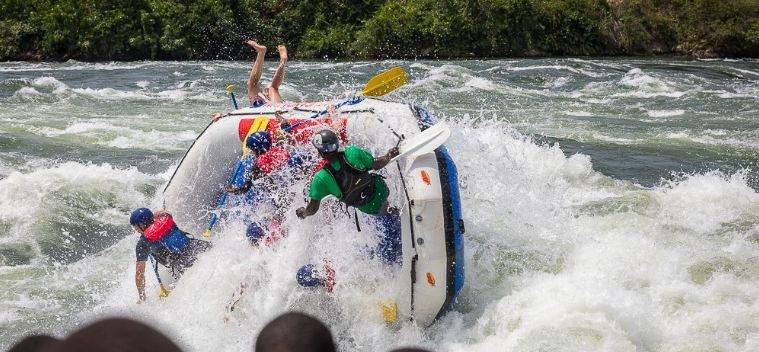 Uganda
Uganda offers numerous activities for adventure enthusiasts. You can go white water rafting on the mighty River Nile in Jinja, kayaking, jet boating, bungee jumping, zip-lining, mountain biking, rock abseiling at Sipi Falls, quad biking, tubing, canoeing on Lake Bunyonyi, etc…
Rwanda
In Rwanda, adventure activities on offer include cycling tours, kayaking on Lake Kivu and canoeing and a high-altitude canopy walk over Nyungwe Forest. These can also be added to most Rwanda safari itineraries.
7. Hiking & mountaineering
Uganda
Uganda has several mountains and volcanoes open for hiking and mountaineering tours. You can choose from multi-day hiking on Mount Elgon, the snow-capped Rwenzori Mountains or Mount Moroto, or single-day hiking to the volcanic Virunga Mountains: Mount Muhabura, Mount Gahinga, and Mount Sabyinyo.
For outdoorsy travellers, adding a few days of mountain experience onto your Uganda safari itinerary can be an unforgettable experience.
Rwanda
Rwanda offers mountain hiking experiences in the Virunga volcanoes of Mount Bisoke, Mount Karisimbi, and for two-day hiking trips, Mount Muhabura. This can be easily tacked onto a traditional itinerary of mountain gorillas, golden monkeys and trekking to see chimpanzees.
8. Practicalities
Cost & accommodation
In general, Rwanda is favoured by luxury travellers. There are many luxury safari lodges to choose from in the Volcanoes National Park area. Whereas Uganda does have many luxurious options, visitors here will likely enjoy a more rustic adventure safari experience.
The cost of your trip to Uganda and Rwanda will depend on both its length and the number of activities included. A luxurious 10-day tour of Uganda that includes walking with chimpanzees and gorillas, and several game drives starts from $ 4000. An 8-day tour of Rwanda's primates starts from around $5000.
Weather & climate
With some exceptions (such as the Karamoja region in North Eastern Uganda which has one long dry season and one wet season), Uganda and Rwanda generally share the same seasons.
In general, June to September and December-February are dry months, and March-May and October-November is the rainy season.
Most travellers prefer to visit in the dry months as hiking and mountain climbing tend to be easier during this period. It also makes navigating the dirt roads found in the savannah national parks during game drives a more pleasant experience.
That said, travelling during the rainy season should not be seen as out of reach: wet weather tends to come thick and fast, lasting only a few hours before the sun comes out in full force.
Travelling in this season has the advantage of fewer crowds and a higher chance of spotting primates that haven't been pushed further into the forest in search of food. Many safari lodges also offer discounted rates for travelling in the low season.
Getting there & away
Both Uganda and Rwanda have direct flights from major European countries, as well as good connectivity to the Americas and the UAE. The gateway to Uganda is Entebbe International Airport (EBB) which also has connectivity to several national parks and towns across the country.
Kigali International Airport (KGL) is connected to the major national park parks with helicopter flights of about thirty-five minutes on offer for most travellers.